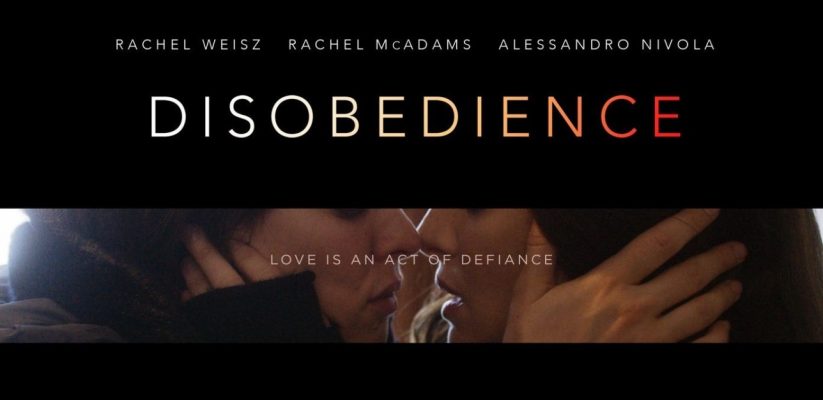 On Thursday April 11, 2019 at 7:00 pm there will be a film screening of Disobedience followed by a panel discussion at the Regents Street Cinema.  Rachel Weisz stars as Ronit, woman returns to her Orthodox Jewish community that shunned her for her attraction to a female childhood friend.
We promise there will be lots to unpack after this scintillating film.   Come join us for the panel discussion after the film where we will explore issues on sexuality and religion and the role of education, health services, government / policies in supporting individuals, especially young people that are in the process of negotiating their sexuality and their religion.  Stay for your panel discussion, which starts right after.
Our panelists are:
Professor Pippa Catterall is Professor of History and Policy at the University of Westminster. She is a transgender woman whose research interests focus upon identities (she founded the journal National Identities) and the relationship between religion and politics.
Dr Elya Steinberg is the head of training and co-director of the Centre for Biodynamic Psychotherapy in London. She is also a Biodynamic Psychotherapist who integrates Biodynamic psychology, bioenergy, neurofeedback, psychological trauma work, martial arts and integrative medicine with a queer based biodynamic psychotherapy.
Erkan Gursel is a queer writer and independent activist of colour based between the UK and Germany. Erkan's research has focused notably on the experiences of advocacy and transnational solidarity for queer migrants in Berlin. He is currently conducting a residency in Berlin – funded by the European Commission – to challenge the inaccessible nature of academia and encourage more opportunity for self-representation.
Mike Ainsworth is currently chair of the UK government's Independent Advisory Group on Hate Crime. The group includes victims, activists, lawyers and academics – its role is to advise government, police and other offices of the criminal justice system on strategies to eradicate hate crime and the harm it causes to individuals and society. Mike is the Director of London Services for Stop Hate UK with specific responsibility for the No Hate Speech movement training volunteers to challenge and report online hate speech. He has years of experience in tackling all forms of hate crime and in advising the government of policies required to counter discrimination and hate crime.
There will also be concluding remarks from our Vice Chancellor, Dr. Peter Bonfield.
Tickets are only £7 for Westminster Staff and Students. Please book your ticket here or contact Shamila Ahmed s.ahmed1@westminster.ac.uk for more information.
Cindy is a full time master student pursuing her degree in Media, Campaigning and Social Change.As a student helper, she provides support to the Corporate Social Responsibility(CSR) team and Black & Minority Ethnic (BME) Staff Network at Westminster.She is passionate about CSR and it's place in creating social change.
Latest posts by Cindyann Currency (see all)