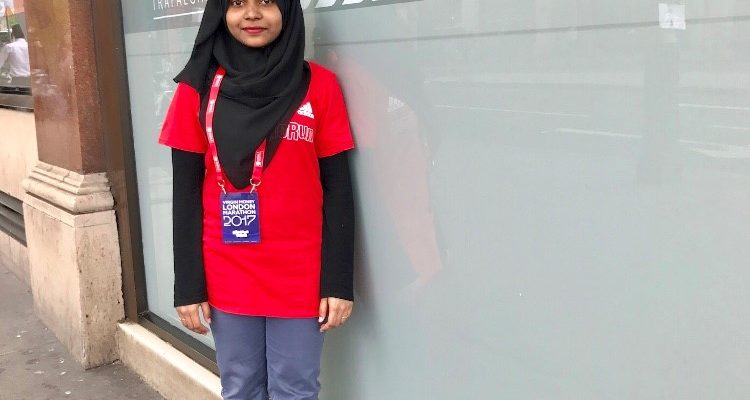 This post was written by Fathimath Zuruwath Zareer, an Accounting student at Westminster.
Achieving high grades while engaging in extra-curricular activities were always the top priorities during the 12 years of my academic life back in the Maldives. Hence when I moved to London as one of the university's full scholars, I was eager to keep the momentum going and take advantage of every opportunity available at university. Taking up volunteering had initially been part of contributing to the mandatory hours that came along with my scholarship. However, this quickly grew into an interest as I saw myself growing in terms of self-confidence and communication.
Throughout my time at university, there had always been an abundance of volunteering opportunities, whether internal or external. Most of them that I found were on the Engage platform- the first of which was Team Westminster Ambassadors which was a community of volunteers who provide administrative support at some of London's largest events. I remember having signed up for the London New Years Day Parade and supervising one of the teams of performers from the beginning till the end of the parade. In the following months, I got the chance to be a part of multiple events such as the London Marathon, the Winter Run, Chinese New Year and Lumiere 2019. These were particularly rewarding as I was exploring London with people of ages.
It was in my second year that I started volunteering and taking on broader initiatives- for me and my colleagues, second year began as FANS (Friends of Arriving New Students) where we guided first-year students and helped them settle into university. We also started running a society: The ACCA Progression Society where not only did we provide discounted textbooks for first-year students, we also had a series of advice and information sessions held thought university geared towards enhancing employability. Throughout all of these activities, I was also a voluntary consultant at Westminster Business Consultants which is a student enterprise running as part of a network of similar enterprises around Europe. As second year began, I had been taking a wider role as the HR manager at which point looking after recruitment, training, appraisals, and events with the rest of my team.
So what did I gain from all of the above? Coming to London had been somewhat daunting given that I literally had not known a single person from here. Volunteering is where I met my closest colleagues who have supported me throughout university. And in the process, we have excelled together academically and professionally.
There have also been constant occasions where I had to deliver and present information to a number of people and this contributed to my public speaking skills. Having signed up for a number of events at university while studying and working part-time, I was constantly adapting my time management skills. This came from the realisation that if I wanted to see myself achieving over and over again, procrastination was not an option.
Towards the mid of my second year, my aim became to secure a placement where I could build up a solid base of work-based competencies. The two years of volunteering I had built up helped me stand out in the application process and reach the final stages faster. I never had to blank out at interviews because each of the skills employers looked for were demonstrated in some form of volunteering. The biggest accomplishment of my career has been securing a placement in the Finance division of Goldman Sachs where the acceptance rate is 4% and I owe a lot of it to the two years of volunteering combined with persistence in academics.
Reflecting on my experiences, I believe that the 15+ years we spend in education should not solely be for the purpose of the certificate that's gained at the end. 15 years is a sufficient period to identify what our personal limitations are and benefit from the opportunities that are around us to build on them. The University of Westminster offers multiple opportunities that if taken advantage of can benefit us students in so many ways.
---
To get involved, please don't hesitate to contact the Volunteering Services.
Email: volunteering@westminster.ac.uk
Phone: 020 3506 6112
Book a 1-2 1: https://engage.westminster.ac.uk/students/login?ReturnUrl=%2f
Regular Volunteering: https://engage.westminster.ac.uk/students/login?ReturnUrl=%2f
One-off Volunteering: https://goo.gl/roSK3u
Latest posts by Michaela Western (see all)