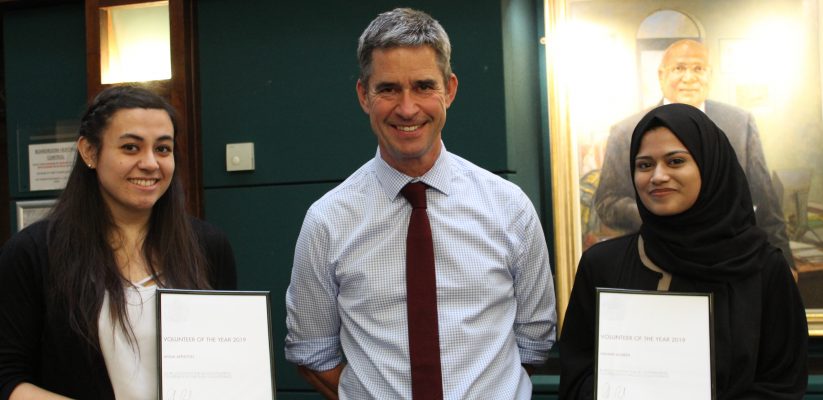 This academic year, the Student Volunteering Services reported that over 400 students participated in volunteering, providing over 20,000 hours of service to 137 charities across London.
On 21 May, Westminster held a formal Volunteer Celebratory Event at the Regent Street Campus, acknowledging the top volunteers in the student community and the University's current partner charities. Undergraduate students Anna Appleton, Haleena Gulzareen, Haniah Aumeer, Shifa Begum and Ruxandra Calin were each awarded 'Volunteer of the Year' certificates by the University's Vice Chancellor and President, Dr Peter Bonfield, for their outstanding contributions. Anna took part in over 200 hours of volunteering with St John's Ambulance, supporting the SOHO Angels and managing the Westminster Links First Aid Society, helping to train many students in first aid. Haleena volunteered over 135 hours at Headway East London, an organisation supporting people with brain injuries, while Haniah volunteered over 50 hours with the Zacchaeus 2000 Trust. Shifa volunteered with Victim Support, working to help those impacted by the effects of crime, and Ruxandra volunteered on the Explore Teaching scheme as a participant in Westminster's AlSadi Changing Lives Programme.
The 'Charity of the Year' award was presented to enterprising charity The Literacy Pirates, who work towards developing literacy confidence in young people of the Hackney area. Lily Eastwood, Director of Learning at Literacy Pirates, shared her delight in having Westminster as a partner and congratulated the team on making volunteering a priority in Higher Education. She further made a plea for more volunteers to continue making an impact in children's literacy.
"Volunteering is a unique opportunity for our students to develop, both professionally and personally, build friendships, pursue their passions, enhance their employability, engage with local, national and global communities and make a sustainable change for good."
The event also included a presentation given by Andy Norris, Head of Corporate and Social Responsibility, about social return of investment and how this positively impacts the University. He said: "The theme #BeingWestminster goes hand in hand with our Student Volunteering Services and that's why we focus on four main pillars of engagement- student experience, employability, community engagement and wellbeing.  Each one feeds into the other and all are inevitably connected with volunteering.
Cindy is a full time master student pursuing her degree in Media, Campaigning and Social Change.As a student helper, she provides support to the Corporate Social Responsibility(CSR) team and Black & Minority Ethnic (BME) Staff Network at Westminster.She is passionate about CSR and it's place in creating social change.
Latest posts by Cindyann Currency (see all)