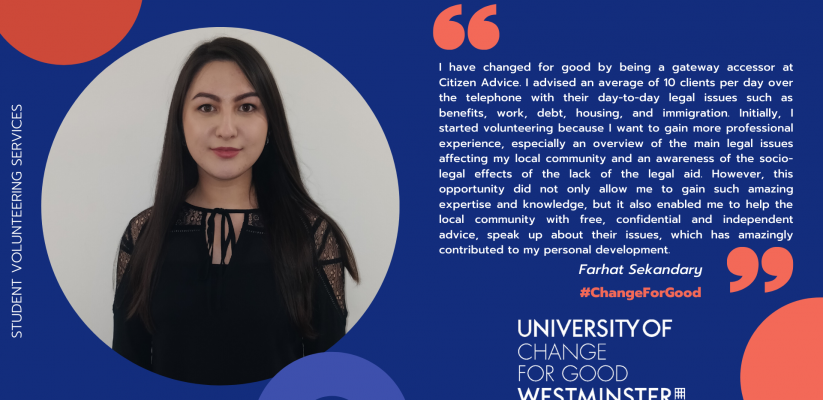 This week, we are happy to continue our series with Farhat Sekandary's story. Farhat is a student from LLB (Hons) Law, last academic year she volunteered more than 100 hours in different charities and she was keen on sharing her story with us.  
"Opportunity does not knock; it presents itself when you beat down the door."
I have always been a firm believer in engaging with the local community to make a difference.  Volunteering has been a great opportunity for me to not only enhance my skills but to put them into practice to help others.
As a Telephone Gateway Assessor at Citizens Advice, I advised an average of 10 clients per day on issues such as benefits, employment and housing. Here, I witnessed the law in action by applying the law to provide client-specific advice and also appreciate the socio-legal effects of legal aid cuts. This experience inspired me to volunteer at the University's Law Clinic, where I interview clients and formulate written advice on Family Law issues. Through providing free, confidential advice on often distressing issues, I have become a more effective communicator.  I have learnt that a formal placement is not the only way to gain exposure to a professional advisory environment –  you can find them closer to home!
Volunteering can help you to future-proof your career by exploring alternative careers. As a Legal Consultant at the University's junior enterprise, where I draft and negotiate contracts with client companies, I have gained an insight into consultancy. I also volunteer at a Lawtech start-up, where I gather consumer intelligence for legal services providers.  Volunteering is also a great way to strengthen your existing skills: I have improved my critical thinking through managing finances and ensuring budget compliance as a Treasurer of the Law Society.
Opportunities do not arise by themselves – you have to get out of your comfort zone and take initiative for success! In April, I will be visiting Hong Kong as part of the Westminster Working Cultures program. I look forward to seizing this new opportunity to increase my employability and to become more globally focused.
Global in outlook and engaged in communities
Literate and effective communicators
Critical and creative thinkers
Latest posts by Bao Quyen Le (see all)