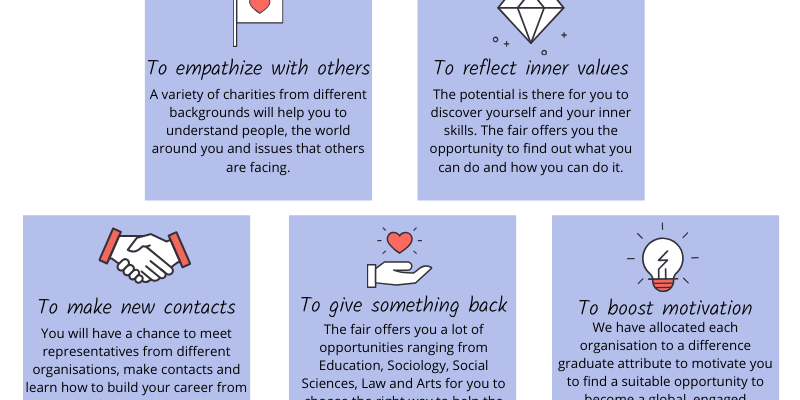 1) Great networking opportunities:
People say that to be employable, the most important thing is to expand your network. At the Volunteering & Work Experience Fair 2020, you will be able to meet and chat with representatives from 30 charities and organisations in London. They come from different backgrounds such as Law, Sociology, Education or Arts. By showing your ability and your enthusiasm in volunteering, you may be chosen to be a volunteer in their teams, get an opportunity to be trained with professional knowledge and skills.
2) Discover your hidden strengths:
The fair will help you to see what you can do and how you can do it. You could find out that you are a great communicator, an excellent law advisor or a caring befriender! Many of our students who came to the fair found them a right volunteering opportunity that they love what they do and they are proud to grow as a person.
3) Understand the world around you:
There are thousands of people living in London who are not fortunate enough to have a good life. There are also wonderful heritages that needed to be introduced to people. Living in one of the biggest cities of the world, it's in your hand to understand the people around you. The fair will be there to offer you an opportunity to develop your social knowledge and skills.
4) Find your own motivation:
Sometimes, it is hard for people to be truly motivated in something. Learning about the world around you and knowing what you can offer to help can be your motivation to keep studying and working hard as you know you can make the world a better place.
5) Be proactive and spend time helping people:
With great volunteering opportunities, you will be able to help other people in the way that you wish! From one-off volunteering to regular volunteering, it's all flexible for you to be proactive and help other people while studying.
To sign up and book your place, click the button below!
Date: 12/02/2020
Time: 12:30-3:30 p.m.
Location: Little Titchfield Street Campus, 4–12 Little Titchfield St, Fitzrovia, London W1W 7BY
How to get in touch with us:
Latest posts by Michaela Western (see all)