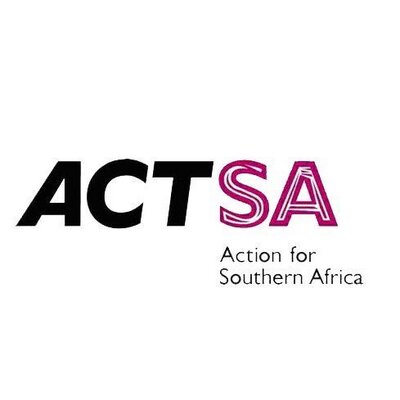 ACTSA was founded in 1994 as the successor organisation to the Anti-Apartheid Movement. We are distinctive, dynamic and make a real difference. We inform, educate and campaign to eradicate poverty, reduce inequality, and secure rights, justice and dignity for the people of Southern Africa. We are small but have a significant impact because we target our work and resources carefully, and because we have a reputation for being a trusted partner in the region.
Some of our successes have included:
• Achieving justice for Southern African gold miners suffering from Silicosis and TB, leading to an out-of-court settlement of over $400 million for the miners and their families;
• Helped secure £7.5 million in compensation for asbestos sufferers in Southern Africa;
• We continue to support women in Zimbabwe in their fight for dignity, to date delivering over 7.5 million sanitary products through our 'Dignity! Period.' campaign.
We are a small team of highly dedicated people and rely on the support of volunteers to achieve our goals and campaign for rights, equality and sustainable development in Southern Africa.
We are seeking a highly organised and enthusiastic volunteer to play a key role in our team by supporting charitable events and general office administration. The Events and Administration Assistant will work closely with ACTSA's Communications and Events Officer and ACTSA's Director. The duties include:
• Supporting the planning, researching, organising and delivery of upcoming events (note that occasionally events are on a Saturday).
• Researching potential sponsorship for events, including drafting and sending emails to donors
• Liaise with ACTSA's Finance and Administration Officer to support general administration duties, including responding to external enquiries coming into the general email account.
• Designing promotional materials for events using Microsoft Office and Canva.
• Maintain up to date contact information for external partners and vendors engaged during the volunteering period and to adhere to ACTSA's policies on data protection and other relevant policies.
For more information and how to apply, please click here.
Latest posts by Bao Quyen Le (see all)