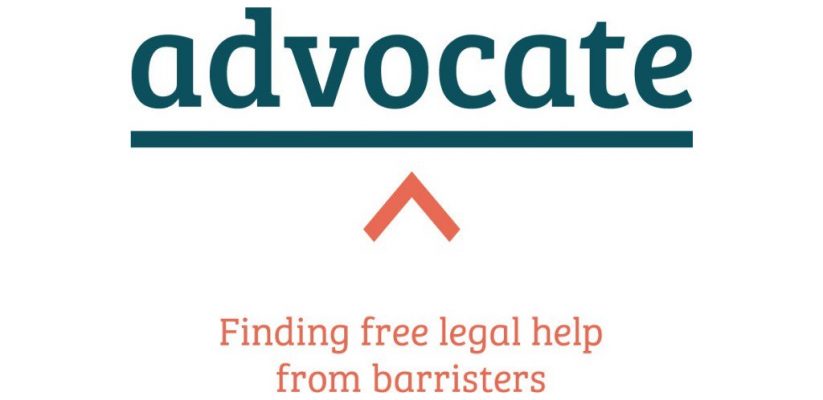 Advocate is the Bar's national charity, based in the National Pro Bono Centre on Chancery Lane, London, which helps to find pro bono legal assistance from volunteer barristers.
We can assist with:
advice, representation and help at mediation
– cases in all legal areas
– cases where proceedings have not yet been started
– cases in all tribunals and courts in England and Wales
Pro bono assistance is only available to those who cannot afford to pay and who cannot obtain public funding (Legal Aid). Advocate is a small staff dealing with over two thousand cases each year, and rely a great deal on Casework Volunteers, who come into the office and help applicants get the assistance they need.
They are looking for dedicated and enthusiastic individuals to volunteer at their office for one day a week over a four month period. Advocate can offer a degree of flexibility around other work experience or commitments. 
You will have an interest in law and be motivated to help those who cannot afford legal assistance. As a key part of our team you will possess strong inter-personal skills and be ready to adapt to the changing need of the casework team. You must have completed at least one year of law-related study/work and ideally have some experience in the voluntary sector. Office experience is preferred but not essential. 
You may state a preference for when you would like to volunteer on the application form and Advocate will do their best to accommodate it. Advocate can discuss your availability further at your interview if you are shortlisted.
For further information on how to apply, please click here.
Others volunteering opportunities at Advocate:
https://weareadvocate.org.uk/volunteer.html
"I would strongly recommend to anyone interested in pursuing a legal career to try and spend some time with Advocate. Not only does it look great on your CV, it also helps you hone crucial skills such as succinctly summarising the key facts of a case and identifying the relevant legal issues, something that should stand you in good stead for any pupillage or training contract interviews. The staff are all wonderfully welcoming and helpful, and whilst a key benefit is the range of areas you will experience (anything from Defamation to Child Protection), they will also accommodate specific requests to see more work in certain areas. Ultimately you are doing genuinely important work that makes a material difference to people's lives, whilst being supplied with copious amounts of tea and cake. What's not to like?
Latest posts by Bao Quyen Le (see all)