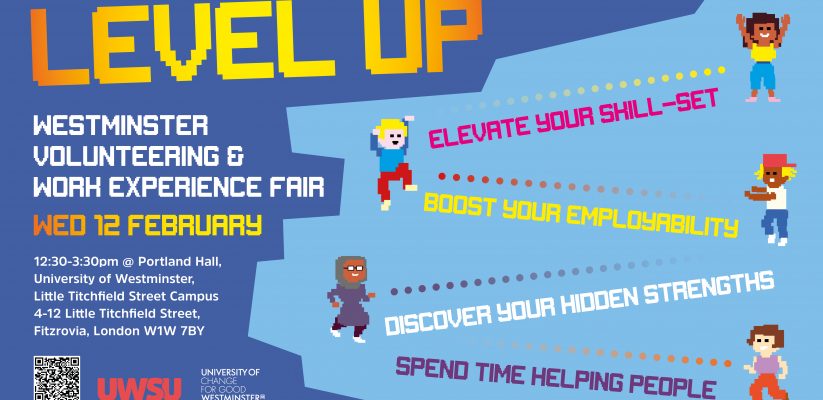 Following previous success, the Westminster Volunteering & Work Experience is back this semester with the aim to offer students access to suitable volunteering and professional work experience opportunities, discover their hidden strengths, boost employability and engage with the local community.
The event is open to all students and staff and organised by the University of Westminster's Corporate Social Responsibility team (CSR) together with the Students' Union (SU). During the fair, students will be able to chat with representatives from 30 charities and non-profit organisations in London including Age UK, Black Cultural Archives, KEEN London, Housing for Women, Citizens Advice Witness Service and Refuge just to name a few.
The last fair that happened in October 2019 welcomed more than 600 students from different campuses to attend and seek advice and tips on volunteering from more than 40 charities at the Cavendish Campus. A BSc Biomedical Sciences student was happy to share their experience with us: 
"I want to do medicine after I graduate so for me volunteering is a wonderful way to gain practical skills to add to my academic learning, contribute to society and develop personally. The Volunteering and Work Experience Fair has offered me a lot of opportunities and I have met amazing people."
The fair is there for you to discover and learn a great deal more about yourself, the people around you and the world at large. All you need to do is be willing to explore and what else might be outside your doorstep.
For any questions or inquiries about the fair, or to find out more about volunteering opportunities, email volunteering@westminster.ac.uk, or call 020 3506 6162.
The event will take place in Portland Hall, University of Westminster, Little Titchfield Campus, 4-12 Little Titchfield Street, Fitzrovia, London W1W 7BY on Wednesday 12th February 2020 from 12:30-3:30 p.m. 
Students interested in attending should sign up for the event here.
Stay tuned to the blog for more updates!
Berekhet engages students and third sector organisations to explore volunteering, voluntary work and social enterprise for the mutual benefit of personal, professional and community development. Through this role, Berekhet contributes to achievement of the University's CSR's key objectives linked to Community Engagement, Students' Employability and Experience.
Latest posts by Berekhet Berakhy (see all)