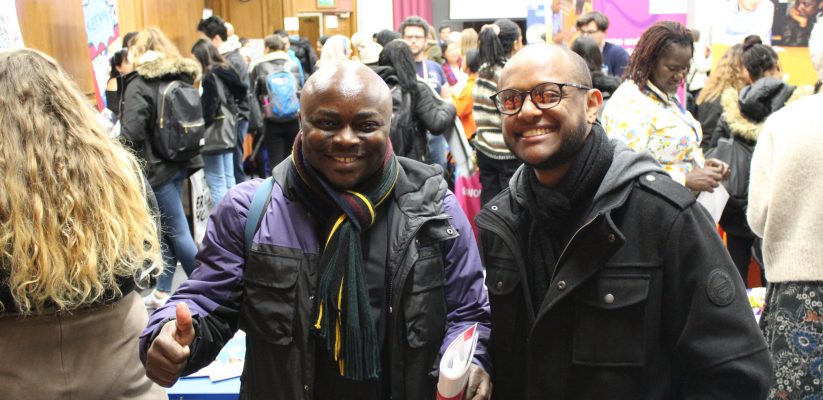 "The Level Up Volunteering fair 2020 is such an informative and engaging event as I was able to learn more about different vulnerable communities and find out how I could help."
Nguyet Luu
MA TESOL student
Yesterday, the University of Westminster hosted the Volunteering and Work Experience Fair, the centre piece of Student Volunteering Week #SVW2020. The fair was held in the historic setting of Portland Hall, Little Titchfield Campus. With 30 charities from across London and over 500 students attending, it was an exciting event which provided an opportunity for our students to speak directly with charity representatives and explore opportunities to volunteer alongside their studies.
The charities attending came from diverse backgrounds such as Alzheimer's Society representing healthcare; Citizens Advice representing law, ReachOut for education and mentoring; Bow Arts, Music for Relief or akt for arts. Students were all invited and encouraged to volunteer a few hours each week, which not only enables them to engage with the community but also helps them to improve interpersonal skills and employability.
From a charity perspective, a representative from Islamic Relief shared that it was a fantastic fair and amazing opportunity to meet and talk to Westminster students. 
Missed the fair?
If you missed the fair, don't worry! Whatever your interests, skills and availability, we are here to help. Simply browse our Engage platform, send an email to volunteering@westminster.ac.uk or stay tuned to this Change for Good blog and our social media channels (Instagram and Twitter), you will find suitable volunteering opportunities that will support you alongside your studies and engage with and contribute to our local communities. Whether you are a student or a charity, we are here to help.
Berekhet engages students and third sector organisations to explore volunteering, voluntary work and social enterprise for the mutual benefit of personal, professional and community development. Through this role, Berekhet contributes to achievement of the University's CSR's key objectives linked to Community Engagement, Students' Employability and Experience.
Latest posts by Berekhet Berakhy (see all)