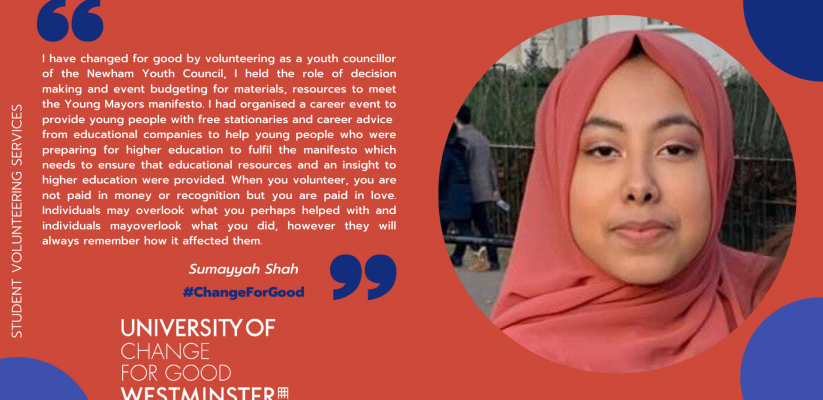 The Volunteering & Work Experience fair is just over and we are now preparing for the Student Volunteering Survey coming up next week. Therefore, it's great to read Sumayyah Shah's story to know what is expected to share when you do the survey. She is a recent graduate who has been an excellent volunteer at the Newham Youth Council and she is here today to share her amazing volunteering journey and what she thinks about volunteering.
"Be the flower that leaves its fragrance even in the hand that crushes it."
I believe everything I do should always have a ripple effect of good, whether my work benefits others, encourages others to do the same or even acts as an inspiration in doing the same as what I do, even if things do come to an end, the effect of the work, the beliefs and intentions should be ongoing regardless of what may come.
I started volunteering initially because of my desire to help others and utilise the free time in which I could spend making my community a better place, being able to go to sleep at night knowing that I was able to contribute to change. As a youth councillor of the Newham Youth Council, I held the role of decision making and event budgeting for materials, resources to meet the Young Mayors manifesto. I had organised a career event to provide young people with free stationaries and career advice from educational companies to help young people who were preparing for higher education to fulfil the manifesto which needs to ensure that educational resources and an insight to higher education were provided.
When you volunteer, you are not paid in money or recognition but you are paid in love. Individuals may overlook what you perhaps helped with and individuals may overlook what you did, however they will always remember how it affected them. It's the feeling of knowing that you have left an imprint by providing a service to not only one person but a community starting off something which could have an everlasting effect. This feeling was enough to encourage me to volunteer and continue to do so.
Global in outlook and community engaged
Literate and effective communicator
Entrepreneurial
Latest posts by Bao Quyen Le (see all)