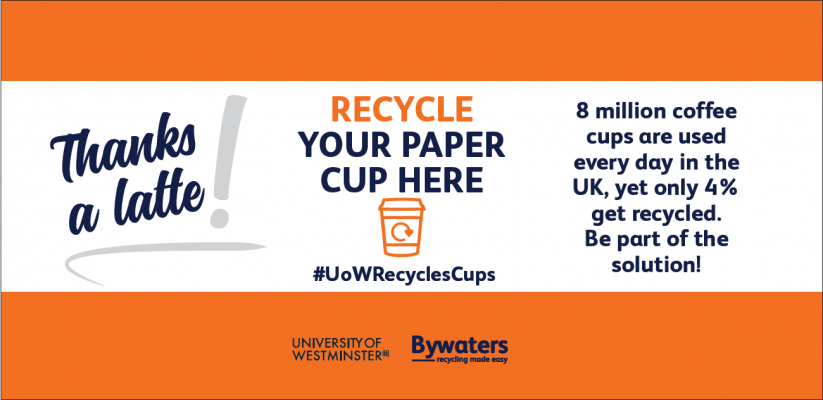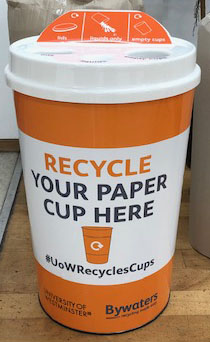 Cup Recycling At Westminster
You can now recycle your paper cups at Marylebone and Cavendish campus! There are 9 cup shaped recycling bins and 1 reverse vending machine available to use.

Make sure you take you empty any liquids and remove the lids before recycling! Otherwise we won't be able to recycle them!

If you recycle your cup using the Reverse Vending Machine at Marylebone you could win a £10 voucher for Lush, Planet Organic or Waterstones, whichever you prefer.
Worth Of Prizes Given Out So Far!
Why are we recycling cups?
OVER 2.5 BILLION SINGLE USE CUPS are used every year in the UK, that's over 8 MILLION A DAY! This equates to 30,000 TONNES of waste cups, which is enough to fill The Royal Albert Hall.

In 2017 only 1 in 400 cups are recycled which is around 0.25% of all cups.

With support from The Cup Fund we have provided cup recycling facilities across campuses to help tackle this problem and increase the amount of cups that we recycle! This help reduce our environmental impact as individuals and as a University.

Can't cups go into the mixed recycling bins?
In order to ensure that disposable cups conform to health and safety requirements, they are made with paper fibre and a 5% polyethylene lining which is bonded together under a high heat. This use of mixed material ensures the strength and safety of the cups, but it renders the cups difficult to recycle. Although both the paper and plastic components of disposable cups are recyclable, the materials need to be separated out, which is a more complicated process than traditional paper is recycling.

While disposable coffee cups are recyclable in specialist facilities, they are not currently widely recyclable in most local authority recycling centres. That means they need to be disposed of and collected seperately from all other waste to be recycled. There are currently only three recycling facilities in the UK which have the ability to recycle coffee cups; James Cropper PLC, ACE UK and Veolia.
If you're going to enjoy a hot beverage then the most environmentally friendly option is to use a reusable container such as a KeepCup or Husk Cup which can be brought at all University Cafe Outlets.

You'll even get a 20p discount at university outlets and up to 50p discounts from high street coffee shops for using a reusable cup. They'll even wash the cup for you if you've not had a chance to wash it since your last coffee!

If you forget you reusable cup then recycling your take away cup is the next best thing!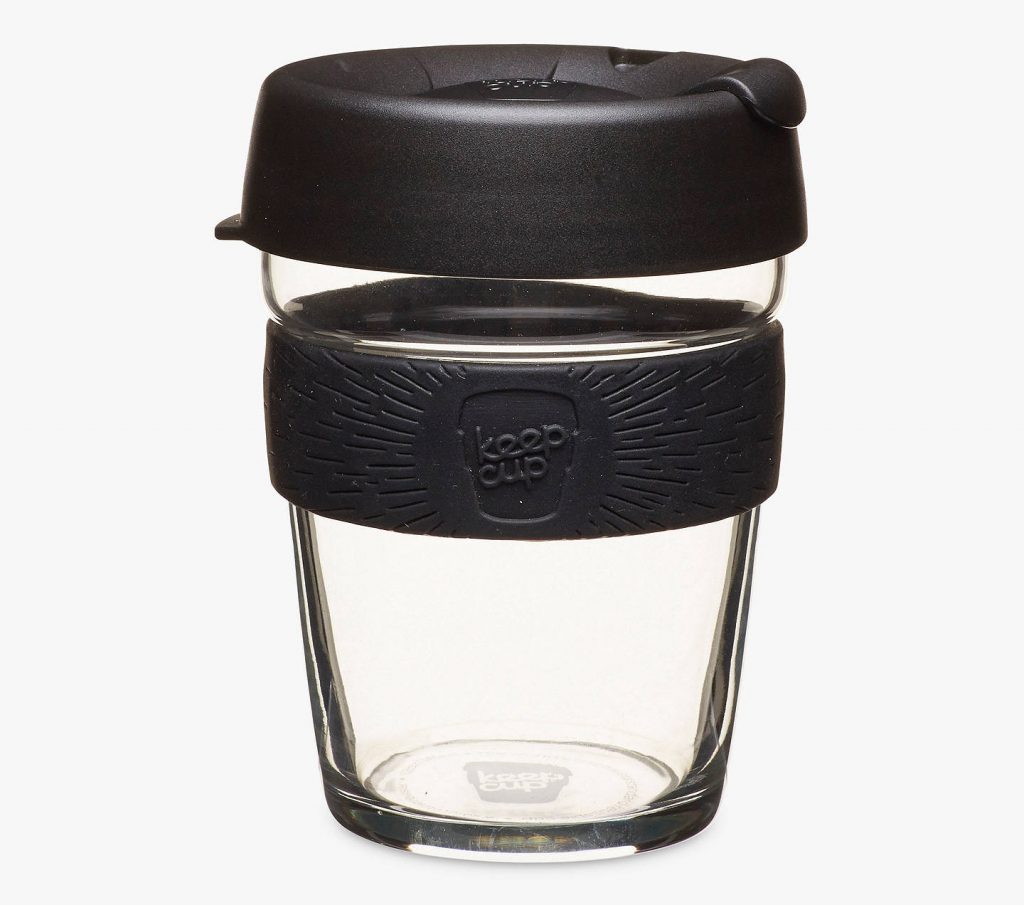 Environmental charity Hubbub, have launched The Cup Fund in partnership with coffee giant Starbucks. It is the biggest UK fund to support the launch or upscale of cup recycling schemes.
Bywaters has rolled out coffee cup recycling streams across three universities: University of Westminster, Queen Mary University of London and LSE. Bywaters have introduced reverse vending machines, rewards, coffee cup bins, re-branded cups and run a communications campaign and events to engage students. The cups are collected using a zero-emission electric coffee cup recycling van, charged from a solar PV array. The project aims to recycle 600,000 paper cups in year 1.

Take a look at the other winners here: https://thecupfund.com/winners
Latest posts by Jordan Lamb (see all)