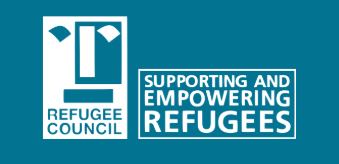 Refugee Council is a charity who works directly with thousands of refugees each year.  They support refugees from the moment they arrive in the UK.  They provide crisis advice and practical support, help refugees to integrate into their new communities and offer mental health counselling to help them come to terms with the trauma so many of them have experienced.
Refugee Council is the only organisation providing a national service in support of refugee children and young people who arrive in the UK alone.
Refugee Council also speaks up for refugees using their work as an evidence base and ensure refugees have a stronger and more influential voice in decisions that will affect them. They work with a range of partners and in collaboration to ensure they can best support their clients.
Volunteers needed: 2
Location: Refugee Council offices, Stratford
Commitment: Thursdays, 9.45am – 5pm (6 month + commitment)
The project
The OISC project supports clients with immigration applications regulated by OISC (Office of the Immigration Services Commissioner). Specifically, Refugee Council supports refugees with applying for:
Convention Travel Documents – They are 'special passports' issued to refugees by the state in which they normally reside allowing them to travel outside that state and to return there.
Replacement BRPs – A BiometricResidence Permit (BRP) is a document issued by the Home Office which shows evidence of the holder's immigration status.
Leave and status in line applications – this is a request for children born in the UK to parents with refugee status to receive the same status and leave to remain as the parent.
What will I be doing?
You will be seeing clients in 1-1 appointments and filling the applications forms with them.
Useful skills and experience:
Excellent attention to detail. The application forms are long and complicated.
Weekly availability on Thursdays for at least six months.
No prior experience of advice provision or OISC qualification required.
Ability to build trusting relationships with clients whilst maintaining personal boundaries.
Good command of written and spoken English.
Very good computer skills and ability to use the organisations' database (training will be provided).
Ability to communicate in another language would be of benefit but not essential.
This role is subject to a satisfactory Disclosure and Barring Service check. Checks will be arranged by Refugee Council at no cost to the volunteer.
What support will I receive?
Induction, training on our organisation's database and on-the-job training.
Regular support from a supervisor and a volunteer coordinator.
Travel and lunch expenses.
Marsh Awards: through sponsorship from the Marsh Trust, Refugee Council also provides volunteers with the opportunity to design and set-up a new service for new clients. There will be an opportunity to discuss this with the volunteer coordinator.
What will I get out of it?
Chance to assist one of the most vulnerable client groups in our society.
An insight into the intricacies of being a refugee in the UK.
Skills in offering immigration advice.
Customer service skills.
IT and administrative skills.
I want to help!
Please fill in the Volunteer Application Form and send it to Anna at anna.raffetti@refugeecouncil.org.uk by the end of Sunday 22nd March.
Latest posts by Bao Quyen Le (see all)