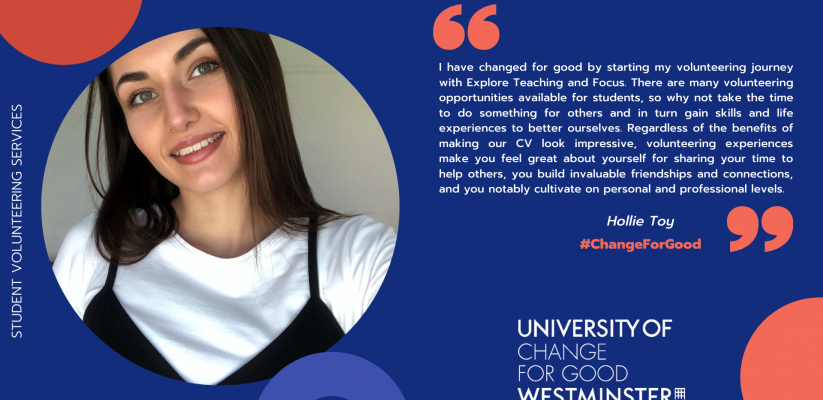 We are happy to share Hollie Toy's volunteering story this week. Hollie finished her Bachelor of Science degree (Honours) in Psychology in 2019. She is keen on sharing her amazing time volunteering at the Explore Teaching programme and Focus. 
"Don't let yesterday take up too much of today." – Will Rogers
Being passive and lack of university experience had motivated me to start volunteering and gain hands-on experience. I started my volunteering journey with Explore Teaching and Focus, they offered a great deal to their volunteers and are incredible organisations. Focus was an experience like no other, I grew as a person and Explore Teaching has built my professional confidence and capabilities enormously. 
There are many volunteering opportunities available for students, so why not take the time to do something for others and in turn gain skills and life experiences to better ourselves. Regardless of the benefits of making our CV look impressive, volunteering experiences make you feel great about yourself for sharing your time to help others, you build invaluable friendships and connections, and you notably cultivate on personal and professional levels. 
When I was applying for volunteering I didn't understand the value of volunteering until I joined Focus. Something Focus stressed from the first day was that their Saturday club couldn't run without volunteers. They showed a lot of gratitude and positivity towards the volunteers and it really made you feel a part of a community and valued for whatever one could offer. The same with Explore Teaching, the school I was placed in were very welcoming, offered incredible teaching experiences and I felt valued by the students and teachers throughout. Without student volunteers, these organisations cannot give to those who need it most and in return, they will give you professional and life skills along with an abundance of gratitude. The experience I gained through my volunteering journey will always encourage me to volunteer again. I will encourage other students to volunteer as exchanging time and commitment to gain some valuable experience should be an obvious choice. 
Global in outlook and community engaged
Literate and effective communicator
Critical and creative thinker
Latest posts by Bao Quyen Le (see all)