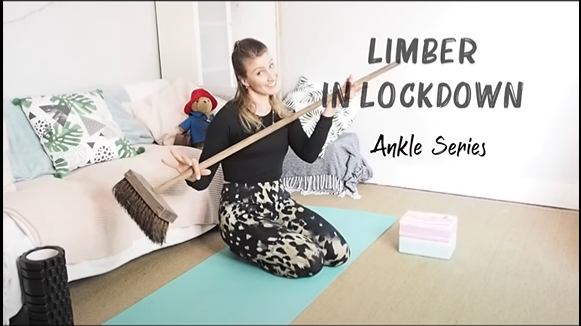 Today we are looking to move about the soft tissue on the back of your lower leg/ calf region.
You will need a broom that can take your weight, we are going to sit on it. Also have some books to hand for propping up the broom, or a foam roller if you have one.
With both of these exercises be gentle, if you go in super hard you are actually more likely to get your muscles to tighten up more.  So work with your breathing and go slow.
☆ TWISTY BROOM SIT
⚠️- if you struggle sitting back fully onto your knees this one is NOT for you.
– Sat on your knees, place broom just at the point where your leg starts to narrow before the ankle joint.
– This is where you want to start. Sit back onto broom, whilst slowly twisting the broom so it moves the tissue underneath it.
(You may have seen the also called a Barbell smash)
– Roll here for a few seconds then move up slowly and repeat.
– You want to go all the way up to your knee and back down again.
This should in total take about 2-3 mins.
If you find a really sweet and tender spot try to stay there a little bit longer.
.
☆ SOFT TISSUE TWIZZLE
For this one you can use a foam roller or stick with the broom. The broom will actually get in deeper as its slimmer.
– Which ever leg was tighter maybe start with that one. If there were any sweet spots also try to start there.
– One leg on broom, the other on top, start to draw circles with your ankle, 5 clockwise, 5 anticlockwise then move onto your next section of the leg.
Repeat on the other side.
Remember be sensible, if any of these movements hurt or really aggravate underlying conditions, don't do them. 
Latest posts by Bao Quyen Le (see all)