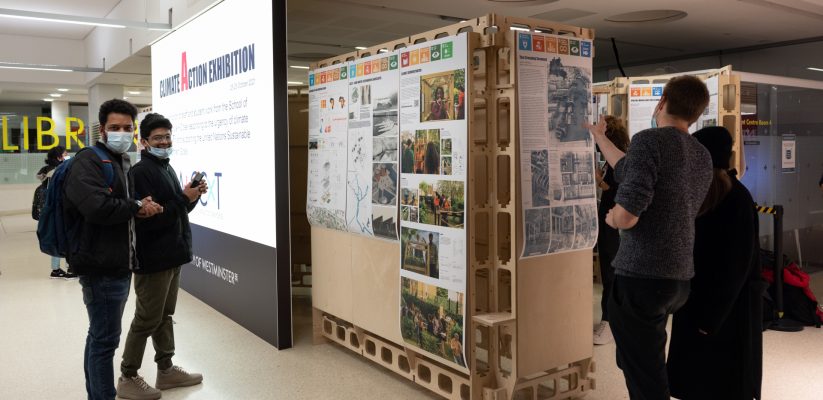 The Climate Action Taskforce in the School of Architecture and Cities (ArCCAT) held an intense series of events during the week of 25-29 October in the run-up to COP26 to profile climate change within the school. These included an exhibition of staff and student work addressing UN Sustainability goals on the Marylebone Learning Platform, opened by our Vice Chancellor, Peter Bonfield.  Projects featured on the exhibition covered an enormous range, from anthropologist Stroma Cole's work on water insecurity and gender based violence in Indonesia and Peru to Julian Williams' Climate Demonstrator, a live-build summer school involving students from Architecture + Cities and a primary school in Kennington.
A number of workshops and talks were organised to promote sustainable practice in the built environment. These included an interactive student co-created event hosted by Elantha Evans on UN Sustainability Goals, a highly informative presentation on Kings Cross by Argent's Sustainability Manager, Steven Kellett, talks by architects Chris Morgan and Gordon O'Connor-Read on practicing sustainability from portfolio to practice, and the launch of Will McLean and Pete Silver's Environmental Design Source Book.
In addition, number of events allowed staff and students to engage more actively with climate change in practice. These included a student competition to design a materials reuse station for the studios, a first-ever collaboration between the four undergraduate programmes in the school. The Marylebone Estates team led by Chris Meloy organised a walking tour of the Marylebone building to identify opportunities for interventions to promote biodiversity and the Sustainable Cities and the Urban Environment organised a walking tour of the City of London by Julie Futcher that enabled us to experience first-hand the impact on the urban environment of built forms and surfaces.
Through this broad range of events, climate change and biodiversity loss was profiled in the school and beyond, leading, we hope to concrete outcomes in practice.
Lindsay Bremner
Convenor of the Architecture + Cities Climate Action Taskforce (ArCCAT)