Assessment facilities and staff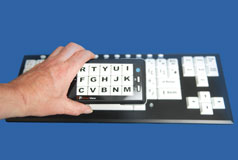 A needs assessment is an informal meeting between you and one of our qualified assessors, to talk about how your disability could affect your course. But it's not something to worry about – it's not a test, and in most cases the assessment should take no more than two hours.
At our New Cavendish Street offices we have three separate assessment rooms, each equipped with the latest assistive technology and ergonomic furniture. We are one of the largest assessment centres in the country, and our facilities and equipment far exceed the specifications laid down by the DSA Quality Assurance Group (QAG). We also have Outreach Centres on our Harrow & Marylebone campuses and at our Chiswick Sports Ground. CLASS assessors are experienced in assessing a range of disabilities, and many of them come to us with a background in disability support, ranging from physiotherapy to counselling, RNIB training to dyslexia tuition. When you book your appointment, you will be assigned to an assessor with experience of your particular needs.
The combination of expert staff, space and facilities means that we can assess for the widest possible range of disabilities, including:
Asperger's, autism, and mental health issues
hearing impairment
multiple disabilities
physical disability and mobility problems
specific learning difficulties
unseen disability
visual impairment.
To find out more about how we assess these and other areas of disability, click here, or visit the FAQ section of the website.
Often a disability doesn't fall into an easy category, and sometimes it can simply be difficult to talk about. If you still have any queries or concerns, you can talk to CLASS staff in absolute confidence, by calling Freephone 0800 0153158, or by using our online enquiry form to send us an email.
CLASS also remains one of the few centres to employ a dedicated, full-time Technology Consultant to keep up to date with the latest assistive technology and ergonomic equipment. We purchase and test new hardware and software as it becomes available, to ensure that everything we recommend does exactly what it's supposed to.