History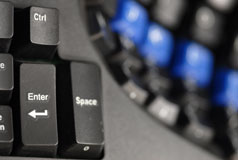 CLASS was founded at the University of Westminster by David Laycock MBE in 1984 as the Computer Centre for People with Disabilities (CCPD), with the aim of making assistive technology available to disabled students in higher education. Back then, we worked with occupational therapists, speech therapists and physiotherapists to explore the uses of assistive technology for a range of disabilities. In turn, we improved our own expertise through working with these professionals.
In 1992 we moved to new, larger premises at 72 Great Portland Street. With the expansion of the DSA scheme, CCPD was well placed to provide assessments of need. We were a founder member of the National Federation of Access Centres (NFAC), NFAC's first higher education member, and the first university-based assessment centre in the UK.
In 2005 we improved our facilities, enabling us to see even more students during busy periods and renamed ourselves Central London Assessment Services, to more accurately describe the work we perform. June 2013 saw a move to 101 New Cavendish Street, a modern, fully accessible building with four dedicated assessment rooms.
In 2014 we opened an Outreach Centre on the University Harrow Campus and in 2016 we opened an Outreach Centre based at the University Sports Ground in Chiswick. Both Outreach locations offer good car parking facilities.
In 2019 we opened another Outreach Centre on our Marylebone campus, opposite Baker Street Station & Madame Tussauds.
Throughout our history, our focus has always been on providing assessments and support for students with disabilities. As a result we know that our expertise and experience means we can provide accurate assessments of the full range of disabilities, and support you throughout your education, as your needs change.
Over the years CLASS has been actively involved in keeping the DSA sector transparent, regulated and up to date. Our staff manage DSA-related mailing lists / forums, and we offer training to funding bodies and disability officers.