New classrooms drop ins: your questions answered

Thank you for giving us the feedback and for your questions during the drop in sessions. Those questions that we couldn't answer then, or gave brief answers to are below, with more information.
Do have a look here. Use the index below to browse through the questions and click on any question to read the answer.
If you're teaching in one of the new rooms, do get in touch by email at blackboard-support@wmin.ac.uk to give us feedback, or report any issue that you meet.
Leave a Reply
New classrooms in use: update on reported issues
The academic year has officially started and the thirty-seven new rooms that were completed over the Summer are in full use.
Thank you for your feedback. It's been great to meet you as we go round the new rooms before the start of lectures to give a quick overview of what's new and answering your questions. If a member of the Educational Technology Team approaches you in one of the new rooms, do not hesitate to ask how to use the equipment.
You highlighted a few issues that we reported via the Service Desk and this is a quick update on them:
Some AV/IT malfunctions (log in issues, projection issues; keyboard not plugged in, etc.)

These have been reported and fixed by the Service Desk

In some rooms, phones and attendance swipe card machines had not installed

This issue is limited to the new rooms. The  Service Desk are aware of the situation and are installing the swipe card machines.

Problems playing sound in some of the rooms

If you are faced with this issue, please follow the instructions on the page, while the Service Desk finds a solution:

http://uow.populr.me/no-sound
Do let us know if you've had any problems in the new rooms , get in touch via this email: blackboard-support@wmin.ac.uk. We'll log the issue, chase it and get back to you as soon as possible.
Leave a Reply
New Classroom Drop In Sessions

As most of you know, as part of the Classroom Refurbishment Programme, the University upgraded the AV/IT equipment, furniture and other features in thirty seven rooms across five sites, over the Summer, after upgrading twenty two last year.
The Educational Technology Team ran six drop in sessions to show these rooms and give you a chance to use the equipment before the academic year started.
Thank you all very much for coming and getting in touch about the sessions and what's new in the rooms. In all, we met with more than one hundred people across five sites and it was great to hear your questions, feedback and show you the flexible learning spaces.
Example of a new classroom: Regent Street: RS352
In case you couldn't make it to one of the drop in sessions, here's what we covered:
Brief overview of the Classroom Refurbishment Programme

Using the adjustable lectern and touch screen PC

Using the new control panel to set what is shown and the audio in the classroom

Using the visualiser

Quick overview of Panopto and how to record from different sources

Connecting laptops or mobile devices via the lectern cables or Reflector

Tour of some new rooms, with the opportunity to try the equipment
Thank you also for sharing your experience and ideas of teaching in the new flexible learning spaces. If you're timetabled to teach in one of the rooms, members of the Educational Technology Team will be around to give you support and show you how to use the equipment during the first two weeks of term.
We would also love to hear from you if you attended a drop in session, would like more information about the equipment, or plan to use the new technology or collaborative furniture in your teaching.
You can get in touch with us by email here: blackboard-support@wmin.ac.uk.
The Educational Technology Team wishes you and your students a good start of term.
Leave a Reply
The AV and IT and some other bits and pieces…
All classrooms will have the new standard AV and IT including:
Adjustable lectern
Touch screen PC
Data projector and screen (or screens depending on size of room)
Microphone and speakers
Visualiser
Recording capability (slides plus audio)
Connectivity on the lectern (via HDMI and VGA cable) for laptops
In addition all rooms are planned to have Reflector installed in them which allows tutors and students (with the tutors permission) to wirelessly mirror the display from laptops, tablets and mobile phones to the main projection screen(s) in the room.
In addition:
Rooms will be fitted with dimmable lighting that people should be able to make work
There will be normal clocks (i.e. not digital so with hands) and there will be 2 in each room
It will be possible where there are multiple screens in a room to turn off the screens independently of one another
It will be possible to raise the projection screen at the front and turn off the data projector display without shutting the whole system down
There will be a lecturer's desk and chair in each classroom (note that the rooms refurbished last year will also be retro equipped with these)
Telephones will not be on the lectern but on the wall
Power sockets will be around the walls at a ratio of 1 per 2 students. The power sockets will also have USB charging ports
We will not have writing walls but there will be as many whiteboards in a room as is feasible
In rooms with plectrum tables there will be a whiteboard for each table and tables and whiteboards will be colour coded
Unfortunately we are not able to accommodate the suggestion made by a group of staff at the furniture exhibition that there should be refrigerated drinks cabinets under each lectern. Maybe next year:-)
4 Responses to "The AV and IT and some other bits and pieces…"
This sounds very good (apart from the totally unacceptable lack of drinks cabinet). If we wish to use Blackboard Collaborate to allow remote access to classes, we will need to have a laptop with a camera or some such arrangement?

Hi Anthony

Each lectern PC will have a camera built in that might be acceptable if what you want to do is allow remote students to see and hear you. The mics on the lecterns will pick up the audio very well – the camera is reasonably quality but of course it won't follow you around if you move from the lectern.The mic though will pick up your voice from quite a distance.

Regards

Gunter

Will the microphones be roving or static please? it would be good to have roving microphones set up, particularly for the large and awkwardly shaped classrooms where by standing by the lecturn not all the student can see you due to columns blocking view.

Hi Linda

Mics built into all room during refurbishment will be fixed. However AV do I believe have some roaming mics that can be booked.

Regards

Gunter
Leave a Reply
The Furniture
Post the furniture exhibition and collation of the feedback received, and after consultation with designated Faculty representatives, furniture has been ordered for each room. To see details of what furniture options are going in to each room please use the links below.
Regent Street and Little Titchfield Street
Leave a Reply
New Classrooms Programme Schedule for Summer 2016
At long last, after the furniture exhibition and quite a lot of other consultation, a programme has been agreed for classrooms to be 'done' over the Summer as phase 2 of the 5 year programme to refurbish and modernise all standard classrooms across the estate.
You can use the links below to find out which rooms are being worked on over this Summer as part of this programme and the scheduled date for completion of each room.
Regent Street and Little Titchfield Street
Leave a Reply
Feedback from the furniture exhibition
During February and early March we collected feedback from student and staff visitors to the furniture exhibition held in the old bookshop at New Cavendish Street. Thank you to all who came and passed on their views. It has taken a while to collate and try to make some collective sense of the feedback but we have now done this and you can access the current version of the collated view via this link.
In short, finding something that everyone agrees was wonderful (especially chairs!) was perhaps unsurprisingly not possible. However, though the report goes in to much more detail for each item in the exhibition, after counting votes the top 6 of the 'hit parade' were (from left to right below) a folding table, a tablet chair on wheels, a 4 sided table (so called tessellating table), a 3 sided table (so called plectrum table), an upholstered basic chair, and (not too clear in the picture below) a table that can seat 6-8 but that has small whiteboards hanging from the sides that can be used to partition the table but also to facilitate group work feedback.
Please note that this doe snot necessarily mean that the furniture above will be what winds up in all classrooms being refurbished over the summer. The final choice of furniture is still to be discussed with Faculty representatives.
One Response to "Feedback from the furniture exhibition"
Love the chairs
Leave a Reply
Flexible for group work
These two chairs are the flexible version, designed for quick transitions between different rooms.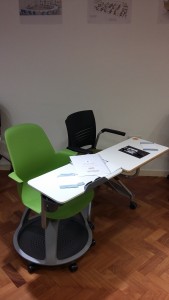 6 Responses to "Flexible for group work"
From what I have experienced of the new wheely chairs with pull out tables is that the tables aren't big enough, even for an iPad, and soon start to droop.

The feedback from post-grad students on these type of chairs is not very favourable….there is not enough room to write and to have other equipment on the desk – some seem assumed 'right-handed'

The problem with the chairs is that they must be able to stay in one place for a test as foundation and year 1 students can otherwise move around the room during a test. In addition, the table in front must be able to take at least 4 A4 sheets of paper as for a maths test they need a test paper, a table of integration, a table of trig functions and a table of Gaussian values.

These are the most suitable for communicative language teaching out of all the models on show.

It is very flexible: students can go in different groups very quickly (start in pairs, change to a different group of 4 and/ or have a big group swift exchanges unhindered by bags or furniture)
The great advantage of this chair is that they can put their bag under which makes moving around a lot safer.
The table is also big enough.

The chair with the storage area underneath will be beneficial in reducing the floor level clutter of bags. A problem when trying to use the flexibility of moving chairs around the room for group activities
Does it come in a left handed version I note the chairs currently on trial in Chiltern Block Marylebone do not!

These are flexible and potentially help to keep belongings out of the way although in practice, there never seems to be quite enough space. I have concerns about the rigidity of the writing surface. Also, although these can be pushed together, they do not make a rigid flat surface suitable for working together, for instance to draw up detail on flip chart paper.
Leave a Reply
Tilt top table
A very good option for studios, as the wheels allow the tables to be moved and also stored efficiently.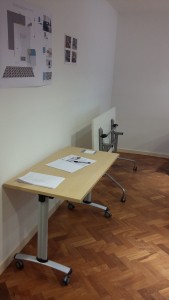 4 Responses to "Tilt top table"
we have the tables at the back in our studio now in Architecture. They just arrived in September and already quite few are broken or have laminate peeling off the edges. They looked great in September but they seem not to be wearing very well!

These tables are better for a test but again they must be able to be fixed for tests.

For some subject areas this will give useful flexibility. But this also depends on the style of the accompanying chairs, with writing areas? Also storage for coats and bags to keep the rest of the space safe and usable

In principle I like these as they are flexible and can (up to a point) be stacked to one side. The are a useful size.

The key issue with these is robustness. Is the folding mechanism simple enough that someone who ahs never seen it before can operate it easily? Will it put up with the kind of (even unintentional) abuse they will get from clumsy staff and students? In particular, if the wheels have locks on them, these tend to be broken rather quickly.
Leave a Reply
Chairs with writing tablets
Another option for the new rooms will be these two chairs, with smaller writing tablets, good for taking notes in the lectures.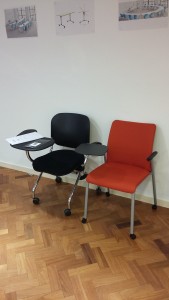 6 Responses to "Chairs with writing tablets"
What about left handed individuals? Chairs recently bought for the refurbished classrooms in FST are all right handed – hardly inclusive!

Students do not like this type of chair. We have received many complaints about the use of these chairs in MG14 at Marylebone.

I have used similar chairs/tables to these this year and found them utter useless as students could move around with them but could only fit the page they were writing on and if they forgot to hold there tables or calculators with then they would have to zoom around the room to find them.

The writing areas are too small most students need space for note taking and devices.

Also current use the floor will get clutter with bags etc, so it is difficult to move around the room and for ad-hoc group activities

These are too inflexible to act as substitute desks so we might end up with desks as well? The flat surfaces tend to droop after heavy sue and they are prone to damage (either of the malicious kind of just plain clumsiness).

The Steelcase Node Chair is the best version of the mobile tablet chairs. They have now been in place in Regent Street for two years now, with no breakages.

We need to be careful about using these on Bolon flooring – as they do move around more than conventional carpet tiling.

Breaking up the colours can also mean that you can draw upon this for group work tasks (e.g. those on yellow seats argue X or those on blue seats argue Y).
Leave a Reply
Latest:
Thank you for giving us the feedback and for your questions during the drop in sessions. Those questions that we couldn't answer then, or gave brief answers to are below, with more information. Do have a look here. Use the […]
The academic year has officially started and the thirty-seven new rooms that were completed over the Summer are in full use. Thank you for your feedback. It's been great to meet you as we go round the new rooms before […]
As most of you know, as part of the Classroom Refurbishment Programme, the University upgraded the AV/IT equipment, furniture and other features in thirty seven rooms across five sites, over the Summer, after upgrading twenty two last year. The Educational […]
All classrooms will have the new standard AV and IT including: Adjustable lectern Touch screen PC Data projector and screen (or screens depending on size of room) Microphone and speakers Visualiser Recording capability (slides plus audio) Connectivity on the lectern […]