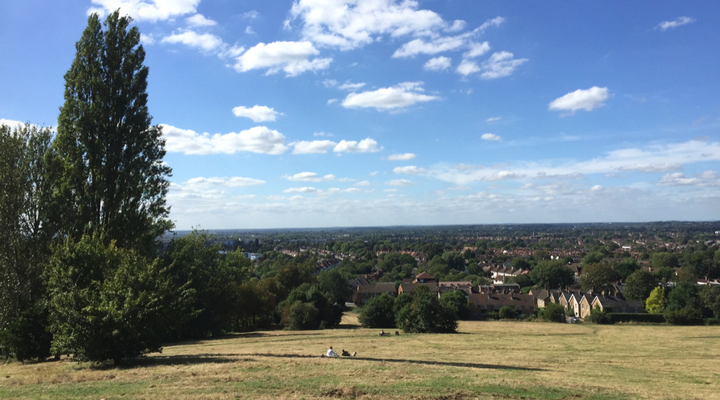 London is absolutely massive. Don't believe me? Just take a look at Wikipedia's list of areas in the city. There's so much to do and see in London, and most of it is hidden right under our noses. So I'm starting a new series of neighbourhood guides to help suss out the best London has to offer. This first is one very close to my heart – it's my basically my backyard, right by the University of Westminster's Harrow campus. It's one of my favourite neighbourhoods in the city, so I hope you enjoy!
Perched above the Borough of Harrow lies Harrow on the Hill, a historic village dating back to the 1300s. Located only 30 minutes outside of Central London, the delightful country feel will appeal to anyone looking to escape the hustle and bustle of city life. It also boasts views so amazing that King Charles I stopped here on his way to surrender to the Scottish Army to take in a glimpse of London one last time.
With art cafes, historic landmarks, and a prestigious boarding school to its name, the Hill may be little, but it's a great spot to unwind for the weekend.
What To See + What To Do
Many know Harrow as the home of the renowned Harrow School, a prestigious boarding school that counts Winston Churchill, Benedict Cumberbatch, and six other Prime Ministers and three monarchs as notable alums. While the public isn't privy to the secrets behind the school walls, Harrow School does hold three open tours a year, so plan accordingly for your chance to visit the Old Speech Art Room Gallery, Fourth Form Room (a filming location for Harry Potter & The Philosophers Stone!), and the beautiful Vaughn Library.
If the outdoors are more your scene, have no fear. Harrow is home to tons of public footpaths that connect all over the city. Trek along the Capital Ring, wander past Harrow School's fields, or hike up and down the hill on one of the many marked walking routes.
And you can't miss
St. Mary's Church
, whose steeple is the highest point in Middlesex. If you take the path up to the viewpoint terrace, you'll be able to spot the buildings of Canary Wharf, Wembley Stadium, and even the BT Tower in the distance. Mystery lovers will enjoy wandering the hilltop cemetery, complete with overgrown gravestones that look like a scene right out of a gothic novel. Be sure to wander over to
Byron's Seat
at the back of the church, which marks the very spot where Lord Byron would daydream as a young boy at Harrow School. Bring some binoculars because on a clear day, you can see all the way to Windsor.
Grab A Bite…
The Hill may be tiny, but there's definitely no shortage of places to grab a bite. The Connoisseur's take on modern Indian cuisine is a Harrow staple, featuring homemade curry to please meat-eaters and veggies alike. Meanwhile, La Collina delivers authentic Italian pizza and pasta, bistro style. During warmer months, enjoy a bowl of their famed seafood linguine on the back patio, topped off with a glass of house wine.
For some morning grub, pop down to the bottom of the hill to Sarah's Cafe, located on the picturesque golf course. Dig in to one of their delicious all-day breakfast specials, like the American style platter that comes with hash-browns, pancakes, and eggs any way you like them. It's got all the heart and soul of your favourite greasy spoon, but it's much more refined. Or swing by Battels Art Cafe to enjoy a hearty mug of coffee in a local gallery.
The Doll's House is a tea-lovers dream come true. The vintage tearoom, decked out in bright pastels and mismatched china, is home to the best afternoon tea on the hill. Fresh baked scones, mouthwatering cakes, and a steamy cup of your favourite blend make this cozy cafe an absolute must.
…Or Grab A Pint
Harrow on the Hill isn't exactly famed for its nightlife, but that doesn't mean there aren't spots to enjoy a few drinks.
Blues Restaurant and Bar
promises delectable tapas and classic cocktails that are sure to wet your whistle. Down the road is
The White Horse
, a Fuller's pub that's been serving up tasty brews and home-cooked food since the 1920s.
But you can't visit the Hill without stopping by
The Castle
, a local institution that dates back as far as 1716. Inside you'll find plenty of 18th century charm, plus ten Fuller's Ales on tap. In the winter, there's cosy fireplaces blazing, but during the warmer months, the beer garden is the perfect place to relax and enjoy the summer sun. Plus, if you sign up for their mailing list, you'll receive a
free drink
. Go on a Tuesday for their weekly Quiz Night or sit inside by the fire and play some board games during the day!
Where To Stay
If you're looking for something a bit rustic right in the heart of the village,
The Old Etonian
will serve you well. With a tasty restaurant on the first floor, and no-frills rooms above, it's a country hotel for guests of all ages. For something with a bit more charm, this
quaint cottage
 right around the corner from The Castle is big enough for four guests, with a gorgeous back patio for cool summer nights. This
cozy flat
at the bottom of the hill is bright and airy, with great links to the tube station and the rest of Harrow. And if you're up for a bit of a walk,
this stunning flat
 boasts modern design, terrance views, and a pop of colour. For more accommodations, check out 
Airbnb
.
Getting There
Closest tube stations are Harrow-on-the-Hill (Metropolitan Line, Chiltern Railways) and South Harrow (Piccadilly Line), both in Zone 5. The Hill is also served by the 258 and H17 bus routes.
I hope you enjoyed the first instalment of The Unlatched Suitcase's Neighbourhood Guide! Harrow on the Hill is a gorgeous area, rich with history and village charm. I love it, and I hope you do too! What areas would you like to see next?! Let me know in the comments!
For this post and other stories please visit Bri's personal blog