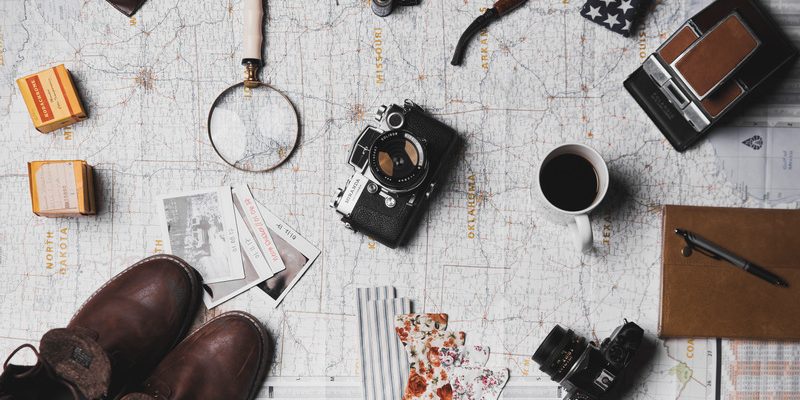 Meet Eliana! She took part in the Fulbright UK Summer Institute at the University of Westminster, and studied as part of our London International Summer School for 3 weeks.
She has a very unique take on her preparations for London, as she has just returned from a different opportunity that took her to Spain for a month. Having little more than a week between getting back to the US and preparing herself to travel to London, she knows all too well what works well and what to prioritise. Here she explains what she has learned about preparing to study abroad already, and how she is going to prepare for her upcoming trip to London.
Pack like a PRO!
Having learned from the first trip to pack a little bit lighter, I opted for a smaller suitcase this time so as to limit the weight of the suitcase itself as well as the weight of the contents I could fit in it. I washed all of the clothes I took to Spain with me, and only put half of them back into a suitcase (you know, only the ones I actually wear, like everyone advises you to do when packing for a long trip). I kept only the necessary toiletries, and only the ESSENTIAL snack foods. Which snack foods, you ask? Oreos—of course—along with Twizzlers and Nature Valley granola bars and dried fruits. I also opted to bring more toiletries with me this trip, so that I would hopefully run out of things like shampoo and conditioner rather than end up packing the remainder of what I bought abroad and had to take back home (which ended up taking up SEVERAL pounds of precious luggage weight on the trip back home from Spain). A friend of mine who travels often advised me to put Saran Wrap over the tops of bottles of liquids for my flight home, and it worked like MAGIC.
Research the local culture 
Something unique that I always do before a big trip is make a playlist of songs related to the trip or to the destination. This time, I have constructed a playlist of my favorite songs by British artists. It includes Oasis, The Cure, Mumford & Sons, Noah and the Whale, Florence + the Machine, The Kooks, Kaiser Chiefs, Keane, The Wombats, Bastille (my personal favorite), The 1975, Adele, One Direction, Arctic Monkeys, Sam Smith, Ed Sheeran, Elton John, Amy Winehouse, Phil Collins, Calvin Harris, George Ezra, Ellie Goulding, Lily Allen, Dua Lipa, James Bay, David Bowie, Queen, and OBVIOUSLY Coldplay and The Beatles. As it is plain to see, my music tastes are heavily influenced by British artists.
Create a list of 'must-sees'
In London, I'm excited to see Westminster Abbey and all of the settings of Sherlock Holmes short stories. I'm also looking forward to riding the famous Tube and eating the oh-so-typical fish and chips. The Tower of London is a place of interest for me (which I very embarrassingly only recently discovered is not the same thing as London Bridge), as is Buckingham Palace, Westminster Abbey, and Windsor Castle. Being the nerd that I am, I am also anticipating visits to as many museums and historic sites that I possibly can during my short time in the city. I'm also very excited to visit some Harry Potter tourist destinations, like the Platform 9 & 3/4 stage set and Harry Potter Studios. A fancy afternoon tea is on the London bucket list as well, and a friend recommended Fortnum and Mason to me. The double decker red buses are an object of fascination for me also, ever since I watched the live action 101 Dalmatians film that took place in London. I expect to become a master of imitating the Cockney accent, and a professional public transportation navigator (we don't have buses and trains and metros where I live).
So, Eliana – how are you feeling about your trip??
As far as homesickness goes, I've never been prone to miss things from home. I've never gone somewhere and not known when I'll be able to come back home or been gone long enough to truly miss anything. I'll video chat with my family over FaceTime, but aside from that I can't imagine I will be too upset to leave anything behind.
Choosing Westminster's summer programme seemed an easy decision. I chose Westminster because I wanted to study alongside individuals like myself who are forward-thinking and globally minded, and I wanted to do it in the city that I have yearned to visit all of my life. So much of the world's culture has been influenced by the culture of Britain, and with London as the capital of an empire which spanned so much of the globe for so long a period of time, I'm sure the city itself is evidence of the influence that other cultures had on Britain as well. In movies, literature, and television shows, I always loved the anything set in the U.K. and especially in London. I am extremely excited to finally begin this long-awaited opportunity that I have been so fortunate to have been chosen to take part in.
Latest posts by Hannah Clark (see all)