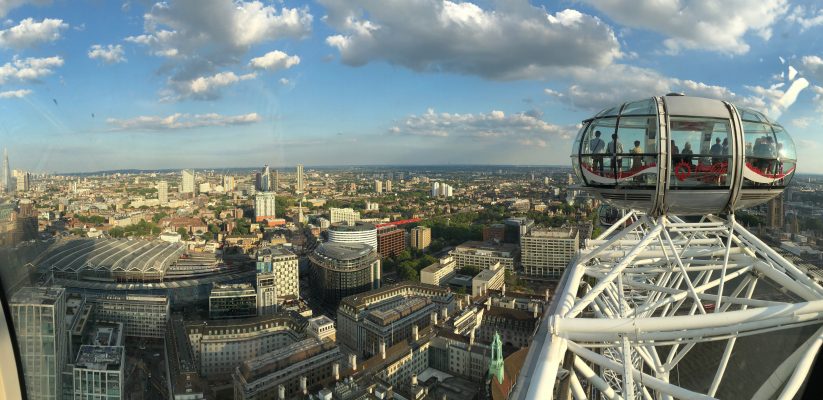 Meet Michael, who took part in the Fulbright UK Summer Institute at the University of Westminster. Here he shares his experiences on leaving the US for the first time, as he took part in our London International Summer School for 3 weeks.
Hello! I am Michael Mitchell, a second-year student studying at the University of Illinois Urbana-Champaign as a Business Honors student in the Gies College of Business. I am currently interested in pursuing a double major in Supply Chain Management and Marketing.
At the University of Westminster, I am studying "The Power of Brands" with Professor Rose. The main focal point of the module is: understanding our own personal values and identity with the purpose of understanding how we use them to connect with others.
Upon applying to the University of Westminster, I had absolutely no international experience. I applied to the Fulbright UK-US Summer Institute Program: "Future Leaders in a Global Age". At the University of Illinois, we are encouraged to study abroad not only for academic exploration, but for the culturally immersive experience. I knew studying abroad through such an elite program would be the next big step in my personal, academic, and professional growth.
Preparing for my trip to the UK was thrilling! I was conducting ample research on various museums, parks, restaurants, markets, etc. to visit. London has SO much to offer. When I was planning out what I wanted to do, I nearly forgot that I was confined to a 3-week time constraint.
Fast forward to arrival time! Stepping off the plane at Heathrow and taking the van to Alexander Fleming Residence Hall for the first time was exhilarating. The joy of being in a new hemisphere made me forget about my tiredness from the 10-hour flight. Being with the other four Fulbright Summer Institute Participants and all having a mutual desire to make the most of our opportunity was reassuring that we were all in this together.
Being in London during this three-week window has been historic. I have gotten the chance to be a part of history. While I've been here, England made an incredible run in the World Cup, the President of the United States Donald Trump visited the Queen, and there has been a daunting heat wave. Being in a local pub watching the World Cup games was the experience of a lifetime! Sports brings people together in a unique way. The national pride seemed to be at all time high and I was right in the middle of all of it. In contrast, the day President Trump landed, I was on Regent Street to see the protest demonstrations filled with anger and frustration. The political environment was alive and well. Many Londoners throughout the course of my trip have wanted to discuss Donald Trump and the political environment in the US and openly express their strong opinions on many topics. In the US, people usually aren't as open about politics because it's seen as a "sore spot". It has been very interesting to hear the different UK perspectives on US politics and have intellectual dialogue about it. The heat wave has been a blessing in disguise. From what I've been told, weather in London is rainy, cloudy, and not too hot for a long time. The sunny weather has allowed me to enjoy any and all outdoor activities which would not have been possible with rain.
I. LOVE. THE. TUBE. I started using the public transportation at my home university when I arrived there, but it is nothing compared to the Tube System. The Tube is safe, fast, and efficient. It makes London EXTREMELY accessible throughout the day and night. I've enjoyed navigating through London and beyond with my friends using the Tube. Plus, those iconic red buses assist in further navigating the city. They're everywhere!
I've met countless wonderful and fun people from all over the world. Australia, Estonia, Denmark, China, Korea, Lithuania, Saudi Arabia, Canada, Spain, the US, and more. Not only are we getting a taste of the London lifestyle, we are also getting a glimpse into other cultures through our interactions with our international peers. That's what studying abroad is all about. I would never have an experience remotely close to this back home.
My overarching topic that I am studying under is "Future Leaders in a Global Age" and with the continual rise of technology, we have greater access to all the corners of the world. Intercultural communication is becoming even more important. Having the opportunity to interact with students from across the globe is just a small stepping stone heightening our intercultural communication skills.
Sadly, there is only one week left for us in the UK and I am not ready to leave this beautiful place. To highlight a few things that I've done would be going to see Buckingham Palace, the London Eye, Phantom of the Opera, Sky Garden, Natural History Museum, Camden Market, and The Making of Harry Potter Warner Brothers Studio Tour. Above all, I've simply enjoyed living the life of a Londoner for the past couple of weeks. Waking up, grabbing a tasty pastry, taking the Tube to the University of Westminster, expanding my knowledge, exploring London in search of good food (which isn't hard to find), relaxing because rest is key, taking pics all around the city, then enjoying the nightlife with friends just to do it all over again the next day. I have been more than a tourist here, I have been a member of society.
Initially I was hesitant about studying abroad to be completely honest. The thoughts that made me hesitant included: "it's a long time away from family", "I might be lonely a lot of the time", "I fear missing out on events happening in the US", "school over summer break doesn't sound appealing", etc. I cannot emphasize enough, just go!
I can promise you that all these thoughts that I had before coming to the UK turned out to be a complete 180 degree turn from what I was worrying about. We only get one shot at this life and I know for a fact that studying abroad is an experience that will change your life forever! London this isn't the last you'll be hearing or seeing me! I will be back!
"The future belongs to those who believe in the beauty of their dreams."     
-Eleanor Roosevelt
Latest posts by Hannah Clark (see all)