In this post, one of our current students explains what it is really like to study abroad in London during the Covid-19 pandemic.
Expectations and beginning
When you plan to take part in such an important experience like spending a year abroad, it's quite natural that you will begin to imagine all the aspects of your new life in that place. Expectations and worries pump you up and, in the end, a great feeling of excitement about what you are going to do will come.
During the months before my departure from Italy, I tried to organize in my mind all the new aspects of daily life here in London. "Surely I will do that! Without any doubts I will do that! etc etc". I think that behavior is natural and absolutely advantageous.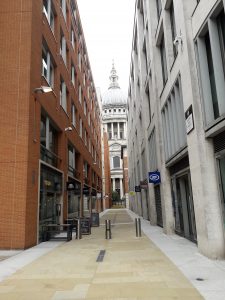 After a few days in London, I have to say that not all my expectations were met, but at the same time I reckon that it is quite natural. Imagine how boring it would be to find exactly the whole scenario that you had imagined at home. Have you ever been surprised by something completely unexpected? That is the step forward: the idea of facing something completely unexpected. And you have to deal with it. It is in these moments that you can grow up as a person and you can develop new skills.
What I want to say is that spending time in a different city with unknown people is not easy at all and the beginning of the experience can also be challenging, because you have to build up your routine. The whole process can take time to complete and demands effort. In my opinion, patience and dedication are the key words. If you want to make it easier, the perfect way is to maintain a "step-by-step approach". It means always taking a little step forward. Following this ongoing process, you will be able to achieve something stable, meeting new people and creating new friendships that will last not only during your experience but after that too.
Studying during Covid
This year could be seen as even more challenging than normal for those who decided to spend the year abroad. As we all know very well, the Covid-19 pandemic has modified all aspects of university life, starting from the lectures to the possibilities of meeting new people on the University's campuses. For the moment all of that is quite a mirage, since the second wave is crossing Europe and new restrictions have been put in place by governments in order to stop the spread of the virus.
What can we do in this situation? Is it still possible to achieve something from that experience? Is going abroad and staying under heavy measures in another country still worthwhile?
These are definitely troublesome questions. First of all, it is important to say that we can achieve something from all kinds of experiences, even from the most unusual and unexpected ones. For that reason I think the idea of studying abroad still remains a great opportunity, even if events around you seem to say the contrary. Secondly, what is fundamental is the approach we take to live through this period. It is really useful to take a positive approach to all the possibilities offered to us. Participate in all the Zoom events, all the live chats and all the lectures! Getting involved in all that's on offer may be the real key point of your experience abroad. That said, we can still experience the lifestyle and the traditions of the city of London and it could be a great opportunity to create some memories with your flatmates.
In conclusion, I reckon that, even if times remain uncertain and difficulties seem to overwhelm us, there are many good reasons why you should choose to spend time abroad and the results we could get from all this will be an asset in our development as students and as future adults.
Latest posts by Hannah Clark (see all)