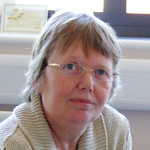 Westminster Business School welcomes new Dean Professor Barbara Allan. We have earlier announced that Westminster Business School has appointed Professor Barbara Allan as its new Dean and here we would like to share a short video of Professor Barbara Allan and talk about her future plans for the Business School. You might have already heard about the Westminster Business School's  new partnership to empower women, and in this video you will hear from the new Dean more about it which I think it is very exciting news for the Business School.
Professor Allan, an expert in business and management learning and teaching innovations, joins Westminster from Hull University Business School where she was both Deputy Dean and Acting Dean.  Speaking of her appointment Professor Allan said:
"I am delighted to have joined Westminster Business School at such an exciting and critical time in the world of business and management education. My focus is driving the school forwards as London's leading professionally-focused and research engaged business school. The school is outward looking and actively engaged with professional bodies, corporate bodies and employers both in the UK and also internationally. Our real strength is our diverse and vibrant student body and our staff who are committed to providing an excellent student experience and engaging with business through research or consultancy activities."
Please watch the short video and learn more about the Westminster Business School  and her role as the new Dean.
Latest posts by Westminster Business School Blog (see all)