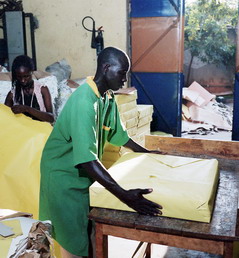 Great opportunity to use your business expertise to help empower entrepreneurs in Africa to accomplish their dreams. Westminster Business School is now working with UK charity Grow Movement to match volunteers in the UK with entrepreneurs in Africa with the aim of economically empowering people in some of the least developed countries on earth. Grow Movement uses remote volunteer consultants on an ultra low cost base to help entrepreneurs in these communities realise their dreams, relieve poverty and create employment. It is a great way to improve the world one small action at a time and see the results for themselves at real time.
The idea is to equip entrepreneurs in some of the poorest areas in Africa with the business skills that will enable them to grow their businesses, increase their profitability and create employment within their communities. All this will be done through knowledge transfer over platforms such as Skype.
Great opportunity for Westminster Business School Alumni and Postgraduate Students
We are looking for alumni and postgraduate students who have skills and experience in a broad range of business subjects including marketing, finance and accounting, strategy, operations, entrepreneurship, business development and economics to work with us on this project.
Only one hour a week
Help transform the lives of people in some of the poorest communities with only one hour a week
Remote Convenient Connection to entrepreneurs
The consultancy is all done remotely so there is no travel involved at all and you can carry out the e-consultancy anywhere with an internet connection and laptop/tablet.
Join us on 6th of November at 12 pm at our Marylebone campus for our information session (please email me to register – n.salah1@westminster.ac.uk ).
If you cannot make it to the session but are interested in finding out how you can get involved, then please contact me on n.salah1@westminster.ac.uk.
Please do spread the word to your fellow alumni!
Latest posts by Westminster Business School Blog (see all)