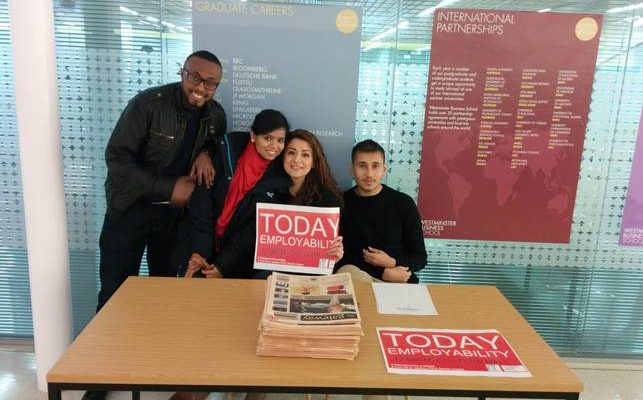 The event was opened by the Chair, Karen Kufuor, who welcomed everyone to the official launch event of the Economics Society and thanked the guest speakers for their participation. Online viewers at schools and colleges, watching the event via the Westminster Business School's TRIBE  (Teacher's Resource in Business and Economics), were also welcomed and invited to submit questions via Twitter.
The President of the Economics Society, Benard Vukaj, was invited to say a few words and he thanked the Economics and Quantitative Methods Department for its support and gave a brief outline of planned activities next year- which included starting a student mentoring scheme and holding three main events per semester.
The first speaker Frances Trought, author of Brilliant Employability Skills, began formal proceedings with a presentation on 'how to stand out from the crowd' in a competitive graduate employment market. Frances emphasised the importance of 'having a plan' and of gaining work experience – be that an internship, work placement or voluntary work. She also presented her' IBrand' employability model which emphasised the need to approach the employment market as an opportunity to market yourself – where the aim is to develop your own unique 'brand'. At the centre of her employability model was 'a good degree' but the qualification needed to be supported by extra curriculum activities and by work & life experiences. In essence students were encouraged to reflect on their unique characteristics and experiences and to draw on those when designing their marketing plans. Frances emphasized the importance of "I-enterprise" which called for students to be enterprising and persistent in their approach to job hunting- seeking out opportunities to get a foot in the door, in non–standard ways, and to use that as a platform for elevation within the field.
The next speaker was John Hollier, from the London Chamber of Commerce's Commercial Education Trust, which is currently supporting TRIBE for two academic years. John opened his talk by giving a brief outline of the aims of the Commercial Education Trust. He explained that the Trust met its aims via funding a wide variety of projects- such as TRIBE. John's talk had two central themes – the first was to inform students on the latest research the Trust had undertaken into the value of work experience and the second was to emphasize the different skills required for success at University and the work place. John told the audience that research suggested that students wanting to gain a graduate job with a blue chip employer had to gain an internship or work placement with them first. John stated that blue chip companies were recruiting almost exclusively through internships as they using internships as a 'trial' period- where they could ascertain your strengths and weaknesses and see whether you fitted into the organisation. Reflecting on his own work experience he encouraged students to consider working for small and medium sized companies, stating that there was much to be gained from the diverse work n offer at a smaller company. John ended his talk by stating that there was a definite transition for students to make from academic life and the work environment. He called on Universities to make that transition easier for students by delivering joined –up, rather than single discipline modules and by providing opportunities for students to mix and work with students outside of their discipline.
The final speaker Andy Ross, was until February this year the Deputy Director of the Government Economic Service (GES). Andy began by highlighting the diverse range of work of an Economist and the importance of Economics in a globalized world. Economics he explained was relevant and at its best when helping to explain the world in which we live in. He went on to give an overview of the recruitment process at the Government Economic Service. Students were told that they needed to achieve at least a 2.1degree in order to be considered for the GES. He revealed that many applicants fell at the first hurdle by not completing the application form fully. He also reiterated the views of previous speakers that taking part in extra-curriculum activities was crucial as it gave evidence of soft skills such as leadership, team work, and organizational skills. Andy informed the audience that the GES was a diverse recruiter of graduates – recruiting from over 50 Universities. Andy advised students to keep up with economic news and to be prepared to discuss these views at interview. Candidates would be expected to be able to discuss the application of economic theory to current affairs and to use economics to explaining government policy . He also recommended preparing a few questions to ask the interviewer and in undertaken background research into the GES before applying.
This blog is written by Karen Kufuor
Latest posts by Westminster Business School Blog (see all)