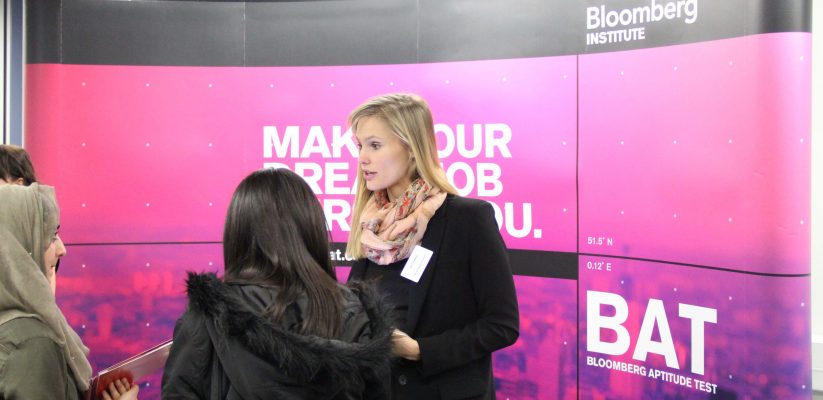 An introduction to the Placements and Internships Fair 2015
Each year the Business Experience Team, part of the Career Development Centre at Westminster Business School, organises a careers event with top employers for WBS undergraduate and postgraduate students. This year the Annual Placements & Internships Fair 2015 took place on Wednesday 4 February at our recently refurbished Marylebone campus.
The fair is a great opportunity for undergraduate and postgraduate students looking for summer or term-time internships as well as 2nd year undergraduate students seeking one year business placements. In addition, this year the fair offered students free expert advice at the complimentary advice and guidance clinic. Here students were able to drop in for 15 minute employability advice sessions with top employers and careers experts.
Which companies attended the fair? 
A diverse range of organisations were represented at the fair, from global names such as IBM, PwC, Bloomberg, McDonalds, CIMA, Allianz, student recruitment sites including Milkround and Rate My Placement, regular one year placement employers such as Enterprise Rent – A –Car, SAP and Netapp, to household names in the UK including the NHS. A variety of sectors were also represented from finance (e.g. ACCA) to hospitality (e.g. Principal Hayley) to the legal sector (e.g. Shearman & Sterling) ensuring the fair offered  a variety of business opportunities to suit the skills and interests of our students.
The Advice and Guidance Clinic consisted of top employers and career experts including IBM, Milkround, Rate My Placement, Principal Hayley with our advisors roles varying from Recruitment Director to HR Advisor and not to forget our very own careers consultants from the Career Development Centre. The Advice and Guidance Clinic helped students to optimise their CVs and cover letters, as well as offering useful careers guidance.
How did the event go on the day?
Doors opened to students at 2:30pm and saw a steady flow of students for two hours before the close at 4:30pm. The fair was a success with over 450 students attending and around 90 student advice sessions taking place at the nearby Advice Clinic. Students and employers have already started giving us positive feedback. Any feedback is warmly welcomed, as we will use this to improve future placements and internships events; to do so, please visit the online feedback form.
A message to the students who would like to do a placement: why it is important?
All WBS undergraduate students have the option of taking a placement year in their third year, extending a 3 year degree into a 4 year sandwich course. There are numerous benefits of taking a business placement year. For example, the placement year provides you with the opportunity to:
Develop your skills – gain the skills employers are looking for such as interpersonal skills, team work, self-management and IT skills.
Increase your Employability – did you know that employability skills are the most important factor taken into account when businesses recruit graduates. So it might not be surprising that statistically placement students are much more likely to gain employment after graduation and are more likely to have a higher starting salary than those without placement experience.
Test drive a career – not sure what career path or sector you want to work in post-graduation? The undergraduate placement year is the perfect opportunity for you to have a trial run. You might find that this is exactly what you want to do, and if not you can cross this off your graduate job search list.
If you are a second year WBS student and you would like to find out more about the undergraduate placement year please visit the WBS Undergraduate Placement Year site on Blackboard or contact the Business Experience Team at: wbs-bet@westminster.ac.uk. For other career related queries and advice please visit the Career Development Centre website.
Upcoming events: 
University of Westminster – Volunteering & Work Placement Fair
24 and 26 February 2015
Marylebone campus, 11.30am – 2.30pm
westminster.ac.uk/volunteering
By Jaspreet Singh
Business Placements Coordinator
Business Experience Team
Latest posts by Masood Azam (see all)