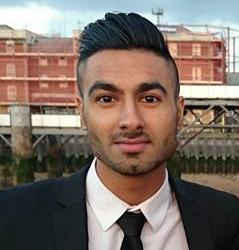 I'm Jayesh Gohil, the Vice-President of Marylebone for the Students' Union. During my 4 years here at Westminster Business School I have been awaiting a movement, not just in the way we learn and are taught but also in the way we portray ourselves as students & lecturers here in this institution. This is what the Professional Principles are trying to bring.
The bar is set high with the Professional Principles for both students and lecturers and it shouldn't be dropped. The university staff, lecturers & Students' Union have been working hard on creating and promoting these key focus points so that we could  keep the professionalism in your experience here.
The Professional Principles aren't just here for the students and staff to just comply with and forget about once they've finished here, it's to remember for a lifetime. After students have graduated from Westminster, they'll realise how important a professional outlook is as they'll be looking for much more than just qualifications and knowledge, which is why we're trying to embed it into student and staff life from the get-go. Setting foot in the University of Westminster already gives me a feeling that I'm surrounded by like-minded individuals trying to reach the same goal, to become 'professional'.
Each and every one of us has a responsibility for our own actions, whether it is academically or socially. This is really important for every student and staff to remember as it can set you on right path from an early stage. These Professional Principles reinforce commitment and prepare you for what's expected of both a student and staff member at Westminster Business School.
When the year started, a lot of student's were asking for certain things from staff,  be it timely assessment feedback, punctuality to seminars/lectures, being more informative & even more respectful. Then speaking to lecturers you can imagine what they said; students need to be punctual, give in coursework on deadlines, be respectful to staff, engage with the teaching and being responsible for their own learning. Now what we have here are two different points of view on the same issues, which can now be cleared up by the Professional Principles. Within these principles, the factors that are concentrated on are Responsibility, Engagement, Respect, Informed, Clear, Prepared, Punctual and Developing.
With the help of students and staff, guidance and further promotion, we, at the University of Westminster, could have stepped closer to starting the professional career the we envisaged having after studies. The principles are placed in every seminar and lecture room in Marylebone with the intention of spreading across to the other campuses. So make yourself aware of these simple steps to a bright future at Westminster and beyond.
Latest posts by Masood Azam (see all)