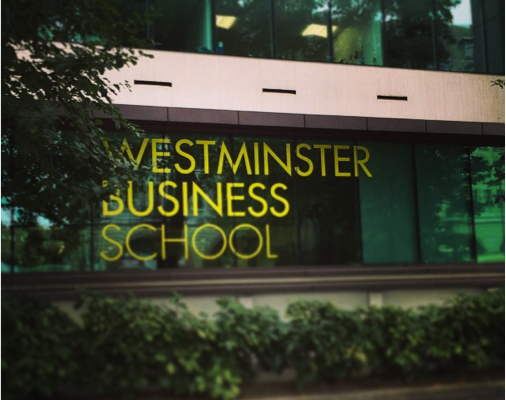 A year ago, I was starting a Master's in Marketing Communications at the University of Westminster. After ten days of intense induction, I was starting modules in a new and dynamic environment. I had huge expectations regarding this Master, as it would be my last year of study, after four years of education between France and England.
The Master is divided into two parts that are connected to each other. The first semester focuses on the selection of marketing communications tools according to a brand, a market, a target, etc. The second semester covers the application of marketing communications tools in relation to a broader context that was taught during the first semester. It is a very logical flow that gives a strong analytical and marketing background. The first semester was both very exciting but also part of a very challenging phase where I had to adapt myself to new modules, teachers and coursework. It gave me a strong foundation on which I could build all my coursework in the future. The second semester was my favourite as I was finally able to apply my knowledge to practical topics.
Most of the coursework are group presentations or reports. For each module, it was important to be organized as most of the coursework are set at the same time. The main challenge was to find a group of people with whom you could work together in a pleasant and academic environment. I was lucky enough to bond with amazing people who became great friends and with whom I worked for almost all my coursework. The very positive factor of all these group projects is their practical aspect. We will all have to work in a team in our future career, which means that it is crucial to be formed and used to deal with different cultures and personalities. We were also asked to study real-life brands and projects in order to apply our knowledge to real case studies. The last two years of my bachelor were exam-free meaning that I was a bit stressed before the exam period. It requires an intense preparation that combines both motivation and dedication. Exams are the most important aspect of the modules allowing you to apply your knowledge to different exercises. While I was preparing a case study at home before an exam, I was paying close attention to each detail in order to optimise my work during the exam.
Something I would recommend looking out for is the Professional Diploma in Digital Marketing. I took the opportunity to pass this diploma as I am willing to start a career in digital marketing and I thought it would give me a great advantage for my future job applications. This year also brought me a lot of amazing moments such as our weekend in Cambridge. It was a very busy and intense weekend, which prepared us for our IMC. Our group experienced some very exciting and ardent moments that left us with great memories. All groups worked hard to create inspired and structured projects approved by our teachers. I shared with my friend and teachers a very emotional moment during our dinner at Peterhouse College at the University of Cambridge.
This weekend allowed me to look back at the year and realize how fast it went. The IMC project was the final step of the Master. Once all exams passed, it was time to focus on this final coursework. This project is time-consuming and a very challenging coursework that requires intense work for more than two months. At the same time, it was a really exciting project, which allow me to learn a lot and to create a piece of work that would benefit my future career.
Get ahead of the game This year is going to be very busy and probably quite stressful (sorry!). To make sure you're not wasting time sending endless emails to your lecturers and trolling through Blackboard, plan ahead, know what you will need for your work and don't get it at the last minute. As long as you will be prepared and know where you're going, believe me, life will be easier!
Choose carefully your group
You will be doing a LOT of group coursework and therefore, I would recommend you to make sure you are in the right group. Working as a group is always a challenge so you need to be able to communicate but also to argue in a positive and mature environment. Two scenarios are possible either you are with friends or total strangers. What ever happens, be honest to yourself and the group, and make sure to progress all together for the sake of good grades, and above all don't forget group nights out! –
Pick a topic you like for your IMC 
Your IMC project is coming sooner than you think. You will need to choose a topic that interest you and fits the teachers' requirements. You will spend most of your summer on it, so make sure you and your IMC get along together. Don't forget to work hard on your proposal, otherwise you will waste a lot of time correcting it while you are supposed to make progress on the actual body of work. Be prepared to segment your target market, to do wacky mathematics and above all, to tell a story! – Make the most of London & Europe I probably must not tell you that but most of you come from abroad and Europe seems to be a crazy exotic place to discover. You will have free time (sometimes) so don't hesitate to go out and explore the city as much as you can. Save money for short trips around the Europe capitals but also for amazing exhibitions and new restaurants/bars in London. You will admire amazing landscapes, taste great food and probably learn a lot about yourself.
Enjoy your time at university
This Master is probably your last year of study, which means that you must enjoy each minute of it. In a few years, you will look back on this year, forget about all the crazy hours at the library and focus on everything this year brought you. Make the most of it, create friendships that will last a lifetime, grasp all opportunities and open your mind to new cultures, people and traditions.
Camille Baert – Camille is a MA graduate in Marketing Communications from University of Westminster. She started her study in France at Skema Business School before moving to London to finish her bachelor in Communications Studies at University of East London. She is about to start a career in digital and strategic marketing. Follow her on Twitter at @CamilleBaert.
Latest posts by Westminster Business School Blog (see all)