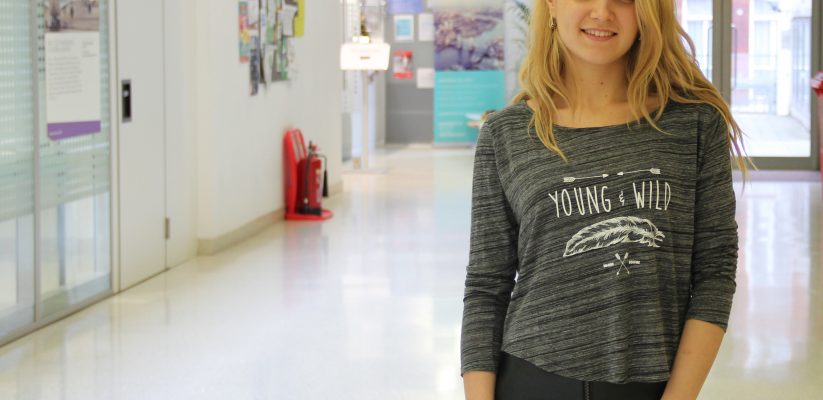 Study abroad is something a lot of students take interest in. To find out more  we spoke to one of our students Diana Florescu about her Study abroad experience in Germany.
Could you please introduce yourself to us and tell us bit more about you?
Hi, my name is Diana Florescu, I am from Romania and I am in my 3rd year of university studying BA Marketing Communications. Currently I am also looking into post-graduate study and would like to pursue a  Master's degree. I am currently employed by a tech start-up developing mobile phone app.
In particular I am very interested in digital and visual media; however it has been quite challenging to find the right activities which would fulfill my interests.
Where did you go for your study abroad programme?
For my study abroad programme I went to Berlin, Germany where I studied at Hochschule für Technick und Wirtschaft. During my time there I have undertaken the International Business study programme which I have found to be bit more broad however, very helpful. Germany has its in depth of detail when it comes to studying, so once I completed my 5 months there I have returned with knowledge in Economics, and other areas of the business field.
Tell us what made you want to peruse the study abroad programme?
I think it was my passion for Germany which has developed about 5 years ago and the language itself. Where I come from there is a lot of people speaking either in French or Spanish. I have undertaken the Pollylang programme from my first year of university where I have been working my way through the German language.
I wanted to go abroad to travel, to get to know another culture and in terms of knowledge to be able to transfer what I know into where I am and to learn from where I am. When I decided to pursue the study abroad programme I thought of the Copenhagen Business School as my first choice. This school in particular was one of the best ones in the Europe with great rankings. However looking at what exactly I would learn, study and absorb from my study abroad experience  I decided to go with the Hochschule für Technick und Wirtschaft in Berlin and I think it was a great decision.
How would you describe your time abroad?
At first I thought UK was an international environment which it obviously is, but when I arrived into Germany and attended one of the opening ceremonies I have experienced something completely different. There were people from around 24 different countries including Mexico, Canada and Australia, so it was definitely very international and diverse. To sum up I would describe my time abroad as diverse, challenging, exciting and useful from the academic point of view.
During your time abroad, were you involved in any activities within the university, and the societies? 
I wasn't in particular involved in any society while away however the accommodation I stayed in was very helpful in engaging and meeting new people. I didn't get involved in the societies; however I was involved in sports events and activities which were held at our student accommodation. It was easy to make new friends through all the team sports we played which included tennis and volleyball.
How do you think the study abroad programme  will enhance your employability?
I think my participation in the study abroad programme will contribute to my employability and will enhance my prospects. I think I have definitely developed new language and communication skills and research skills.
What would be the best advice you could give to our students?
I would say to go abroad no matter what country, because at the end it is your experience so make most of it.
If you have interest in particular culture, follow it! It's either 6 months or a year, I have done 6 months.
When you come back you bring back all the knowledge with you and it definitely does enhance your employability.
Latest posts by Emilia Przyzycka (see all)