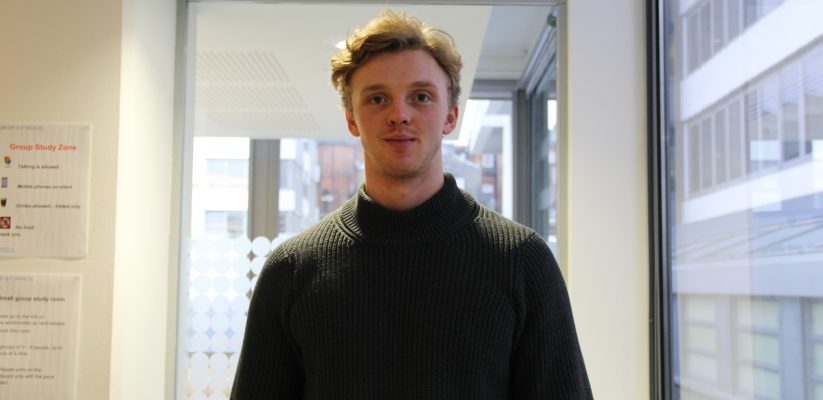 The first year of our new BA Entrepreneurship degree is fast approaching. Last time we spoke with Julia Devin about her experience of being a student and entrepreneur. To give you more insights on our entrepreneurs we spoke to Danny Lowney the President of our Entrepreneurship society, in our  new Young Entrepreneurs Interview series.
Could you please introduce yourself?
Hi, my name is Danny and I am a 21 year old student studying BA Business Management with Entrepreneurship. This is my third year of my degree but my second year in London. I have transferred after my first year at different university, so I could be in the heart of London and pursue  business and entrepreneurship. London is definitely the best place to do this, so that's why I'm here.
How would you describe your time at the University of Westminster?
The main thing that has benefited me at this university is the location. We are in the middle of London, the accessibility is great, and if  anything interesting is happening in the UK , it is most likely to be happening in London. The amount of opportunities at and outside of the university is great! Through that you get to meet such an amazing people, both through the course you are on, and through societies at the university.
Tell us how did your journey with entrepreneurship begin?
Growing up I have always tried and done different things, but I think the key starting point for me was my gap year. I scored a job with sports nutrition company, which was for 4 weeks so it was sort of like an internship. At the end of 4 weeks the marketing manager left and I was kept on and got the job until the end of my gap year. Once I left the company I came up with the idea to start sports supplements comparison website "Knowwhatsup.com", which I launched and then relaunched  in second year. Now I am working through a new venture as part of my entrepreneurship module while also working with start-ups to gain as much experience as I can. Currently I am also working with a start-up company called "Sup" based in London. Sup is about finding your friends who are near you and never missing a chance of hanging out with them (We tried Sup ourselves and we definitely can say Sup is something we would recommend to both the  freshers and our 3rd students).  This is another reason why London and the university path way is great; through my module I have researched many of new hot start-ups, and one of them was Sup, where I currently work.
What do you enjoy the most about the entrepreneurship society?
The society is an awesome opportunity to invite guest speakers that we want to meet and talk to. Some of our guest speakers included Piers from Dragons Den.  The wider benefit of the society is that we can get the message and information spread across our network of students. Our mission is to help students and for them to do well.
 How do you differ from other great societies at our university?
I think its our clear objective which is to build  support and network for other entrepreneurial minded students. That support and network is so important, because we are so driven. When we launch our events we really take on the promotion of it and spreading the information across all of the students, because we want everyone to benefit from it.
What students can gain from the entrepreneurship society?
I think it's really individual for each student, as they all have their own needs. It doesn't matter whether they are a business student or not, as long as they have their own ideas that's great. All the guest speakers we have are a massive source of motivation and equip our students with the tools on making their first steps in business and entrepreneurship.
What would be the best advice you could give to our students?
There is few things that I would suggest. One would be to make the most of your time at the university. Second would be to exploit the time at the university and talk to as many people as possible. Next thing would be to just do things, make start of your ideas, and tell people about it so you're accountable for it. Finally go to the society events and all the external events that are happening all over the London.
Latest posts by Emilia Przyzycka (see all)