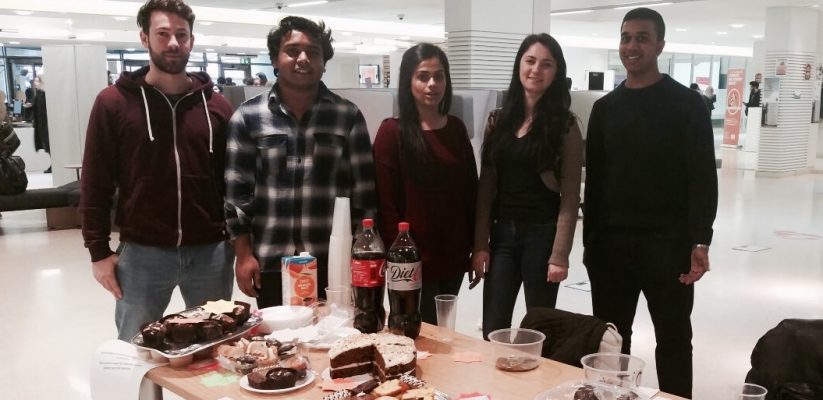 The Universities Business Challenge is a simulation based competition for university undergraduate students & is sponsored by global business & technology leader IBM. As one of the world's leading events designed to enhance both enterprise & employability skills, we are both excited and proud that two Westminster Business School teams have this year made it through to the semi-finals (many congratulations)!
To find out more about the Challenge & to learn how it's helping our students' employability, we spoke with Trevor Gomes who is part of the year 1 team, Dynamic Concept:
The Challenge itself: what it involves & how we made it to the semi-finals
The Universities Business Challenge is about gaining new skills, confidence, experience & knowledge of how to set up your own business. At the beginning, over 200 teams across the UK participated in the competition – we nominated ourselves to represent the University of Westminster. In the first stage you run a simulated online business – ours was a renewables energy business called Energy PowerHouse. The business supplied energy to two target markets – normal customers and to the government (with whom we were partners). Every week we had to make management & financial decisions & we got through because we made the highest profit in our group. We were in a league table of 8 teams – 2 teams made it through from each table & those 2 teams will go through to the semi-final.
I really like it here at Westminster Business School – it's very different to college, but it's more suited to me. I'm more independent, it's quite fun & the teachers are really good. My team-mates are all Business School students like myself – I met a couple of them at the university social event at Wembley Stadium & I thought they were really good people to work with, people who would probably be as determined as me to do well in this. I happened to know Divya (Panchani) because I'd worked with her for two years & then we were lucky enough to be with the same tutor & in the same classes at the Business School. My team-mates are: Diana Florea – Business Management with Economics BA Hons, Giovanni Gazzola – Business Management with Marketing BA Hons, Ahmed Muhammad – Business Management with Human Resource Management BA Hons & Divya Panchani
Enhancing employability & gaining new skills
Gaining new skills has been a core part of the challenge & each round helps you to develop yourself in different areas. The first part of the challenge was very theory based, very maths orientated & focussed on creating an online business that drove profit. The semi-finals then pushes you on practical skills such as communication, marketing, selling your product & pitching. I've been able to develop my leadership skills & although I've had experience in the past of student care & with a governing body, it's great to experience leadership & put our skills to practice in a business setting. We've also enhanced our time management, organisation & team playing skills – all of which are great for our employability. Also, when I walk into an interview I'm going to be more confident and have more to say.
What we are looking forward to in the semi-finals
The semi finals are very different to the first stage & will push us in different ways. The semi-finals is more practical, which is more in my comfort zone – talking to people, pitching sales & running a business, coming up with new ideas. I'd love to set up my own business one day – this competition has really inspired me & has given me more confidence.
Thoughts on the charity element of the Universities Business Challenge
I think it's really important that the Universities Business Challenge has included a charity element because in business you should be aware of the environment & of other people – it's a really good thing to do. I'm someone who's done a lot of fundraising in the past & the Universities Business Challenge has helped me to continue this – it's good for my CV as well!
My top 3 take-aways from this experience are:
Working with great people
The skills that I've developed throughout the experience
It's a recognised qualification that is recognised around the world – also it's sponsored by IBM so it's great to put on my CV!
Why you should participate in next year's Universities Business Challenge!
If you're thinking about joining the Universities Business Challenge, I would say it's great to get involved. Obviously you'll meet new people, gain new friends & it's going to give you rewarding challenges – a great thing to put on your CV and will help you develop your skills. If you're someone who wants to open your own business in the future, this is the way to go about it because you learn from scratch how to start a business. I would definitely recommend this experience.
---
Many thanks to student Trevor Gomez for this interview and congratulations on your success! You can follow Trevor on Twitter and connect with him on LinkedIn!
If you would like to read more about the Universities Business Challenge and the Business Management MA, we suggest:
BA Business Management new students' annual social event at the Drum in Wembley
Team Atlas makes it to the Semi-Finals of the Universities Business Challenge – The World's Leading Event for Employability and Enterprise Skills 
Westminster Business School makes the semi-finals of the Universities Business Challenge (UBC) worldwide
Latest posts by Jeni Stokes (see all)