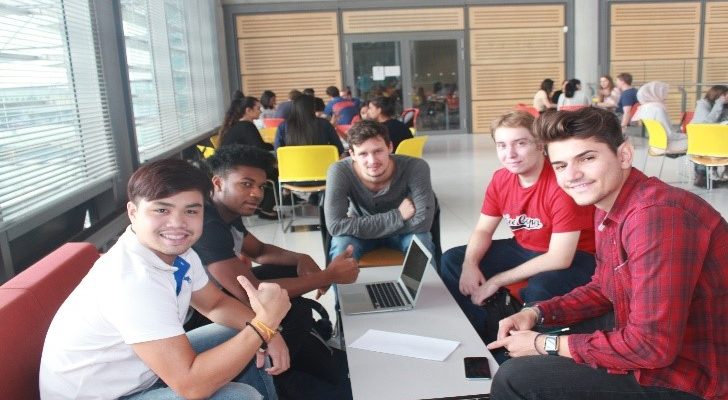 Last week Westminster Business School welcomed well over 1000 new undergraduate students onto campus. Joining us from all over the world, we have a fantastic mix of young people from over 150 countries, creating a cultural melting pot which brings with it fresh ideas, different perspectives and new energy. To start their journey, our students engage with a range of social orientation activities, which helps them to get their bearings, build friendships and get a good introduction to their course. One of our largest cohorts, the Business Management BA (BABM) course enjoyed their first event of the year last week: the annual social event 'BABM get-together at The Drum At Wembley.' These new students had a day full of socialising and taking part in interactive team building business activities. It was the perfect chance to meet fellow students who they would be working alongside throughout the year and to get a taster of what a business degree really involves.
Business Management students get stuck in
The main business activity was designed to get our new students working together as a team, encourage innovation & develop strategic thinking. Put into groups of five, each team had to identify a gap in the market and create their own business idea/product/service to fill that gap. The activity incorporated real-life aspects of creating your own business such as using segmentation techniques to identify key target audiences; and research into the location in which that business was going to operate. Ultimately they had to come up with a marketing plan that would work. And of course because it's always nice to encourage a bit of healthy competition, there was a prize of £500 worth of vouchers up for grabs.
Getting to know our new students
As a guest and onlooker for the day, I was able to take the opportunity to speak with our new students and find out more about why they chose Westminster and how they were enjoying their new start:
The new students showed their creativity and innovation with the ideas they were brainstorming. The ideas ranged from apps to services that would help to make the life of a student easier. One app idea was to make finding a barber or hair salon easier for students, through ratings and showing those in close proximity. Another idea was a building which was specifically designated for family and friends of university students to stay whilst they visit them. The building consisted of leisure services such as an arcade and a rooftop bar for family and friends to unwind.
Some words from the Friends of Arriving New Students (FANS)
FANS are second and third year students who help new students (called FANettes) settle into university by providing help and support in the first couple of weeks. The FANS were able to catch up with their FANettes and provide their support at the social event. Here's what two of our FANS had to say about their roles!
The competition results
This year, all of the groups had some amazing ideas and the judges could not decide between the three groups that they really liked. So it was left to the audience to do a vote based on their pitches. Congratulations to the runners up and to the winning team Better Assistance Better Learning (BABL) who pitched their idea of a tailored one to one tuition service for students that was a not-for-profit social enterprise. Well done guys and enjoy the prize of £500 worth of vouchers!
---
If you want to see more photos of the event, visit our Facebook photo album.
To find out more about Westminster's Business Management BA please visit the course page and to find out what last years students got up to, please read this blog.
Latest posts by Laila Beyan (see all)