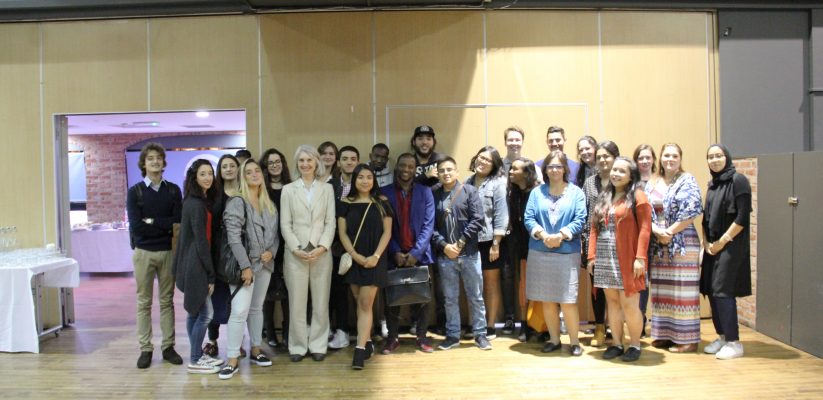 #WestminsterAbroad (Westminster's Outward Mobility Team) gives third year students the opportunity to enhance their academic experience by studying abroad for a year as part of their degree. This not only increases their career prospects after graduation, it also encourages independence, self growth and discovery. At the end of August this year, our Westminster students came back from their destinations, far and wide, from the States to Germany; and on 23 September, Course Leaders for International Business BA Hons (Dr Deborah Knowles) and International Business with Languages BA (Dr Nadia Amin) arranged an opportunity for their students to meet and share their experiences. It was a great chance for students on these courses to talk with fellow peers who had returned from their travels & also to encourage other, younger students, to follow in their footsteps. From hearing about the best parts of their trip, to the challenges they faced, to most importantly what they learned, it was great to see how the experiences had enriched their lives both academically and personally.
Studying abroad in Germany, China, France & Jordan
A message from Outward Mobility Officer, Monica Mengoli
It was great to see our students back with us after their year abroad and hear all about their amazing experience. Studying or working abroad as part of your studies is your chance to boost your employability by adding global skills to your CV. If you want to know more about what is on offer, do come and talk to us at one of our upcoming JUST GO! Fairs. Our main event (open to all University of Westminster students) will take place on Thursday 03 November from 1pm-3pm; we also have an extra date especially for Westminster Business School students which we will be holding on Thursday 10 November from 1pm-3pm. The full programme will be advertised shortly so keep your eyes peeled! We're also on Twitter, Facebook and Instagram!
Latest posts by Laila Beyan (see all)