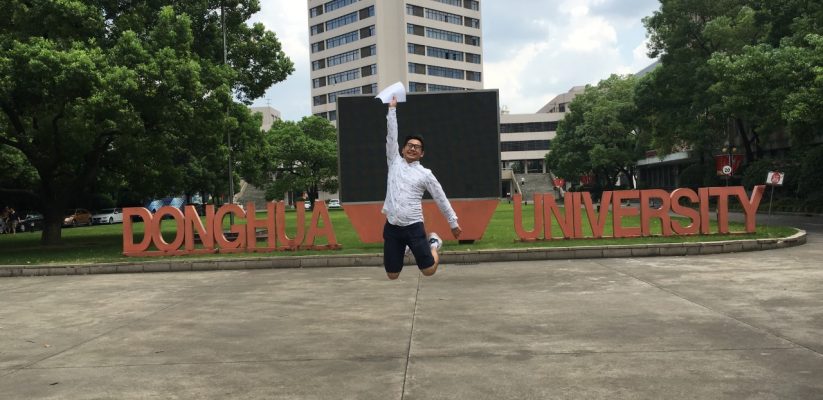 Following the return of our #WestminsterAbroad students this August, we have plenty of new stories to share. This time we interview current International Business with Chinese BA (Hons) student Chuk Cheung, who shares his experience of the Donghua Summer School. Held at Donghua University in Shanghai, this opportunity is part of Westminster's Summer School programme, which lasts three or four weeks. It's a great way for students to gain a shorter international experience as part of their Westminster degree.
What motivated you to study abroad at Donghua University, Shanghai?
Ever since I was young, I have always had a passion for other cultures. I wanted to travel to other countries to explore and see how the other side of the world lives and so deciding to study abroad was the perfect opportunity to learn, adventure and unravel this interest of mine. Although I am Chinese, I had little knowledge about my own culture as I was brought up in a British environment, thus I always had a passion to discover and explore my roots and culture in its truest and purest form. I also had a taste of studying abroad in China last year, as I chosen to participate in a nationwide programme called Study China, hosted by the University of Manchester. After attending Beijing Normal University, travelling, learning and experiencing the environment and culture, it left me with the desire to return to China as soon as possible. Since I am studying Chinese alongside my Business degree, it is a great opportunity to be able to study in China and improve my mandarin. I am already able to speak Cantonese fluently and having the ability to speak Mandarin will open many doors for me in the future.
After experiencing a short study programme in Beijing, I was eager to return to China again, and when the opportunity arose, I was filled with excitement to study in Shanghai as I have heard many great things about it. Furthermore Donghua University offered a great program, which consisted of language lessons every day, extra-curricular activities such as calligraphy, paper cutting and dumpling making etc. Being of Chinese descent, I really wanted to explore my roots, and being southern Chinese, there are different traditions compared to the north of China; therefore I was very intrigued to learn more. These activities really allowed me to explore the history and culture of China and Chinese people. I also thought it would be an opportunity to improve my communication skills with fellow students and teachers. Aside from learning the language, I chose to go China because there is so much history embedded into cities such as Shanghai, Beijing etc.
Can you tell us a little bit about some of your more experiences in China?
Although the start of the experience was a little difficult (when we landed we had no idea where to go and no internet access so we were stranded at the airport trying to figure out how to get to the university!), I couldn't contain the excitement because we were finally in Shanghai. Off to a shaky start, we decided to take a taxi to the campus even if it was the most expensive way of transport (although it equates to £17 GBP for an hour journey).
I would say that the most challenging and peculiar experience was ending up in hospital in Shanghai the first week of the exchange! Trying to navigate my way and communicate with nurses and doctors about my problem was definitely a challenge! I had to find out where the foreign patients department was and then having to register on my own without anyone to depend on was difficult. The nurses were very friendly though, and after spending three days there, they were very accommodating and I was able to practice my Mandarin with them. Having to visit the hospital while I was there was unfortunate, however it taught me a lot. Looking back at my experience at the hospital, I know now that I should have asked more questions instead of just paying the fees put in front of me (luckily I had travel insurance, thank you Monica!).
University lessons was very enjoyable and beneficial, and I learnt that there was no need to be shy in lessons, just try – your classmates will not laugh at you if you get things wrong. Prior to landing, I had mapped out where I was going to visit, what I was doing each day. That was the most enjoyable part, finding where the attractions were and just heading out to them and seeing the amazing architecture. The life in China compared to like in the UK is unbelievably cheap; taxis, food, attractions etc. were ridiculously cheap – which definitely made me want to stay for even longer.
How has your study abroad experience helped you to develop personally and professionally?
Overall, this experience has definitely improved my self-confidence, likewise my confidence in mandarin, in terms of my speaking and listening. Being in a city where people spoke no English was a challenging part of the trip as you are forced to speak Mandarin. This in return, also improved my communication, problem solving, language and interpersonal skills because I had the chance to interact with locals who only spoke their local dialect. At certain times not understanding their accent or certain dialect, I had to adapt very quickly and use my problem solving skills to work out what they were trying to say, therefore by catching a few words I was able to understand what they were trying to communicate. Overall this trip made me more aware of my surroundings and I was able to adapt quickly even though it was so different to UK. It gave me a new take on studying, as it was so fun I can't wait to return or travel again!
What advice would you give other students thinking about studying at Donghua University?
First of all, familiarise yourself with the map, the location of the campus and the nearest tube station. Although taking taxis everywhere is convenient, cheap and efficient, it is a much more fun experience to ride the bus or metro. Taking public transport to the Great Wall definitely improved my problem solving and language skills, as I had to ask directions and reject potential scammers. Donghua University was very convenient, had two supermarkets, a canteen and was close to the centre. Instead of exploring outside of the campus, students should definitely adventure around the campus first as there maybe some cool stuff around, there could be a cute bakery round the corner, which you could try instead of going to the canteen for breakfast everyday!
What would you say to those students who are considering studying abroad?
If you're considering taking part in a student exchange, definitely do it! Just reading about my experience is pointless, you should go there and experience yourself as it is amazing and at the same time it's beneficial! Even if you weren't considering it, go anyway because you'll be missing out on such an amazing, life-changing experience. I can't wait to be able to participate in another exchange.
---
Thank you to Chuk for this interview! If you would like to find out more about his course at Westminster (International Business with Chinese BA (Hons)) please take a look at the course page. To learn more about the #WestminsterAbroad experience please visit our website or read the other blogs in this series.
Latest posts by Jeni Stokes (see all)