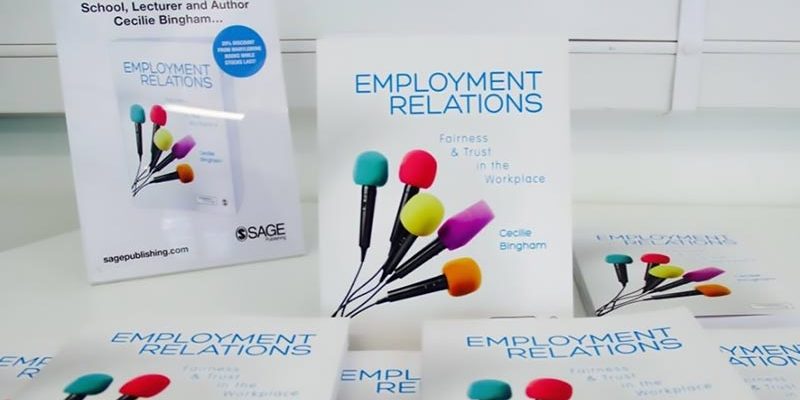 Westminster Business School gives its warmest congratulations to Cecilie Bingham whose book Employment Relations: Fairness and Trust in the Workplace has been nominated for this year's Chartered Management Institute (CMI) Management Book of the Year. Of more than 150 books entered into the competition, Cecilie's was one of 25 books to be shortlisted for the award.
Cecilie is both Course Leader for the CIPD-accredited Human Resource Management MA and International Human Resource Management MA and full-time Principal Lecturer at Westminster Business School.  The majority of her current teaching is on postgraduate courses, and she is Module Leader for Employee Relations.
Following her recent success of being nominated and shortlisted for the CMI award, we spoke with Cecilie to find out what this means to her.
Can you tell us more about the CMI Management Book of the Year award?
The nominating and shortlisting for the award is an annual event that has been running since 2010. It is organised by the Charted Management Institute, in association with the British Library, and it looks specifically for books that have the potential to transform the effectiveness of managers and/or students.
How do you feel about being shortlisted?
I was delighted to be shortlisted – it was a complete surprise and an honour to know that I am just one of just five shortlisted authors for the textbook of the year category. I was particularly pleased to know that my book would be part of a special exhibition at the British Library – an unexpected privilege.
Why did you choose Human Resources and pursue this path?
I see myself as an employee relations specialist rather than an Human Resources one. Years ago when I was a student, one of my options was to study industrial relations, I found it fascinating and went on to study the subject at Master's level. Following this I was fortunate enough to get a job as an industrial relations journalist and my career has always been in this area and evolved around providing information about the ways in which employees are treated – although I do get the chance to put this into practice when I wear my Chair of the Board 'hat' at the YWCA Central Club.
I understand that you previously took a 15 year career break. What was the highlight of this?
My career break seems a long time ago now. If it taught me anything it was how to be patient and how to multitask – the highlight was of course the luxury of being able to spend time with my children.
How does it feel to be teaching again?
I always enjoy being in the classroom and interacting with students. Their input is as important to the sessions as mine, especially as they are also able to provide good workplace examples which illustrate the point I'm trying to make.
What inspired you to write this book and tackle the subject of fairness and trust in the workplace?
Sometimes students find the subject of employee relations difficult, particularly if they have no work experience. By tying the teaching into fairness and trust (issues that are readily understandable) it brings difficult concepts to life and the students tend to find it easier to remember things when they are perceived to be unfair. The book came about because I wanted to provide students with additional relevant material that would supplement my lectures and seminars.
What do you think are the obstacles in creating the 'perfect' workplace, if there is one?
It is difficult to create a perfect workplace because an employer will have different interests from those of the employees. Reconciling those differences in a way that is acceptable to both parties is tricky and when it fails there will be conflict. Where it succeeds you find workplaces in which there is trust, good communication, fair remuneration and high levels of engagement with the right tasks.
Will you be writing another book?
Not in the immediate future – my family want me back!
---
Thank you to Principal Lecturer and Course Leader, Cecilie Bingham for this interview. We wish Cecilie the best of luck.
Latest posts by Laila Beyan (see all)