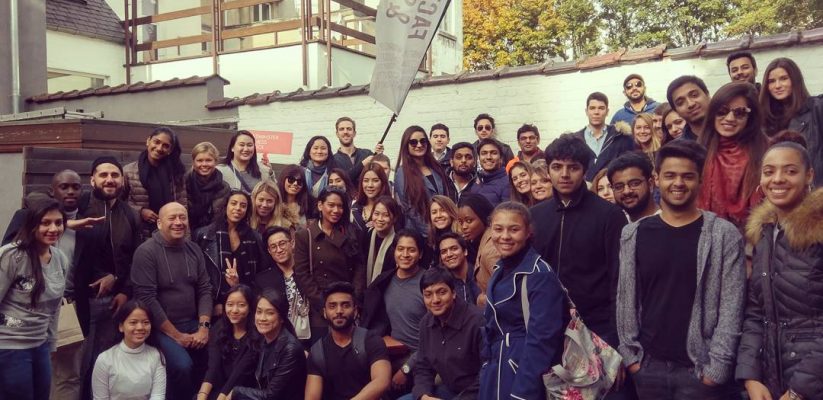 Hi! My name is Kasia and some of you know me as one of two Postgraduate Applicant Officers here at Westminster Business School. Very recently I joined our new International Business and Management MA students on their field trip to Brussels & today, I am happy to share with you the details about how they got on.
Sunday, 30th October 2016, marked an important date in the International Business and Management MA course diary. Students who started their studies in September left for their international study trip to Belgium – just six weeks into their course. Westminster Business School's International Business and Management MA programme was first introduced in 2004. It is now in its 12th year of running and is one of the school's most popular postgraduate courses. It equips students with knowledge, understanding and skills needed to pursue a career in international business by encouraging them to think and work across boundaries. This is done in part through taking students out of the classroom and into the business world. One such opportunity was their recent visit to Brussels.
'Why Brussels?' – I hear you ask. Right! Brussels is one of Europe's leading cities. It is a 'capital' of the European Union & hosts the headquarters of the main EU institutions like the European Parliament, the Council of the European Union, the European Commission and more. But that's not all! Brussels has got something for everyone – the city is a thriving, cosmopolitan metropolis with its medieval cobbled streets, top museums, beautiful parks and great nightlife. On top of it all, every street is lined with fabulous chocolate shops, waffle parlours, Belgian (as we learned – wrongfully called French) fritteries and local breweries. It's more than enough to literally get 'a real flavour' of the city!
Day 1: Brussels, here we come!
So there we were: all buzzing with excitement, passports and tickets in hand, and ready to depart from St Pancras International, which was our meeting point. Once we got on the Eurostar train, our journey was just a breeze – full of laughs, photograph taking and planning for the days ahead. And we probably couldn't have imagined a better start to this trip than arriving in Brussels to a beautiful sunset! We then disembarked from the train and checked into our rooms in Gare Midi IBIS Hotel in literally no time as it was only a few steps away from the train station. That evening we met up at Delirium Café following a few hours of taking in Brussels' sights and attractions. It was a great way to end our day, spent bonding and socialising. We even got to sample some delicious fruit beers. The choice was hard to make with all the weird and wonderful flavours available:cherry, chocolate, coconut and more!
Day 2: Sightseeing vs. studying dilemma
Don't let the first night's fun fool you – the trip was an important component of the Aspects of International Marketing Module, giving students the opportunity to understand theories and concepts learned in class and apply them in a real-life international context. As part of their assignment, the group was divided into smaller teams and presented with a challenging task of developing a chocolate brand to be introduced on the international market. To help students in the process, our first morning in Brussels started early with very insightful sessions on branding and presentation skills. Following these sessions, the afternoon was ours to enjoy, which caused the biggest dilemma during our residential – "We'd love to discover the city, but there is just so much work to be done before Thursday!" It was a tough decision to make, but although our students might have not realised I think it helped in developing their time-management and prioritisation skills. So, with some of the teams staying behind and working on their projects, and some exploring Brussels we all finally met a few hours later that evening for our first group dinner at Le Roy d'Espagne – an authentic brasserie serving delicious traditional Belgian dishes! And what an evening that was! The dinner was an extremely enjoyable one as we celebrated the birthdays of two students in the group – Benjamin and Luer who were presented with birthday themed Belgian waffles. We all hope they had a great evening spent among 50 of their peers – that's called celebrating in style!
Days 3 and 4: Let's talk chocolate!
I think we can all agree that no trip to Belgium would be complete without a visit to a chocolate shop but we took this a whole level further and visited a chocolate factory! We spent Tuesday morning at Concept Chocolate chocolatier where we learned all about cocoa trees and cocoa harvesting. With a good understanding of where our chocolate comes from, students then rolled up their sleeves and moved on to the chocolate production and praline making process – all accompanied by 'all you can eat' chocolate. In their assigned teams, students were tasked with producing the actual chocolate product for the brand they created as part of their project. This piece of confectionery had to be carefully thought through and reflect its brand personality – you should see all the love and effort put into the creation of the chocolate bars from moulding and decorating to packaging! I think that all students will agree they enjoyed being chocolatiers for a day which not only gave their group assignment a very practical aspect but was also extremely fun and creative!
After mastering the art of chocolate-making, the group was again free to work on their team assignments and presentations. Some of the students organised a day trip to a nearby Bruges – a fairy-tale medieval town with cobbled lanes and picturesque canals. The trip was very successful and was great fun for everyone who attended as they explored beautiful medieval squares, admired the architecture, enjoyed more Belgian waffles and a meal together. To top it all off we had tons of fun on the bumper cars bumping and bashing into each other to great music and flashing lights! After such a great day out and full of positive energy all came back to work on their assessments.
The next morning started with a tour of the Stella Artois brewery. On this half day trip, we got behind the scenes look at one of the world's most popular beers enjoyed in more than 80 countries across the globe learning about its history, heritage and the brewing process. It was interesting to find out what it takes to produce lager and see the massive production halls. Following the tour, the afternoon got very serious with all teams working hard on their presentations to gather as a group for an evening feast of burgers at the Hard Rock Café located at the beautiful Grand Place (Main Square). The place was buzzing with positive energy, smiles, laughs, discussions and shared stories – by now some made really good friends here in Brussels!
Day 5: Presentations!
And so the big day finally arrived! Some had waited for this day with excitement, some with relief but it has been a challenging few days for everyone. It started early with groups presenting their unique brands and bringing them to life in front of the panel and the student audience. Everyone grabbed whatever seat was available, wanting to see the other teams' presentations. I think all will agree that it was the best day of the whole trip! It was amazing to hear about, see and even taste some of the amazing chocolate creations made by students. Many ideas were entrepreneurial and innovative – and what a selection there was:
Super fun and kitschy chocolate that 'owed the moment' by utilising social media;
Luxury chocolate for bookworms who would literally 'eat a book of chocolates';
Vegan liquor chocolate;
Organic rainforest chocolate bar 'nourished by Amazon';
Unique aphrodisiac berry chocolate treat;
High-end champagne filled chocolate;
Intriguing sushi chocolate;
A unique fusion of chocolate and traditional Indian delicacy;
Energy chocolate bars and many, many more!
If some of us somehow missed the chance to taste delicious Belgian chocolate during the past few days here in Brussels today was the day that made up for it with its abundance of shapes, colours and flavours! It was also great to see how different cultures worked together and how they learnt from each other. If you ask me, that day was a true cherry on a cake! …Or a bar of chocolate should I say?
To sum it all up – the trip was a huge success! Not only did we learn quite a lot, but it was also a great chance for students to get to know each other a bit better. We mingled, shared our stories and laughed, which was a true highlight for all attending. It definitely helped in getting to know others on the course and building relationships with them.  From a group of students at the start of the trip, who shyly exchanged smiles with each other – to a bunch of friends who are supporting each other and sharing good memories, the transition was enormous!
---
Thank you to course leader Richard West, as well as Rebecca Wang and Chahna Gonsalves for organising the trip.
If you would like to find out more about this course, please visit our website. You can also find all of the photos of the study trip to Brussels in our Facebook album.
Supporting you throughout the application process.
Latest posts by Kasia Kicinska (see all)