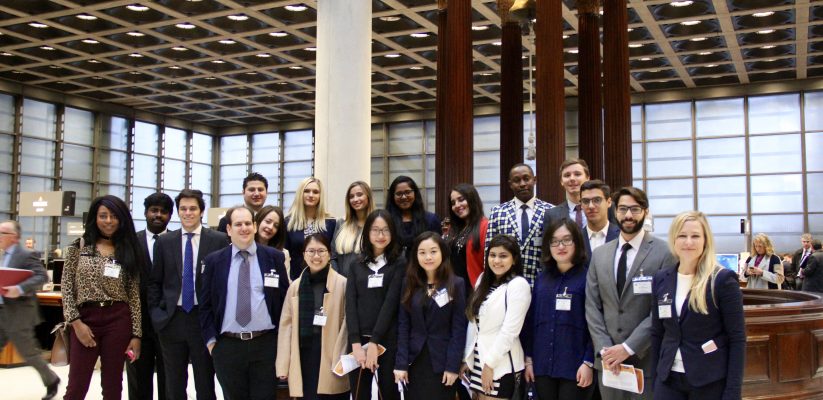 Like walking into a movie, I walked into the world's specialist insurance market, Lloyd's of London on 1 Lime Street. I was visiting Lloyd's as a guest as part of my university degree, Finance, Banking and Insurance MSc and having the opportunity to see first hand how such this insurance giant operates was very exciting. The building itself is an incredible piece of art, and is stunning from inside out. My eyes were caught by the spectacular interior, the Lutine Bell stood in the middle, and the glass ceiling that was so far away yet breath-taking.
But what truly fascinated me was seeing how things worked in action here. Small syndicates spread out on the massive floors, occupied by members and visitors carrying large file folders, while negotiations were going on everywhere. It was bustling, lively and made you feel the heart-beat of the place.
We were warmly welcomed by tour guides Peter Fletcher and Robin Erstwell. "How it worked hundreds of years ago is still working for us today" they explained, proving how strong their mechanism is. They then showed us something that brought our thoughts back to history: a copy of the placement slip for the Titanic by Lloyd's, the very case that made them suffer a tremendous loss after the tragedy. "We used to have this printed and posted above the desks, to remind everyone how important it is to think carefully before taking any risk."
I was also amazed by how the practices are so beautifully inherited from the past. If you didn't know about the history of Lloyd's of London, it started as a coffee house in the 17th Century in London. Mr. Edward Lloyd, the owner, provided news on shipping and soon turned his establishment into a popular site for sea voyagers and marine insurers to congregate. The coffee house then existed as an ideal place to obtain marine insurances.  In 1871, the Lloyd's Act passed by parliament recognised it as a corporation. Lloyd's moved to the Royal Exchange and started operating in this market place where a society of members grouped in syndicates to pool and spread risks.
From a mere coffee house in a corner of London to the prestigious international market place for commercial insurance and reinsurance on the primary financial district, Lloyd's has remained strong and has established the fame of undertaking complicated and innovative insurances that other insurers cannot. To name a few, the Space Shuttle and Michael Jackson's tour.  At the end of our visit, we were taken up to the meeting room on the top floor, where they used to receive important guests, such as Her Majesty the Queen in 2014.
Upon stepping out of the building I learnt much more than I expected. Through witnessing the business in practice I genuinely felt how the existence of insurance, and the existence of Lloyd's, can help numerous businesses to grow. This trip has definitely been a meaningful event to me as a student in Finance, Banking and Insurance. I want to thank my Insurance Module Leader Dr Simone Krummaker for creating this great opportunity for us and our tour guides for making this an unforgettable experience.
---
Latest posts by Jeni Stokes (see all)