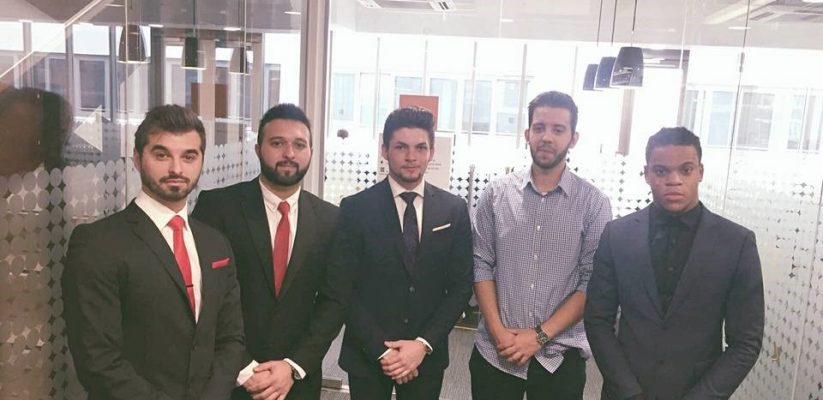 Team MG28. From left to right, Radu Andrei, Jonathan D. Moore, Dennis G. Lucan, Helsio Perestrelo and Felix O. Buluku
The University Business Challenge is a business simulated competition focused on developing employability and enterprise skills. Two teams from Westminster Business School have successfully made it to the semi-finals of the University Business Challenge. We wanted to get to know more about one of the semi-finalists "MG28".
What made you want to take part in the University Business Challenge?
As a future entrepreneur looking to one day effectively run an organisation, UBC was widely alluring to me as it would give me a virtual experience of running a company. Giving me the platform to respond to real-life organisational issues and stipulations, I hoped to gain valuable experience and additional knowledge to help my personal cause, as well as something valuable to add to my CV and gain the significant advantage when applying for jobs.
Felix O. Buluku
What was your strategy coming into the competition?
Our strategy was to create a group of individuals with different strengths and abilities, in order to have 'all bases covered'. Throughout the first stage, we tried to make the best decisions, by encouraging discussion, and that every member contributed, as they could have picked up on something we may have missed, thus using our diverse set of skills to its full potential.
We will use the same strategy for the semi-finals, where we will try to analyse the competition and play against their weaknesses, in order to get through to the semi-finals.
Helsio Perestrelo
How did you end up forming a team? What qualities does each of you bring?
All of us were initially introduced to each other at the Friends of Arriving New Students (FANS) two-day training event in Chesham. We all became really good friends since then and seemed to be really ambitious and focused on our careers. Four members of the team including myself had previously competed in the UBC challenge during year two of our university course. However, whilst all of us were in different teams we still helped one another out without disclosing our main strategy. At the end of the competition last year we decided that we would all be on the same team in the future as we were thirsty for the win and wanted to put the University of Westminster on the map.
Jonathan D. Moore
What have you gained so far?
Two main skills developed through the UBC are perseverance and dedication. Through a joint effort, we managed to prove that 5 minds decide better than one when it comes to investments, market and competitor analysis. Our forecasting capabilities improved significantly, placing us in a position of strength in anticipating competitors' strategies.
Dennis G. Lucan
What do you hope to achieve?
By using our experience and joint knowledge, we want to give our best in the semi-final and make another step towards winning the competition.
Dennis G. Lucan
How do you feel about being one of the teams that reached the semi-finals?
We are taking the University Business Challenge very seriously. Our team is mixed with accountants, entrepreneurs and marketing students, therefore we are covering all the main roles which are critical in running a company in real life situation. We feel very proud to be one of the teams that reached the semi-finals and our goal is to successfully go through the finals and make it to the top three!
Radu Andrei
How would it feel to reach the finals?
Reaching the finals would be an absolute dream come true for all of us. Our dedication to getting our university's name out there will have been accomplished. Getting into the finals will not only be a great achievement for our team but will also set a benchmark for future teams from the university that may take part in the UBC challenge.
Jonathan D. Moore
Why should others apply?
The University Business Challenge (UBC) has proven to be a highly insightful experience into the world of modern day business. For students looking to put all their accumulated business knowledge to the test and have an eye for learning valuable skills, a practical experience like this is beneficial. The UBC provides the virtual experience needed by many business students planning to run future businesses of their own, possible problems to be encountered and the basic requirements it takes to be successful. Serving as a solid opportunity for students to measure their current capability.
Felix O. Buluku
---
Thank you to MG28 for sharing their experience so far. MG28 will be attending the Semi-final stage which will take place at the Regent's University. We wish them the best of luck!
Latest posts by Laila Beyan (see all)