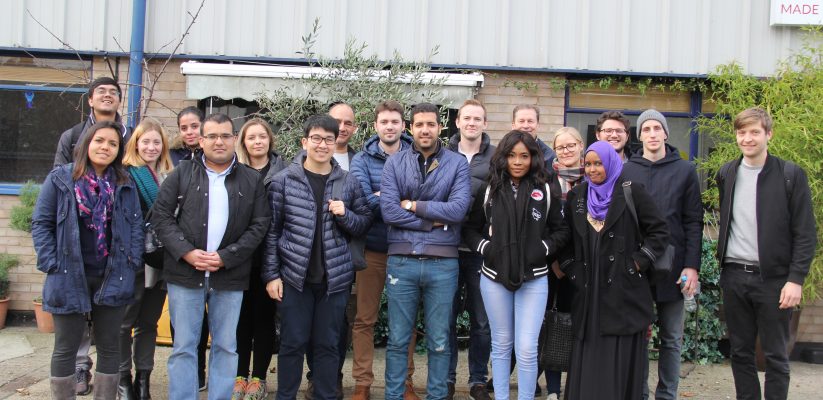 Last Friday morning we took a group of MSc Purchasing and Supply Chain Management students to visit a fashion factory, Fashion Enter. Situated in a light industrial estate, in a residential road just off Green Lanes, Haringey. This was not the sweat shop, rag trade factory that you may have seen in the news. It is a clean, bright well-appointed SMETA accredited, working factory in the heart of London.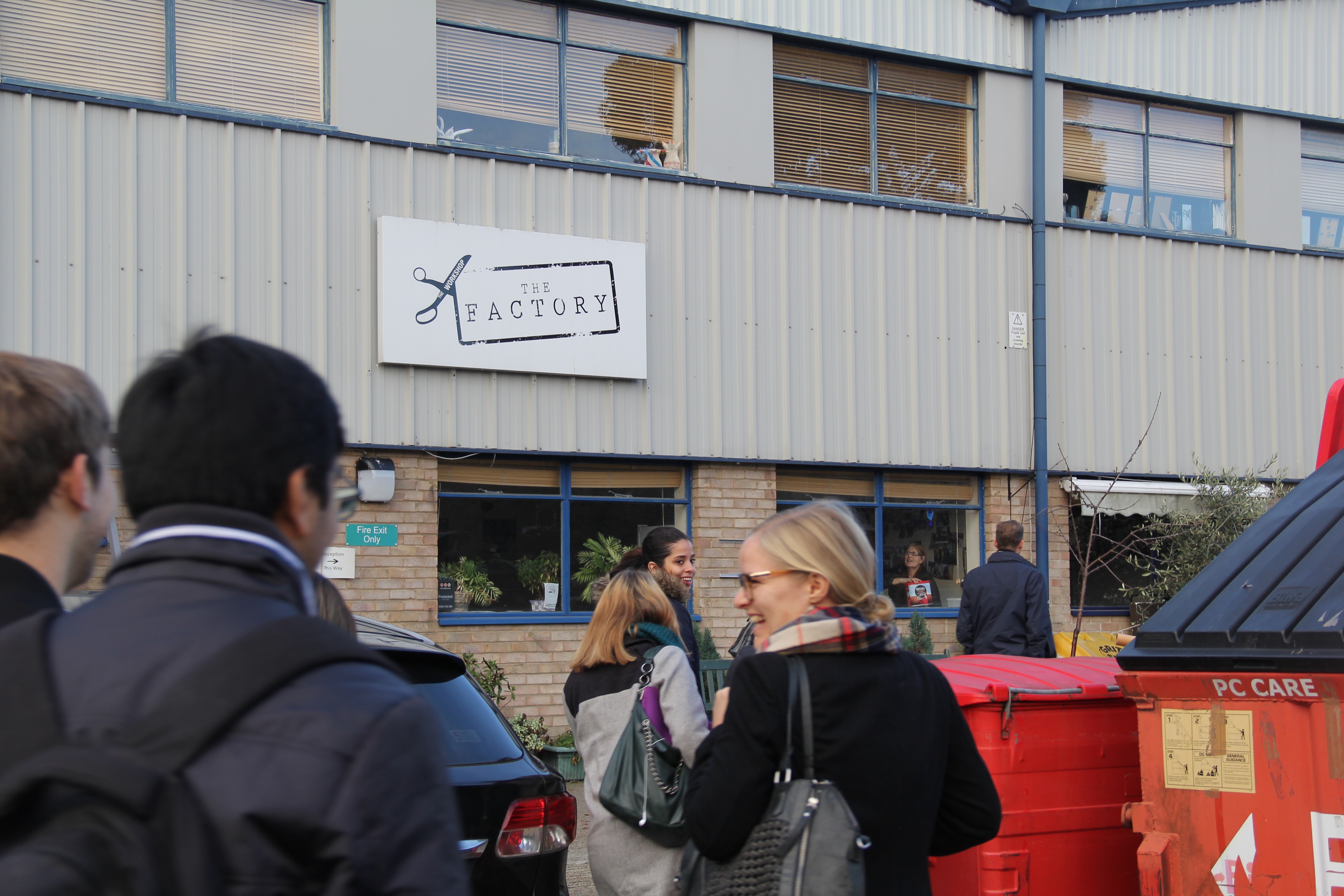 Twenty students, two members of staff and a photographer arrived by coach to be welcomed into their board room and were given an overview of the company and its aims, objectives and vision by Jenni Sutton, Development Manager. This set the scene for the company and how they work. As a working factory with a 107 staff it gave us a good idea of the issues they face in the fast moving world of fashion.
Then we were joined by the Production Director. Caroline gave us detailed insights in the production of the garments, the speed of production and the number of different elements that go into making them. We all had the opportunity to guess how long particular garments took to make and were shown examples of various garments to consider. Honestly, none of us was very close and we were either a way over or under depending on the garment. Of course, being business students we were not experienced in the creation of clothes. We were about to find out a whole lot more.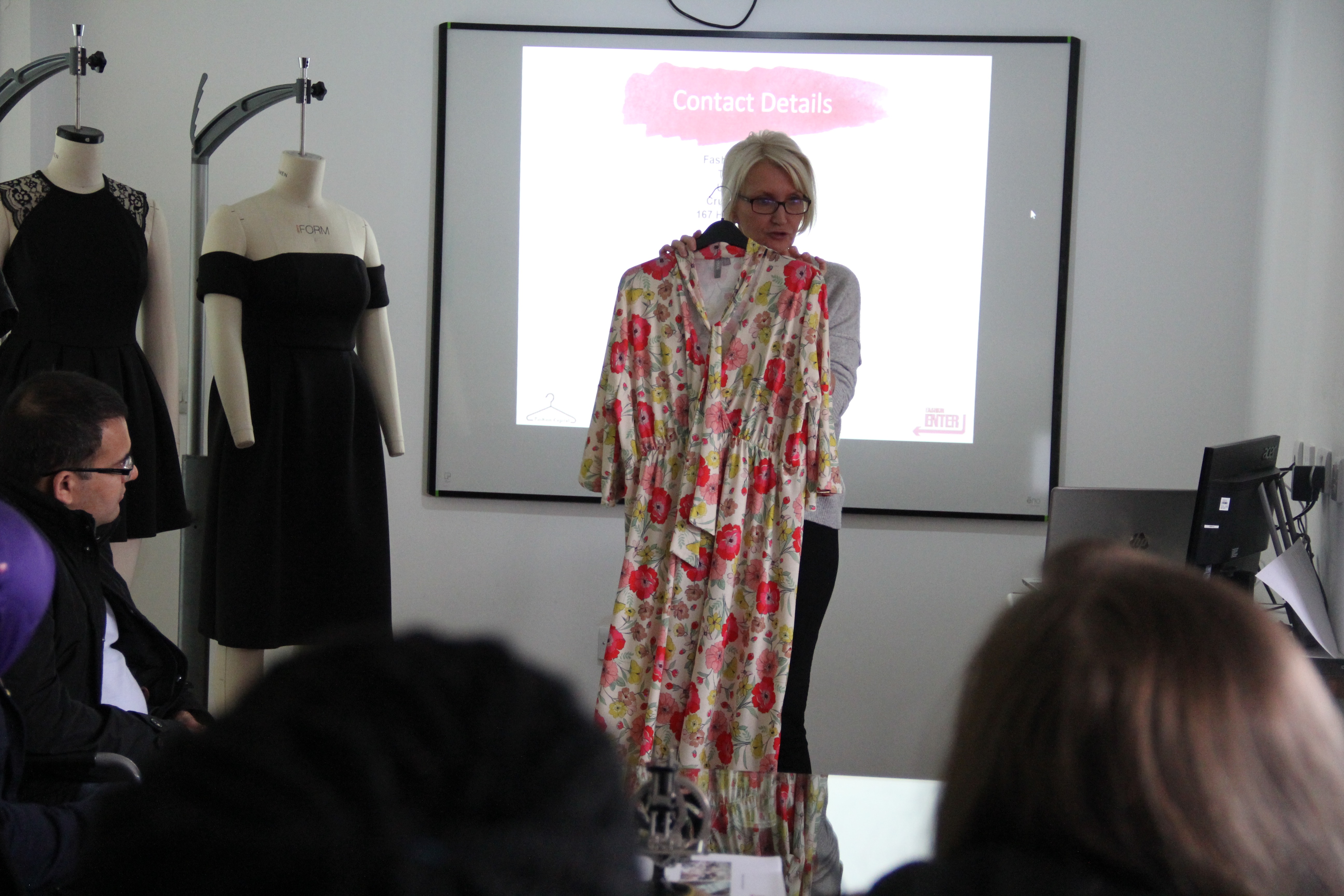 We were given non-commercial details of some of their wide range of clients, such as ASOS and M&S. Then told about the training courses they run for a new generation of designers in the art of garment manufacture or training in all the skills required to make the dresses, shirts and other fashion items. No wonder they are supported by the industry and the Government in their endeavours.
Following this talk, the Production Director took us all down to the factory floor. Starting at the beginning we were given insights into every stage of production. Starting with the pattern cutting, where we were informed about the machinery for cutting material. It became very apparent the reasons why the cutters wear chainmail gloves. Moving through the lines of machinists we were shown each stage of the process. The detail we were given was impressive, as it was not just what a particular machine did, but why it did it, how it reflected on the garment and all aspects of maintaining quality. In truth, when Caroline pointed at a machine and asked the group what is was, I don't think any of us were able to say more than 'a sewing machine', little did we know the wide variety of sewing machines there were and the different aspects of production they provided to the system.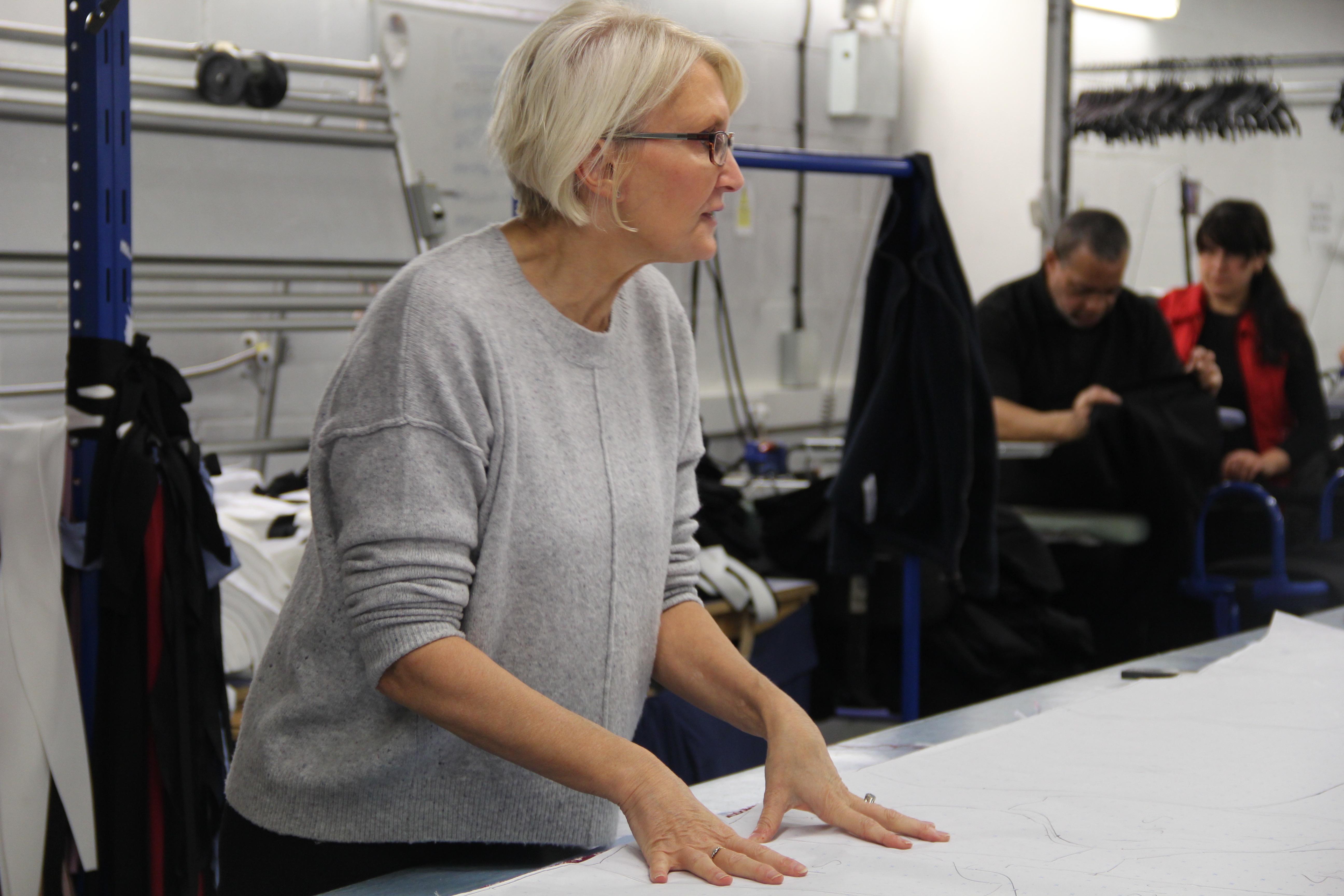 Of course, it wasn't just about the production of garments. As a SMETA accredited company, production standards are only part of the picture. We were given insights into the safety regime followed by the company, with particular emphasis on the methods for recording broken needles and the need to keep every piece, ensuring that none is left with the garments. Then onto the flatbed metal scanner and the requirements for monitoring and recording each finished piece.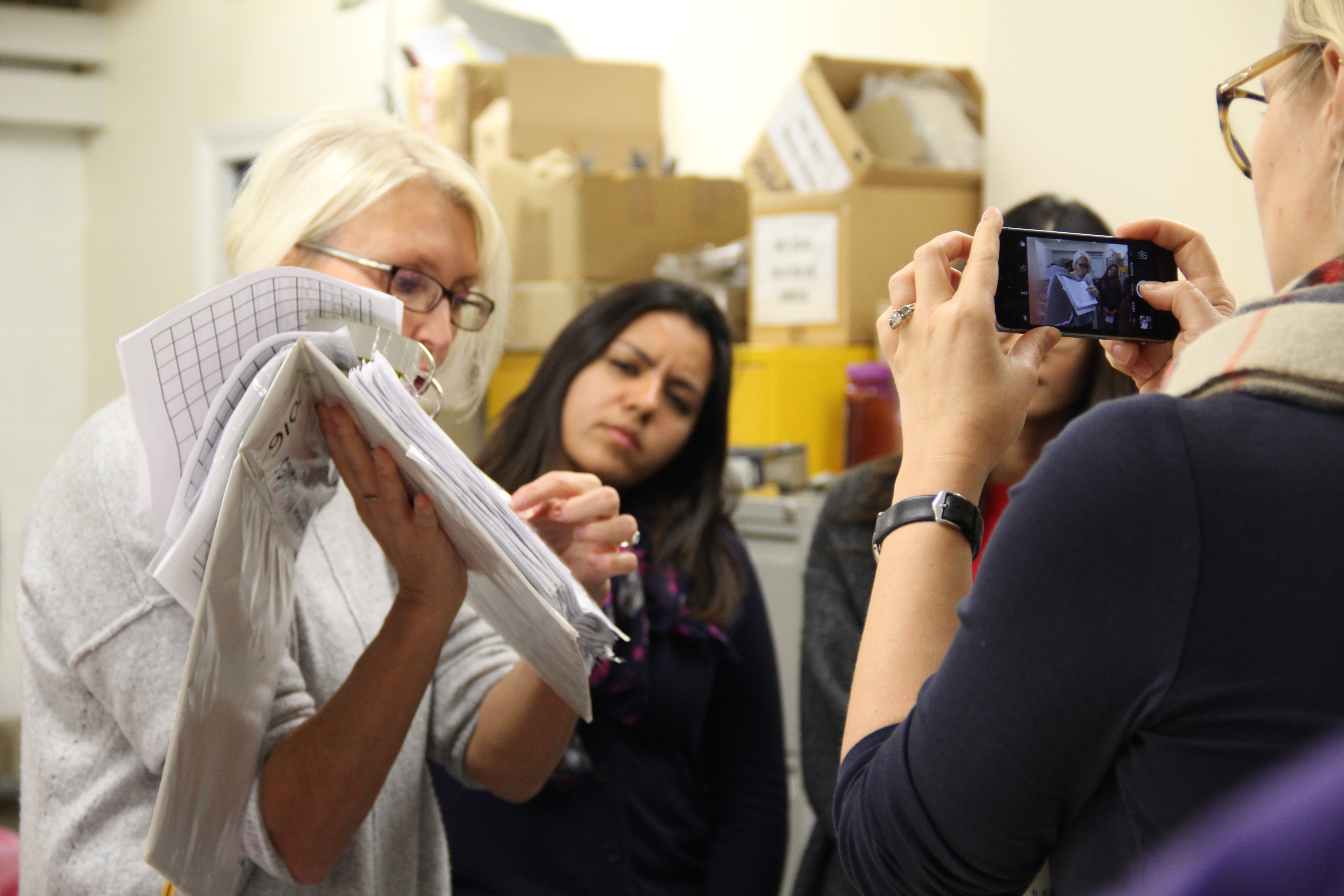 As well as the machinists we looked at the design studio and couturier machinists, all highly skilled. We saw examples of the mood-boards and other aspects of the production process, whilst being given a keen sense of the importance of each stage. I felt sure that if we had not run out of time there was more we could have been told. Overall, an interesting and very worthwhile visit, which I would not hesitate from booking again for new students next year. See what some of the students had to say about the trip here:
"I thought today was amazing because we got to meet the director of the company. Finding out how the process works was really interesting, from the start where you make the products, to finish when you distribute. I thought it would take at least an hour to make each garment, but it turns out they are able to turn one around in 15 minutes!" – Hannah.

"I thought it was really interesting to see each step of the production process, and I think the production manager was amazing when she showed us around the factory and went into all of the small details. She really had an in-depth knowledge to share with us which I found really useful as I'll be able to apply that to my studies. I was also surprised to hear that one of their main clients was ASOS! To know a small UK based factory is producing for such a large fashion retailer is really cool." – Jeanne.

"It was very insightful as we now know what goes into factory production. It was really interesting to find out about all of the different processes involved and also to see what policies and compliances they have to follow. I was also pleased to hear about how they consider themselves a social enterprise, the way they give back to the community by offering training and workshops to the unemployed, as well as making sure their factory is run ethically and safely for its workers." – Yelene
---
Thank you to MSc Purchasing and Supply Chain Management Course Leader, Nick Barnett for organising the trip and for writing this blog post. Find out more about the Purchasing and Supply Chain Management MSc course. See the full album of the trip over on our Facebook page.
Latest posts by Faye Murphy (see all)