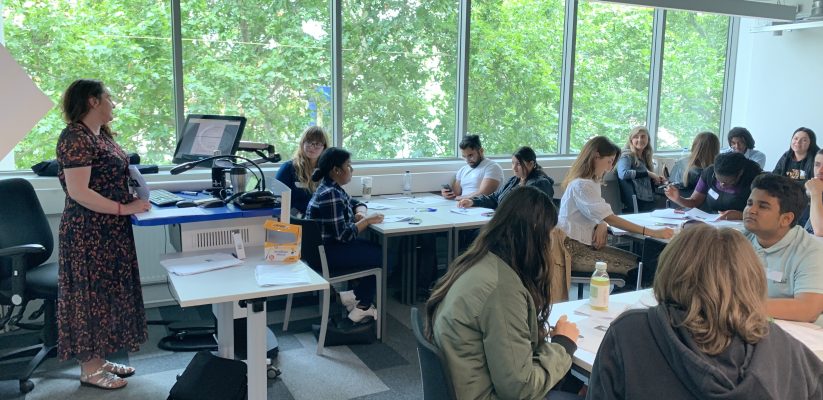 What's a Discovery Day?
Westminster Business School held a Discovery Day on Thursday 20th of June. It was aimed at potential new students due to start in September 2019. The event, now in its third year, is an opportunity for applicants to join for a day of interactive workshops. It also provides an opportunity for prospective students to meet our current students and make friends. What's more, they also get a chance of meeting a range of academic staff. The day gave an insight into the 'Westminster way' and our uniqueness. It definitely gave a flavor of what it means to be a Westminster Student.
Full of workshops
This year, the discovery day welcomed over 50 of our applicants. The day began with a welcome talk by Karen Kufuor, The Undergraduate Conversion Liaison. The morning workshops included both fun and educative 'International Trade Game' where students learnt some valuable lessons. They covered topics on the significance of changing world prices, availability of resources, raw materials and technological change. All in relation to determining the fortunes on the international market. The session was led by the Deputy Head of School of Organisations, Economy and Society (OES), Karen Jackson and an Economist, Rukhsana Kausar. What's more, students explored their leadership and management styles with Lisa Matthewman, Principal Lecturer in Organisational Psychology and Organisational Behaviour. Afterwards, Deborah Knowles, Deputy Head of School of OSE explored the importance of team working at University and in professional life.
Students' Perspective
Also running throughout the day were 'Student Views' talks. This was a student-led session, where Westminster students and alumni talked about topics such as 'Top tips for Uni', 'A day in the life of a Westminster Student' & 'Getting involved'. The students Miruna Corendea (Alumni BA International Business),  Saniya Rauf (final year BA International Business) and Dhruv Patel (final year BSc Finance) gave presentations and provided their advice all day. Moreover, Darshan Bhudia (final year BA Business Management – Accounting) talked about his work placement at the Whittington Hospital NHS Trust. There were lots of opportunities to ask questions and campus tours were also available throughout the day.
Employability Advice
Head of School of Management and Marketing (MM), Leigh Doster, gave the lunch-time address. Afterwards, Christine Zarb, Work Experience and Placement Officer and Nuala O'Sullivan, Employability Director at the School of MM, run another very successful session. They advised on the wealth of opportunities to improve your employability skills at Westminster. They covered a wide range of areas from Engage (University's employability portal), through student led consultancy – Westminster Business Consultants, to the Employability Award and Work Placement opportunities.
…And More Workshops
The afternoon session had a wealth of fun student-centred workshops. The 'Entrepreneurial Challenge' led by Supin Hussain, Senior Lecturer at the School of OES and the 'Marketing Retail Game' led by Yang-im Lee, Senior Lecturer at the School of MM are just some of the examples. Towards the end of the day another popular session took place, called 'Peoples Management' and led by Caroline Bolam, Course Leader on BA Human Resource Management. It gave a great insight into the area of Human Resource Management. The day perfectly concluded with a 'Mindfuless' session led by Jenni Nowlan, Senior Lecturer at the School of MM.
Great Feedback!
Participants actively engaged in all of the above activities and asked lots of questions from staff and current Westminster students. One applicant, who had travelled from Cologne, commented: 'The day was brilliant and better than the Open Day. I got to actually take part in classes and meet many academics.' Another London-based participant said 'I really enjoyed meeting the current students as I didn't get to see many [students] on the Open Day'. While another one, who had traveled from Birmingham concluded 'I am definitely looking forward to coming here now!'
---
Thanks to Karen Kufuor, The Undergraduate Conversion Liaison for organising the Discovery Day and taking the time to write this blog. Also, thank you to all academic staff and students who have helped in making this day happen.
Read more stories on Westminster Business School Blog.
Supporting you throughout the application process.
Latest posts by Kasia Kicinska (see all)