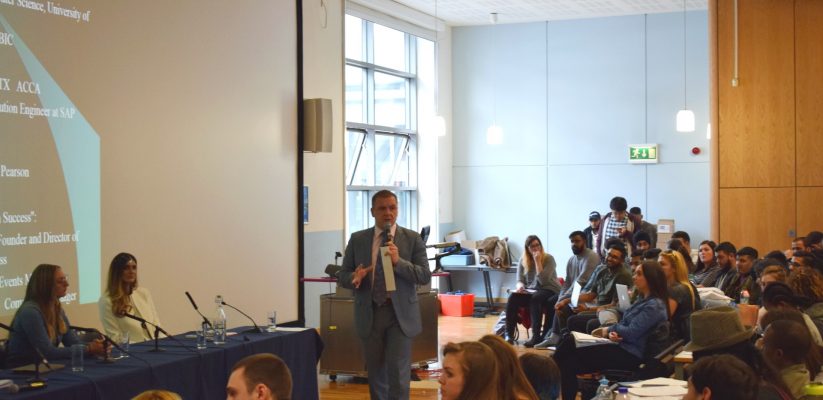 Introducing Dawid…
My name is Dawid and I am a University of Westminster Alumnus. I graduated in 2001 with a degree in Computer Science. Then, I went on to complete an MBA in the United States and remained there for another 7 years. I worked initially on Wall Street, and then in Pharma Alley. Afterwards, I returned to Poland where I setup national branches of EPAM Systems, a global provider of software engineering and IT consulting services; MMRG, a bio-pharmaceutical stakeholder consultancy ; and SolarWinds, a company which develops enterprise information technology infrastructure management software. Now, I am still based in Poland and am a CEO of SKK SA, a leader in automation and optimization, in the areas of logistics, production and labeling of goods. We focus on Industry 4.0, a current trend of automation and data exchange in manufacturing technologies, creating what has been called a "smart factory".
Reflect on your time at Westminster Business School
Just like London, University of Westminster is a melting pot of cultures and ideas. During my studies here, I never fully appreciated the value this interaction had given me. It was my everyday life, and something I took for granted. However, once I left the university and moved to other parts of the world, I realized how well the University of Westminster prepared me for working in an international environment, in any country in the world! I think that a key part of my education was becoming a student representative, as this forced me to think about more than just myself. The most enlightening part of this experience was hearing the point of view of our lecturers and not just students. As well as, communicating any issues via the appropriate channels to the University and Students' Union.
Which achievement are you most proud of?
Graduation! 😊
How your degree has helped you overcome some of the obstacles in the business world?
Just mentioning that I am a University of Westminster Alumnus, gets a very positive response, almost anywhere in the world! This University has a great reputation and this value cannot be understated. Studying in the heart of a cosmopolitan city like London gives more value than a self-contained out of town campus. Most decision makers in the business world understand that and value a degree from such an institution appropriately.
What has been the most unexpected gain the degree has given you?
Being invited back to an alumni event! I did not expect that presenting to current students at the university would be so rewarding, and their response would be so positive!  It's a shame I do not spend more time in London, as I would love to contribute more to their education. This brings to mind when just after my graduation, my coach said to me: "Now you have a piece of paper that says you are not stupid". As anecdotal as that may seem, the degree gave me confidence. Confidence in myself, confidence in the fact that I know I can persevere in the face of adversity, and complete a set goal.
What are your future plans?
Take SKK SA from being a national leader to a European and world leader in industrial optimization and automation. I want to continue inventing and building new products, never forgetting that the most valuable thing in a company is its people.
Do you have any advice for students graduating this year?
If there is just one thing to say, I would like to emphasize that this is your time to try new things, the time to take risks – do not be afraid of taking on challenges! Taking advantage of opportunities, and making risky decisions becomes harder as you get older. So, do not wait! You have plenty of time, but it disappears quickly, so make the most of every moment and opportunity!
---
Thank you so much to Dawid for taking the time out to answer these questions. Find out more about our successful Alumni, as well as their tips and advice on our Westminster Business School blog.
Supporting you throughout the application process.
Latest posts by Kasia Kicinska (see all)