In May 2019, the School of Applied Management within Westminster Business School, achieved CIOB re-accreditation for its courses. This included the BSc Building Surveying, BSc Construction Management and BSc Quantity Surveying & Commercial Management. Similarly, MSc Building Information Management, MSc Construction Commercial Management and MSc Construction Project Management courses were also re-accredited. This was an exciting moment for the courses and is great news for our students.

 Accreditation – What does that mean?
CIOB accreditation shows that a formal professional body, the Chartered Institute of Building (CIOB), has assessed our courses and given them their seal of approval. Most importantly, they've judged that our programmes reach the highest standards of governance, quality assurance and resource management. It's a big deal! And for no-one more than the students! Therefore, completing one of these courses puts students on track to become full members of the CIOB. As a result, this plugs them into a network of like-minded professional experts, giving them access to the latest industry information. What's more, they can stay up to date with the latest innovations and enhance their career prospects.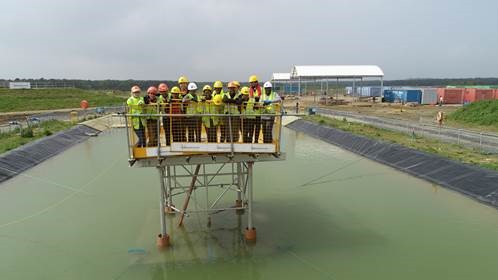 How did it happen?
Every five years, the courses go through re-assessment to ensure they are up to the CIOB's exacting standards. Part of that assessment involved a panel of industry experts visiting our Marylebone campus to personally inspect the facilities. And they were thrilled with what they found! Among the highlights was the FabLab. The panel described it as one of the most impressive learning spaces that they have ever seen. Moreover, they were excited by the diversity and depth of engagement with industry that the School has cultivated. As a result, these allow the courses to integrate real world construction industry practice to the student experience. To take one example, this year undergraduates participated in the International Building Challenge 2019 at Saxion University in the Netherlands. Consequently, they prepared work around an exciting project case study, the Elephant Park regeneration scheme, involving the construction of residential blocks in the Elephant & Castle area of London. This was supported by Lendlease who provided project data and personnel, greatly enhancing student understanding with their practical experience.
Who are the CIOB?
The CIOB is the world's largest and most influential professional body for construction management and leadership. They have a Royal Charter to promote the science and practice of building and construction. Consequently, their members work worldwide in the development, conservation and improvement of the built environment. As a result, there are many famous buildings built by its members. For instance, Houses of Parliament, Nelson's Column, Tower Bridge and the Millennium Dome, and that's just in London! In addition, notable members have included the Engineer Ove Arup, the architect Edwin Lutyens and even Winston Churchill.
Speaking about the panel's visit and the successful re-accreditation, undergraduate construction programmes' leader, Ian Cannings, said:
 'Being recognised in this way by the CIOB is a great achievement for the department! It brings a massive value to students as CIOB membership is widely seen as beneficial to a management career in construction. Passing re-accreditation with flying colours is a testament to the robustness of the teaching experience. Certainly, it emphasises the strong links the department has forged with key industry players over recent years'.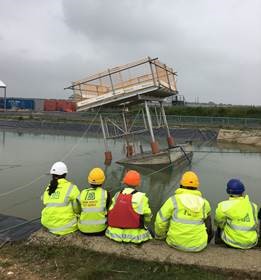 Other Accreditations
The School of Applied Management runs a selection of courses accredited by professional bodies including the Royal Institution of Chartered Surveyors (RICS) and the Chartered Association of Building Engineers (CABE). Together these continue to offer fantastic opportunities for students and strengthen the University's relationship with industry.
---
Thank you to Brian Adams, Senior Lecturer at the School of Applied Management, for writing this blog piece.
If you would like to find out more about CIOB and their accreditation, click here. To find out more about property and construction courses at the University of Westminster, Westminster Business School, visit our website. For more stories from Westminster Business School, click through to our blog.
Supporting you throughout the application process.
Latest posts by Kasia Kicinska (see all)