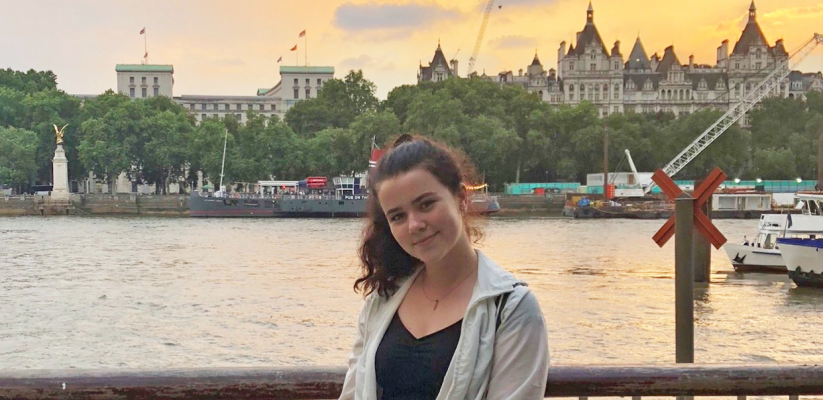 Before this year, the only job I'd ever applied to was minimum wage pay for a Barista position at Starbucks. While I find myself passionate about learning the inner workings of the field that I'll one day enter, I also find myself overwhelmed by the process of applying for an internship. At the start of my search, the process felt so much more high stakes than anything I'd ever encountered. At times, I allowed my resulting feelings of inadequacy to deter me from simply taking a chance.
One of the most important realizations I've come to is that most first and second-year students are hovering in this same state of uncertainty, and it's not something anyone should feel ashamed of. Instead, embrace what you don't know and try your best to learn more. Even if you face rejection, at least you can look back on that experience and say you gave it your all, growing from what it taught you.
The following is my guide to navigating the process of applying for work experience – I hope it proves useful to those feeling uncertain about the process.
Student Insight or Internship?
The first decision you should make is about whether you should apply for internships or insights.
You should ask yourself: how much free time will I have this Easter/summer break to spend working for a company?
If you have plans for Easter break, eliminate the potential of undergoing a student insight, as these typically take place over this break period. For those who may not know, student insights entail short work experience, intended to give students an introduction to working in a professional setting. Some employers even scout participants to offer them full-time internships, placements and graduate schemes. Student insights are a great chance for students to become more comfortable with workplace dynamics without committing to something long-term.
As most will know, an internship entails either paid or unpaid work with the intent of gaining relevant industry experience.
One of these may suit you better depending on your own personal level of comfort, schedule and experience.
Online Services Available
There are a variety of free services available to you online which can aid in your application process.
LinkedIn is the most commonly known professional networking platform and posts hundreds of opportunities daily across a variety of industries. Regardless of which industry you're seeking an internship in, you'll most likely find it on LinkedIn. It can seem very intimidating (and sometimes it still is for me, admittedly), but it's definitely worth trying out. You can start by creating notifications for new internships or jump right into connecting with people you know. Just remember that people can see when you view their page – it's a blessing when you're able to see that companies have looked at your page but a curse when someone gets a notification after you browse theirs.
In addition to LinkedIn, services such as Glassdoor, Indeed and Google jobs are also available to you. They provide essentially the same services as LinkedIn, minus the ability to network and follow hashtags, among others.
Finally, the University's Engage service provides you with the ability to search for internships, apply for them, and make appointments with the careers service on campus to review your CV and any other potential opportunities that you may have missed.
CV Creating Services
Creating a functional and eye-catching CV is an undeniably important step to this entire process. If you're like I was a few months back, you may have no idea whatsoever about how to create one. Luckily, templates exist.
Word's CV templates were my saving grace while I was creating my own. You have the ability to choose from a long list of formats or create your own from scratch. I recommend these templates for individuals who know what components should be included in a CV but don't know where they should reside on the document.
Additionally, Microsoft Word allows you to compare your CV to existing ones. Click the CV Assistant in Word's Ribbon (it's under the Review tab) and then click Get Started.
Dealing with Rejection
Rejection is a part of life, but most of us can't help feel shameful when it happens to us. I urge everyone to view rejection through a different lens, as there is nothing shameful about trying your best. There's something very admirable in taking a leap of faith. Over time, rejection won't be such a bitter feeling, but rather one that makes you think, "Oh, well. I tried my best." Sometimes trying your best is all that you can do, and it's more than good enough.
Since I started my application process, I've received three rejections. The first response that I heard from a company was a rejection. It wasn't the encouraging push that I hoped for, but I didn't allow it to extinguish my determination. Perhaps I set my sights too high applying for internships at such prestigious companies like Intuit and Virgin EMI Records as a first-year student with no prior industry experience, but I still feel proud for putting myself out there.
Whether a response contains a rejection or a future interview to be scheduled, it provides us with a lesson to be learnt about what is realistic for us personally, and what risks are worth taking.
---
Thank you to Julia Hastings, BA Marketing Communications student, for writing this blog piece.
Click here to read more of the 'Student Minds' series. For more stories from Westminster Business School, click through to our blog.
Latest posts by Julia Hastings (see all)