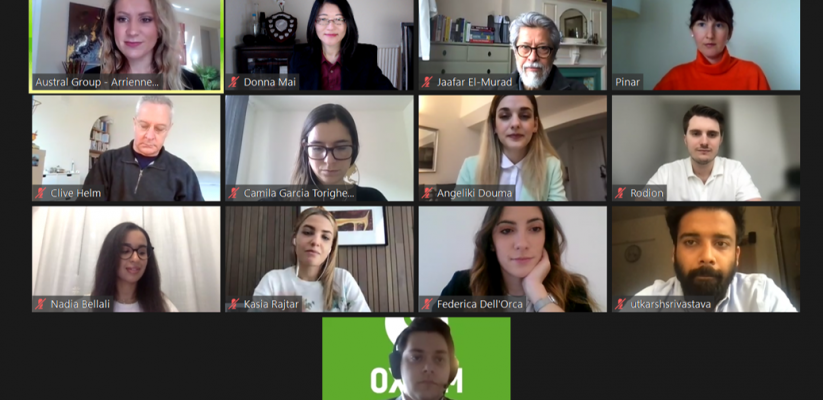 The MA/MSc Marketing Planning Business Challenge took place from 15 to 18 February 2021. Marketing students on both September 2020/21 and January 2021/22 intakes gathered together virtually on Zoom to work together in groups and undertook multiple learning challenges.
The virtual platform allowed all students to interact and improve their professional and teamwork skills while working with a real organisation. The purpose was to apply our marketing planning skills and techniques to create a Marketing Brand Strategy for Oxfam Intermón.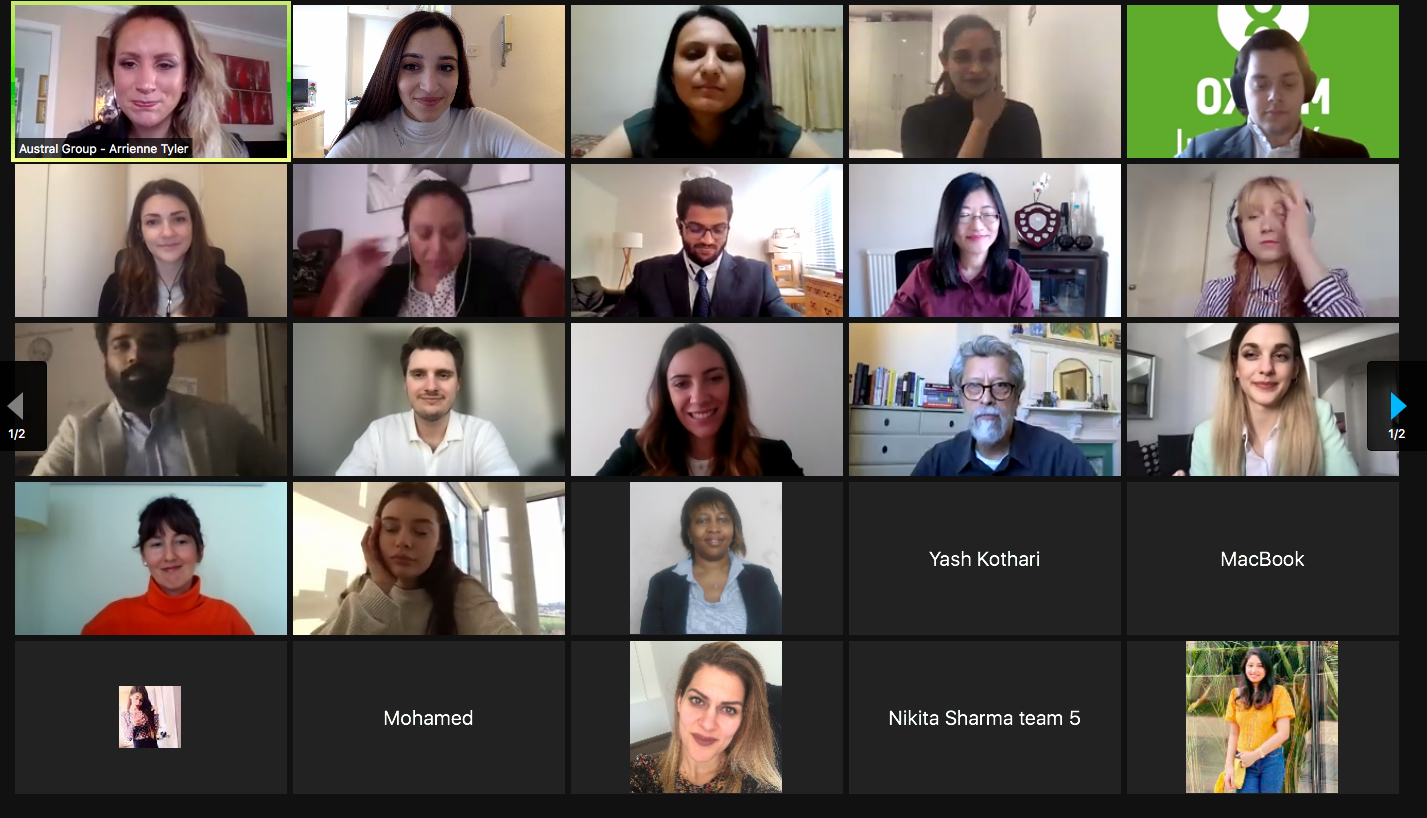 The event was hosted by the University of Westminster and Austral Education Group, while meetings were moderated by Arrienne Tyler, Program Manager of Europe at Austral Education Group. The purpose of the challenge was for us to work in teams and act as consultants, combining our existing knowledge and providing the company with a strategic branding plan.
A professional working schedule was set out a week before the start of the Business Challenge along with the important deadlines that were to be met during the days of the challenge. In addition, we had the chance to choose our teams prior to the event. This allowed us to get organised by creating a WhatsApp group chat, to ensure a more professional performance over the days of the challenge.
On Day 1, we got to know our host Ms Arrienne Tyler from Austral and had a program opening and orientation by our Course Leader, Dr Donna Mai, followed by the presentation on the organisation and the challenge objectives, delivered by Camila Garcia Torighelli, Brand Communications Manager of Oxfam Intermón. The first task of the challenge was to perform a Marketing Research and submitting a thorough Situation Analysis by the end of the day. Over the afternoon, we met in Zoom break-out rooms to facilitate our research while we had the chance to call out supervisors when we had questions. On Day 2, we had a presentation from a guest speaker, Richard Shotton, Founder of Astroten, followed by a RoundTable Breakout Conversations and a Q&A session with the directors of the challenge. Later on, we gathered again as groups in breakout rooms to discuss and submit our Brand Objectives and Brand Positioning. The first two days were intense but also rewarding at the same time.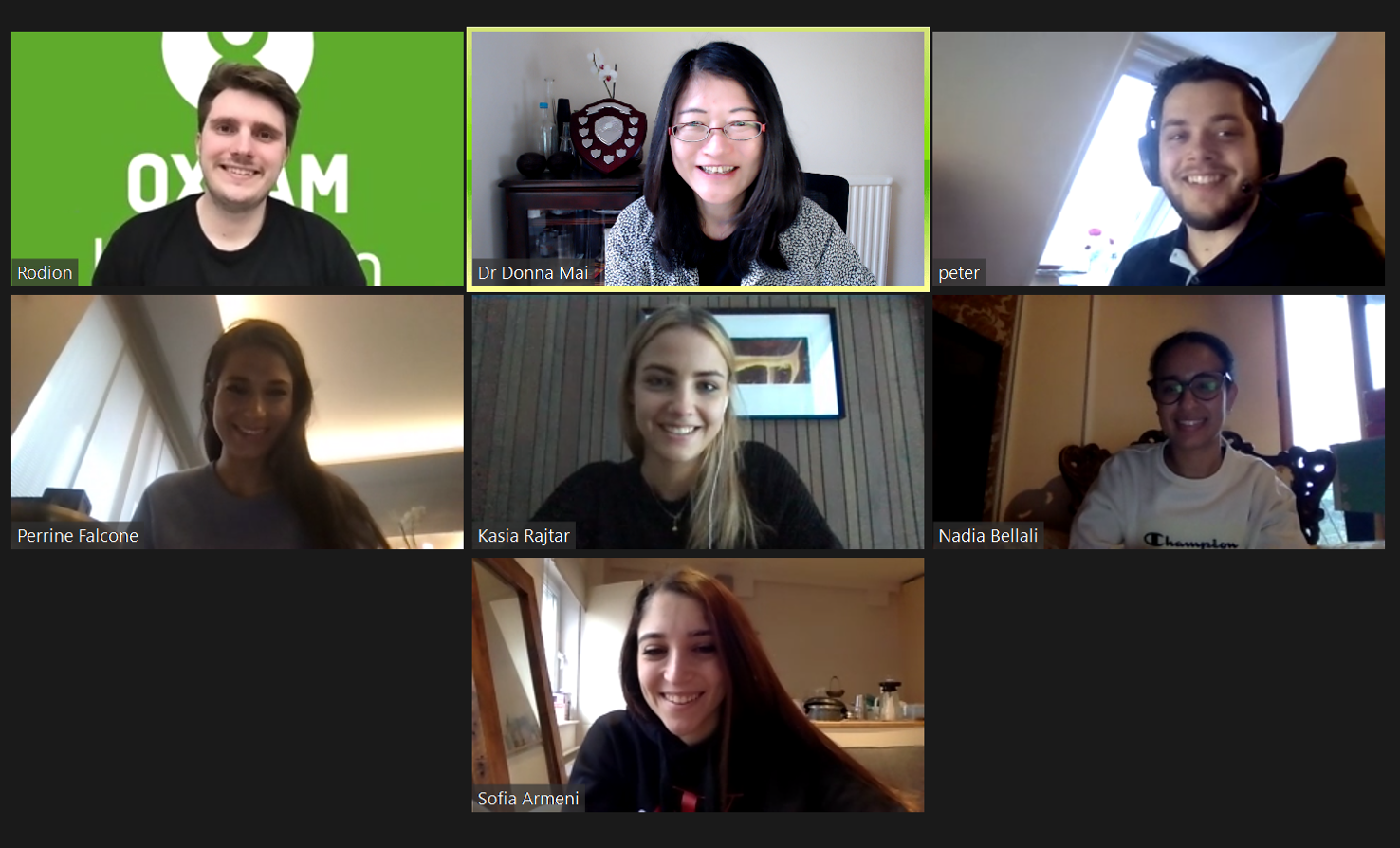 During the third day, we were given feedback on the first two tasks which allowed us to make necessary improvements and adjustments in order to submit the best possible output, demonstrating the full potential of our team. In addition, we had a presentation by María Fernández del Moral Fdez-Crehuet, representing the United Nations Development Program. The guest speakers and the presentation of the organisation by their Brand Communications Manager, made the situation realistic, which allowed us to apply our existing knowledge and enrich our skills in marketing.
After three long and productive days, the event ended with each team presenting their Brand Strategy. Even then, it was very beneficial for every group as we got to see the findings and different perspectives each team had on the subject. The day was then concluded with a Prize Ceremony. A First and Second Prize for the 'Best Brand Strategy' and 'Top Social Media Influencer Award' were announced.
My amazing team (Katarzyna Rajtar, Nadia Bellali, Perrine Falcone, Peter Nielsen, Rodion Romanadze) and I have won the Second Prize in the 'Marketing Planning Business Challenge – Brand Strategy'. We were well-organised and consistent while at the same time, trusted each other in specific tasks depending on which area each one of us felt confident with. The intense three days enhanced our practical knowledge in marketing planning and helped us develop transferable skills such as communication, co-operation and problem-solving – all essential for employability in the marketing area.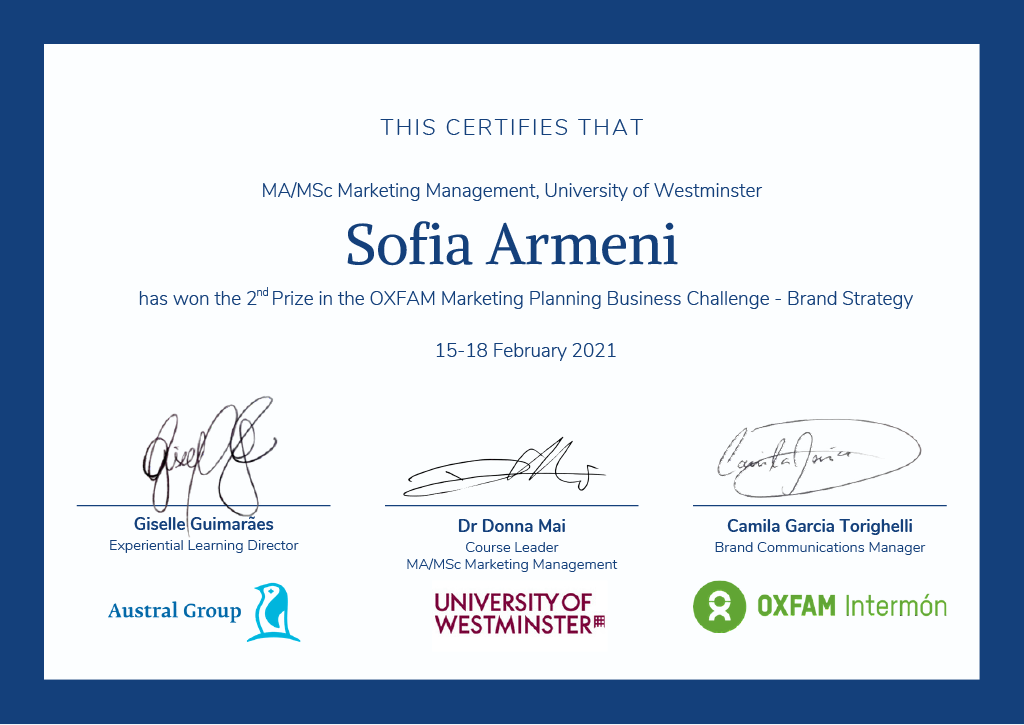 The teachers who accompanied and supported the facilitation of this rewarding weekend are Dr Donna Mai, Dr Jaafar El Murad, Dr Pinar Demir, Clive Helm and Dr Virginia Mwangi. Special thanks to Ms Arrienne Tyler and the facilitators and of this event was without a doubt great learning and enriching experience.
---
The article was written by Sofia Armeni, Postgraduate student on MA Marketing Management at Westminster Business School. The Marketing Planning Business Challenge was a part of the learning experience on this course. 
Click here to read more of the Student Minds series. Check out other articles for activities within Marketing courses at Westminster. 
Edited by Judy Bui. 

Class of 2022 Graduate in Marketing Communications BA (Hons). Joining KPMG UK as Graduate Consultant in Customer Consulting.