PR (Practice Research) Voices is an AHRC funded project bringing together Libraries and Information researchers, with practice research users/academics in areas of art and design, architecture, and other practice research areas in order to address two keys aims:
– Define the technical and academic challenges of an Open Library of Practice Research (OLPR) that will effectively share and disseminate practice research outputs to both academic and non-academic audiences.
– Determine the most efficient and successful route by building upon existing infrastructure and follow the fundamental principles of Open Access, making use of the good practice that already exists.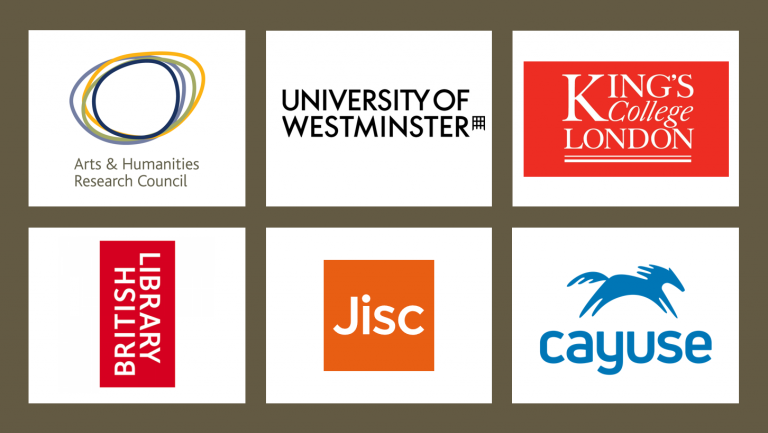 Led by a team of experienced, invested innovators and researchers, our team have the following objectives:
– Identifying technical specifications for a repository tailored to Practice Research (PR) requirements. This is a great opportunity to develop and share the standards and good practice from the current best-in-class across the systems the community uses, for the benefit of all.
– (A pilot repository based on the pre-existing WestminsterResearch open source Haplo Repository (PRHR) will be created. Embodying classic open research practices, Jisc's Research Repository (JRR) and the British Library's Research Repository
(IRO) will be used to test how changes to this pilot repository will scale to other systems, and preservation infrastructure).
– REF 2021 PR samples will be used to test and inform changes to PRHR which will again be tested for transferability via the partner platforms. Analysis will be carried out on IP, licensing, and copyright issues.
– Review and recommend changes to metadata standards (to enable discoverability), more specifically repository metadata standards e.g COAR, RIOXX and Persistent identifiers e.g ORCID iDs and DOIs.
– Creating a PR community of practice to bring together disconnected discussions between different stakeholder groups such as researchers (including PRAG-UK), librarians, developers, researcher data managers, repository managers, research
manager, archivists, records manager and curators.
The Team
– Jenny Evans (PI)
Jenny Evans is Research Environment and Scholarly Communications Lead at the University of Westminster. Her role includes responsibility for scholarly communications, research integrity and ethics strategy and policy, research information management systems, and leading a team of subject matter experts. Over the past 5 years she has led a team of repository staff and researchers, in close collaboration with software developers, to develop a state of the art open source repository
to capture all research including practice research.Alongside this work she continues to advocate on behalf of this community and their research to raise awareness of the challenges, and to improve systems and metadata standards.
–  Prof Helen Bailey (CoI)
Helen Bailey trained as a contemporary dancer and has pursued an academic career focusing on education, research and leadership in interdisciplinary performance practice and its intersection with technology. She has been Principal Investigator and co-Investigator on a number of large scale interdisciplinary multi-research council funded projects in collaboration with leading UK universities including Bristol, Manchester, Leeds, and Sussex. She has also been the recipient of a number of Arts Council England grants to develop live performance. Her research has been published in a range of journals across the arts and sciences and her practice has been presented in academic and professional setting internationally. More recently her research activity has focused on the application and development of impact accelerator models to the creative industries to catalyse urban regeneration.
She joined King's in 2020 as a member of the senior management team to lead global business development.  She brings with her significant experience in building strategic international higher education partnerships. She has expertise in partnership negotiation, business planning and strategic project management in international higher education.
– Rachel Kotarski (CoI)
Rachael Kotarski is the Head of Research Infrastructure Services at the British Library, responsible for a team developing services around discovery, repositories, scholarly communications, research data and persistent identifiers. She has spent a
number of years building the UK community of those assigning DOIs for data citation, and worked on a number of persistent identifier-related infrastructure projects. More recently she has been involved in projects looking at improving infrastructure for practice-based research outputs, and the use of persistent identifiers in heritage organisations.
– Dr Adam Vials Moore
Adam is product specialist for persistent identifiers at Jisc and is a recognised expert in this area. Adam is also part of the team that supports Jisc as lead organisation of the UK ORCID consortium, which was recognised in the recent PID cost
benefit analysis as saving the UK £2.8M over the last 5 years. Dr Vials Moore has a research background rich in analytical and both qualitative and quantitative methodologies, having worked on diverse subjects from bioinformatics through to Digital Humanities work on genocide. Dr Vials Moore was awarded his doctorate in 1998 for research on novel algorithms for modelling biomolecular interactions.
– Prof Neal White (CoI) 
Neal White is Interdisciplinary Professor, and an artist and Co-director of CREAM. His research draws on the critical legacy of conceptual and critical art in society – a term that now addresses the non-human. His work focuses on interrogating the artistic representation of our post-natural and post-industrial environments through science, its landscape and laboratories, data and infrastructures, technologies and innovations aimed at observing, measuring and shaping knowledge and experience. Combining fieldwork, primary and experimental research methods, and by working in collaboration with researchers from other disciplines, his work traverses the complex and messy scalar narratives around subjects such as environment, ethics and innovation. In 2004, Neal founded Office of Experiments, an independent artist-led research organisation that supports critical forms of research practice. In 2019, he founded the Deep Field Project, based at The University of Westminster, which extends this collaborative work.
–  Dr Holly Ranger
Holly is the Research Data Management Officer at the University of Westminster. She is responsible for co-ordinating the provision of research data management (RDM) services across the university, and provides support and training for research data management and research data preservation to academic and doctoral researchers. Holly joined Westminster in 2020 from the University of Nottingham, where she developed the university's RDM support service as the Research Support Librarian for Research Data Management. Holly's background is in research and teaching, and she was awarded her doctorate in classics from the University of Birmingham in 2016.
– Nina Watts
Nina Watts is the Repository and Open Access Manager at the University of Westminster where she has led the development and day to do running of the institutional repository for over 15 years.  She has taken the repository from a largely traditional text-based EPrints repository offering a mediated deposit service, to a self-deposit, multi-disciplinary resource, supporting research from across the institution.  During this time she has introduced open access policies for academic staff and doctoral theses and supported three RAE/REF cycles.
– Joshua Mead
Josh is the Researcher Development Officer at the University of Westminster. He manages the University's Researcher Development Programme, supports personal and professional development initiatives at school level and more broadly. Josh also coordinates the University's action planning around the HR Excellence in Research Award and provides support across the research spectrum, working towards growing the research culture at UoW.