ORCID link in the VRE
ORCID is a unique research identifier belonging to you which distinguishes you from every other researcher. It allows you to store together all your research outputs within your account and share them between platforms. The VRE is now able to push data to, and receive data from, your central ORCID account.
If you sign up to, or connect an existing ORCID account, this should help to reduce workload in relation to managing your publications. Benefits include:
Distinguish yourself, and remove any ambiguation over your name
Remove duplicate data entry. Some funders, publishers, and other institutions use ORCID to populate data.
Meet requirements of some funders and publishers
Make it easier to move your publications between institutions, as your record will go with you throughout your academic career
What you should do now
Use the 'Sign up for ORCID now! link within your record in the VRE, to register, or link an existing account. If you grant us permission as a trusted party, the VRE can then auto populate your VRE record, and vice versa. The earlier you sign up to ORCID the greater the benefits, so even if you don't feel you would use it much at present, by taking a couple of minutes to sign up now, it can save time and effort in future.
If you already have an ORCID ID, please ensure you use the sign up link to connect to your existing ORCID account, and do not create a new one. Some researchers will have created an ORCID in the past for a particular purpose, for example if one was required for a grant application, and may have not used their account since. It is important that you only has one ID that can be taken with you throughout your career.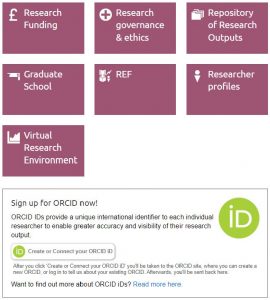 If you already have an ORCID linked to the VRE this link will not appear on your VRE homepage. You will see your ORCID in 'My Record'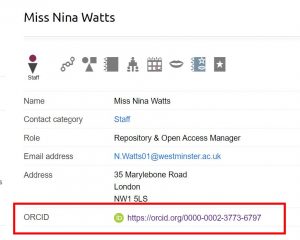 Changes you will notice
New publications and other research outputs added to the VRE will feed through to your ORCID profile (if you have granted us permission to be a 'Trusted Party').
If you have publications data in your ORCID account from other sources, this will be sent to your profile in the VRE. 
Under Guides in the VRE you will find a step by step guide to signing up, linking your account, and claiming the records that import.
Further Information and FAQs
What is ORCID?
Open Researcher & Contributor ID (ORCID) is a unique research identifier belonging to you which distinguishes you from every other researcher.
An 5 minute introductory video is available: https://vimeo.com/97150912
Why should I register for ORCID?
It is increasingly becoming the method of choice by funders and publishers globally to unambiguously link people to their publications and grants. Take it with you through your research career, even if you move institution.
Reduce duplicate data entry
It also supports automated linkages between you and your professional activities ensuring that your work is recognised. It will save you time and effort as it increasingly provides automated linkages between publisher and funder.
Your funder or publisher may require it when submitting publications or bids
The Wellcome Trust and NIHR are examples of funders which require ORCIDs in grant applications. Funders are better able to track and correctly identify their grants and related outputs to the correct researcher, even if they change institution or name.
Systems such as ResearchFish can harvest data from ORCID, reducing the need to add data to multiple systems.
How do I get an ORCID ID?
We strongly recommend that you use the ORCID link within your record in the VRE, to register, or link an existing account. However, anyone can create an ORCID account, and you do not have to go through Westminster. You own your ORCID profile, not the institution.
Linking your VRE profile to ORCID
Creating a link to an ORCID profile via the VRE follows the same process whether you already have an ORCID or not.
Once linked, all your publications and other research outputs in the VRE will feed through to your ORCID profile, if you grant us permission to be a 'Trusted Party'.
We suggest that you set the visibility settings to 'Everyone' so that your record is public, and add a secondary email address, so you can easily access your ORCID account, should you leave Westminster.
The permissions that you have granted and the date that you authorised them will be shown in the Trusted Organisations table in ORCID. If you want to revoke access to any third party, click on the bin symbol and the trusted organisation will no longer be able to interact with your ORCID.
If you registered and connected your ORCID account to the VRE before July 2021, the push/pull functionality to your ORCID account will begin automatically and update overnight.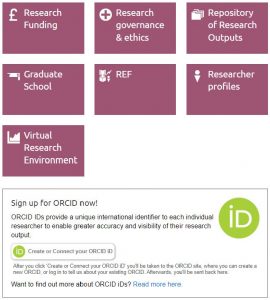 How is data transferred to, and from, the VRE?
The VRE will send nightly updates to your ORCID account with the following data:
Other IDs, such as Scopus
Research outputs that are either 'online first' or 'published'
If you have data in your ORCID account from other sources, this will be sent to your profile in the VRE. You will receive a 'Task', where you can claim the output if you want it added to your VRE: repository, or you can disclaim it, if you do not wish for it to be added.
How do I know if I already have an ORCID ID?
If you can't remember whether you already registered, look yourself up using the Search bar at the top of the ORCID homepage.
If you try to register with the same email address you've registered with, ORCID will ask you to log in rather than register. If you register with a different email address, ORCID will assume you are a different person.
If you do not see the 'Sign up for ORCID now!' banner on your home page in the VRE, then you already have an ORCID linked to your account, which you can see, alongside your personal details under 'My Record' in the VRE.
Other ways to add outputs to your ORCID profile
Another way to quickly add to your ORCID profile is to import records from other sources directly.
ResearcherID (Web of Science) and Scopus
Login to your ORCID record.
Under the Works section, click on "+Add works" and then "Search & link".
Follow the on-screen prompts to send your papers to ORCID, from ResearcherID and Scopus-Elsevier.
Google Scholar to ORCID:
Login to your ORCID record.
Under Works section, click "+Add works" and then "Import BibTeX"
Follow these instructions: https://support.orcid.org/hc/en-us/articles/360006973353
How to use and share your ORCID
Include your ID on web pages and manuscript submissions. Ensure you use the correctly formatted version (with hyphens between every four digits).
To be useful, the ID must be actionable, i.e. clickable.
In your ORCID record, you will see options to Display your ID on other sites – this will give you the HTML code to copy. You can also obtain a QR code.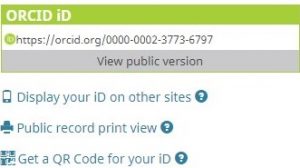 How much information should I include and make public?
You have total control over what information you decide to add and how much of this is publicly visible. It is advisable to at least add variants of your name, some keywords about your research area and your current affiliation. This will help others make sure that they have the correct ORCID for you.
What if my named has changed throughout my career?
By signing up for an ORCID identifier, you have one identifier that will belong only to you and that you can keep. To add different versions of your name, click on the pencil icon next to the 'Also known as' section. This could be just adding extra initials that you might have used. Name variants could include a previous surname if you have changed your name through marriage, gender re-assignment or via deed poll.
Will all my information be public?
You can choose what level of openness you wish to apply to your ORCID record data. You may choose between visible to everyone, visible to those you trust, or visible only to you. You will choose your default visibility when you register, and can change this default and item-level visibility at any time. Full details are here: http://orcid.org/privacy-policy#Privacy_settings

To view with public version of your profile, sign in and then choose 'view public version' under your ORCID iD.
I am a doctoral researcher, do I need an ORCID?
Doctoral Researchers are encouraged to register for an ORCID. You may be publishing as part of your PhD research, but it is important to note that you do not need to have published any outputs to claim an ORCID.
Latest posts by Nina Watts (see all)