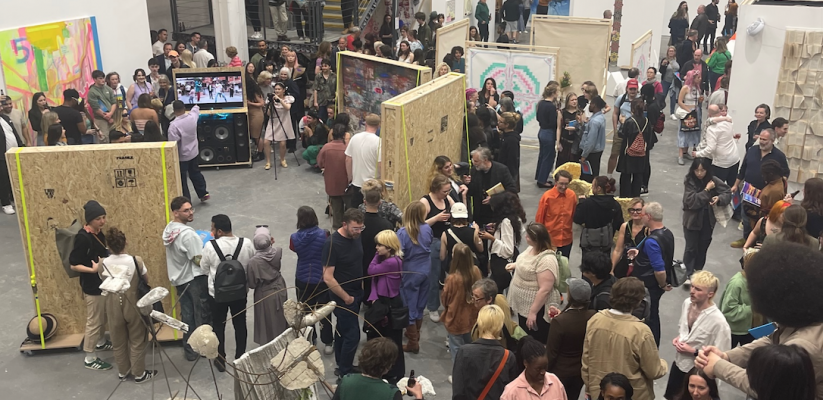 Please Note – The following blog contains work that covers themes of depression, reader discretion is advised.
The Fine Art Mixed Media degree show is part of a series of Westminster's annual degree shows. These shows are a celebration and showcase of our final-year creative students' talents and hard work. The student work is a culmination of the skills and creative practices developed during their studies and are highly anticipated amongst students, staff and industry guests every year.
Our Fine Art Mixed Media BA focuses on creativity, individuality and personal growth. Students are encouraged to take an individual and experimental approach to their learning, exploring a range of creative disciplines. Once they have developed their technical skills, students can tailor their learning and course to pursue their desired area of creative practice.
The variety of mediums, creative practices and disciplines explored throughout the course were on display during the showcase, with around 50 final-year students exhibiting. We took a look at the diverse range of wonderful work and caught up with some of the students during the celebratory exhibition. The exhibition took place at the internationally acclaimed central London gallery space, Ambika P3, based at our Marylebone campus from 1-6th June 2023.
Concrete, Metal and Plaster installations
Comfort in Order is a duo of installations Robe and Adytum which uses plaster, gesso, concrete and flocking fibres. The installations explore the familiarity and reassurance of 'everyday' household objects, whilst changing their form and functionality. This piece explores the idea of order in the everyday and the use of reduced colour as a way of searching for order in the minimal.
Humanity is a mixed-media installation using concrete and metal materials.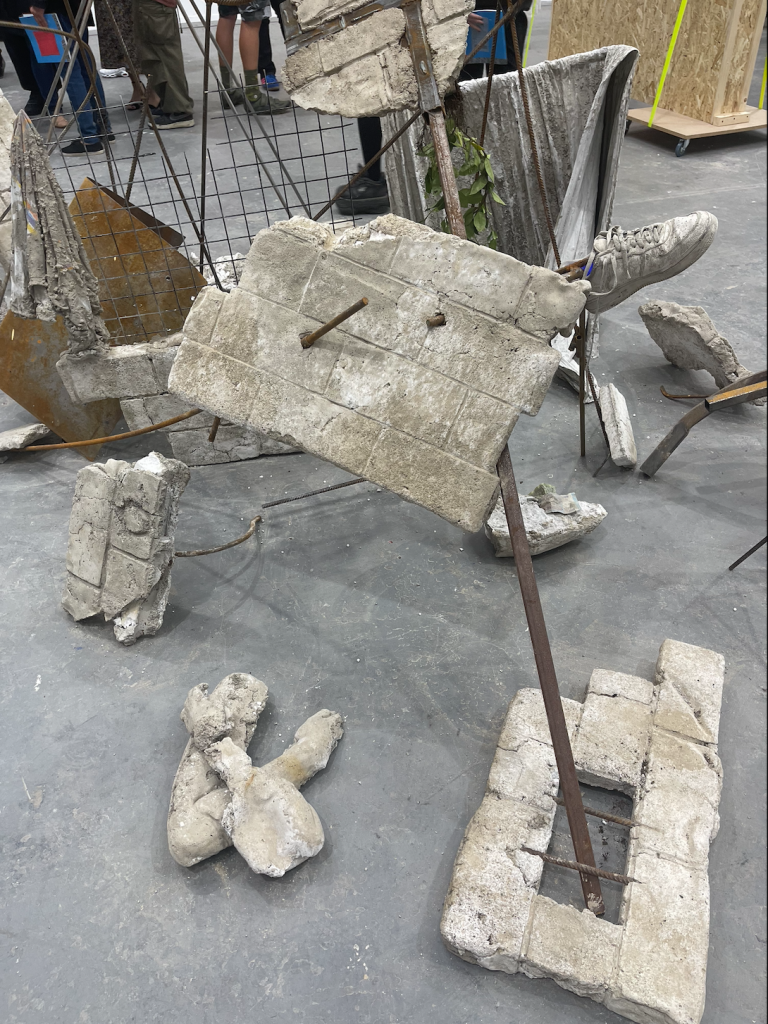 Fabrics and Textiles
Safe Space uses materials and fabrics from the artist Shireesha Fullee's childhood home. Every material holds memories; such as bedsheets, thread and sample fabrics. Sewing has been a part of Shireesha's life since she was young, her dad used to be a tailor and she was inspired by him and his work.
Safe Space is a place of reflection and a moment for Shireesha to look back on time and see how far she has come. It is a place to feel sadness without judgement and to be present in the moment.
Shireesha said "The act of labour from hand stitching has been important to me. As the process of making allows me to use art as a therapeutic form. However frustrating and long, I think it's been worth it.
Safe Space is dedicated to those who felt like they never had a safe place to express themselves growing up.
What I've Made of Myself is a mixed-media installation using knit and crocheted cotton yarn, wax, a found window and door, and LED lights.
Memories of Italy is a series of 35mm Photographs on Japanese Paper, washing line wire and wooden pegs.
Film
Weightless is a 10-minute short film by Yuqhi Wang. The film is about an elderly woman living a mundane life in a country cabin and an astronaut named Alex exploring an exoplanet. Although they are in very different worlds, they begin to realise that they have fallen into a bizarre state where reality and dreams have begun to intertwine.
Paint
Flow is a duo of oil paintings inspired and influenced by Salvador Dali and his fascination with Sigmund Freud's psychoanalysis. The Freudian belief that studying dreams creates the easiest path to understanding the mind's unconscious activities sparked the artist Sonya Chao's interest in exploring this topic.
Sonya used photos from personal vacations for each painting respectively and morphed them into her vision of the surreal world that she wanted to create, including themes of dreams and nostalgia.
Destino (2003), a short animation produced from a collaboration between Salvador Dali and Disney, has stayed with Sonya since childhood. As a child, she was transfixed by this vision of paintings within paintings, which adds another dimension to a 2D image, creating a portal between worlds.
Oil paint is Sonya's medium of choice as it leaves her paintings with a sharp vibrancy that is hard to achieve with acrylic paint. Sonya commented, "I enjoy the longer time frame that oil paint offers for it to be moved around, which allows me to create fluid and dreamlike pictures."
A View with Depression 2.5m x 1.6m acrylic painting on canvas, with foam board circles suspended from fishing wire to add dimension.
The painting is intended to represent the artist, Alexander Hollands' experience with depression.
The work is a physical representation of how depression can affect our view of the world. There is a peaceful and serene landscape in front of us, but through no fault of our own, depression prevents us from seeing the full extent of its beauty.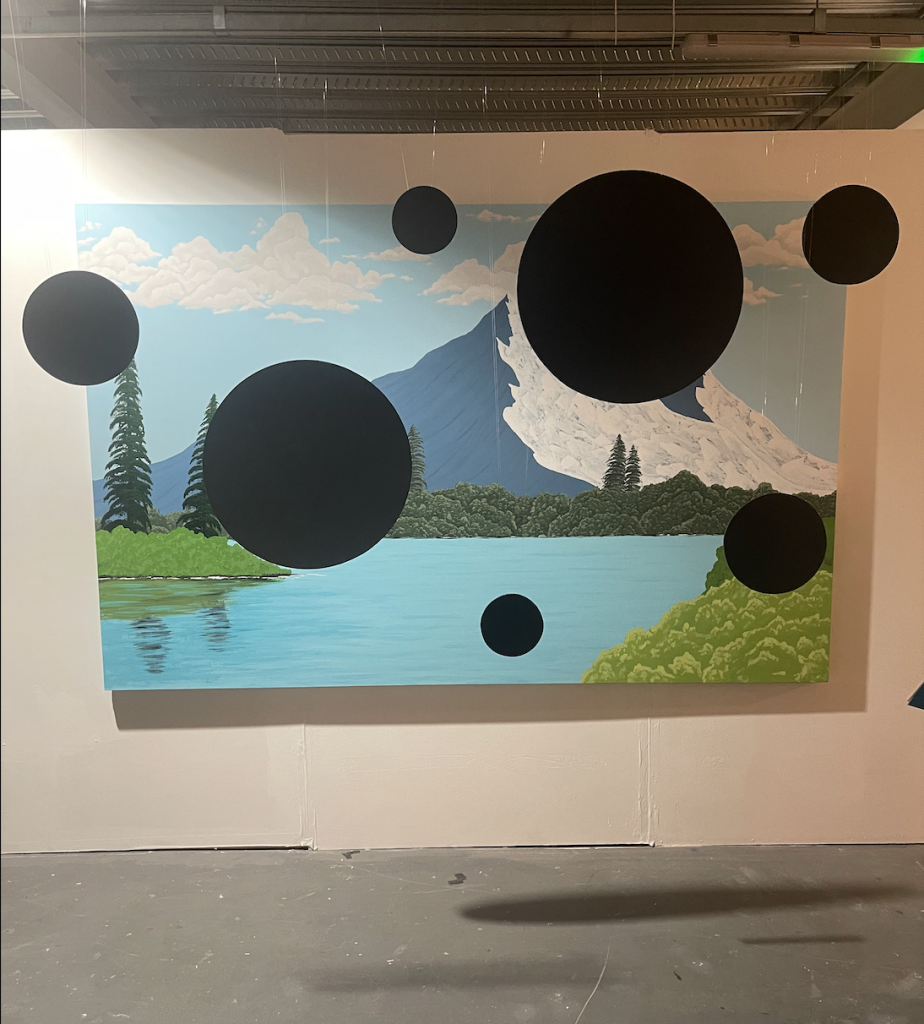 Performance-based art
Signs is a series of ongoing performances titled: Crossroads, Bend to the Right, Road Narrows and Ahead Only (2023).
Signs focuses on the journey between A to B and less so on the destination. The objects were created by the artist Karolina Zalenaite and inspired by her commute around London and the many signs she comes across. Karolina used these objects as part of her performance to create a journey.
The showcase was a celebration of all the hard work, effort and talent of our students and their tutors, throughout the course of their degree. The event was an opportunity for the Westminster community to come together and reflect upon the achievements and outputs of our Fine Art Mixed Media cohort.
To find out more, please visit Westminster Degree Shows 2023 or watch our Westminster Degree Shows TikTok.