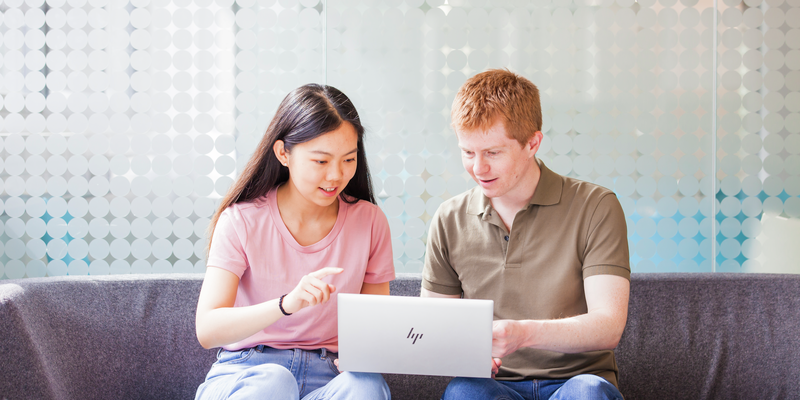 Starting a master's degree is an exciting adventure, and while it can be overwhelming at first, with the right guidance, you can navigate it with confidence. In this blog, we've outlined five simple steps to guide you through the process of applying for a master's degree in England. 
Step 1: Research your options 
Begin your journey by researching universities and their master's programs. It's crucial to delve into details like the curriculum, campus resources such as libraries, labs, sports amenities, and the general atmosphere of the institution. Evaluate whether they harmonize with your career, academic, and personal aspirations.
Some of the other things you might want to consider include: 
Lifestyle – It's also important to consider your lifestyle. Are you working full time but looking to study part-time? Your lifestyle and current commitments will determine the feasibility of your master's programme. Ensure that the course you choose offers flexibility to accommodate your needs.
Location – You might want to consider the university's location. Do you prefer studying in central London or outside the city? Think about your commute, as it can impact both your time and expenses. The location of the university should align with your lifestyle and preferences to make your master's journey more convenient. 
Choosing the right course – Selecting the right course is crucial, as it will define your academic path. Consider your interests, career goals, and the specific curriculum offered to ensure it aligns with your aspirations. For example, Westminster, we offer a mix of theory-based and practical courses varying across subjects such as art, business, humanities, and psychology. 
You can also browse our subject areas. 
Step 2: Gather required documents 
Once you're clear on the course and the entry requirements, you can start collecting essential documents for your application. This includes academic transcripts, a statement of purpose, letters of recommendation, and a well-crafted CV. Make sure these documents professionally showcase your achievements and aspirations. 
At Westminster, our individual course pages include everything you need to know about our entry requirements for your chosen course. Any relevant work experience might also be taken into consideration, especially in the case of applicants who don't meet the standard entry criteria. If English is not your first language, you'll need proof of your English language level. All applicants are required to submit one academic reference.   
You can visit our How to apply page for more information on: 
The application process in more detail.

What you need to apply.

 

Deadlines for applications.
If you have any further questions about the application process, we'd recommend either attending one of our Open Day events. You can find out about our Open Evening events here. You can also contact our course enquiries team at course-enquiries@westminster.ac.uk with any questions that you might have.  
Step 3: Craft a compelling personal statement 
Create a strong personal statement that highlights your passion for the subject, reasons for selecting the programme and university, and how the master's degree fits into your future plans. Keep it unique, engaging, and reflective of your commitment to excel in your chosen field. 
At Westminster, we encourage prospective students to draft a personal statement that explains: 
Why you are interested in the course(s).

 
Why you would like to study at the University of Westminster.

 

Any relevant skills and experience that you have.

 

Your career plans.
Step 4: Submit your application 
Submit your application through the university's online portal or other designated platforms. Pay attention to application deadlines, ensuring all information and documents are accurate and complete.  
At Westminster, there are two ways to apply for a master's degree: 
Online via the Westminster online application form, accessible through the red Apply button on each course page.

 

If you are an international student, you can apply via

apply via our overseas representatives. 
For most of our September-start postgraduate courses, you should try to apply by 1 August. If you need to apply for a visa to study in the UK, you should aim to apply by 1 July. We advise you to apply as soon as you can, as some courses are highly competitive. We would also suggest you apply early if your course requires a portfolio, essay component or interview, or if you're applying for a scholarship. 
For more information on deadlines, visit our website. 
Step 5: Prepare for your studies financially 
Preparing for your master's degree financially is a crucial aspect of your academic journey. It's important to consider the costs associated with tuition, living expenses, and any additional fees. Careful budgeting and financial planning can help you manage your resources effectively. Scholarships, grants, part-time work, and student loans are potential avenues to explore to secure funding for your education. 
At Westminster, our course fees are listed on individual course pages. You can also look at our scholarships page for the most up to date information on scholarships. You must be holding an offer of a place on a course to apply for a scholarship. You can also find out further information about the postgraduate loan scheme on our funding pages. 
About Westminster 
As one of the most diverse universities in the UK, we are a global university with London energy, with more than 19,000 students from 169 countries. For more information about our courses, visit the University of Westminster website.