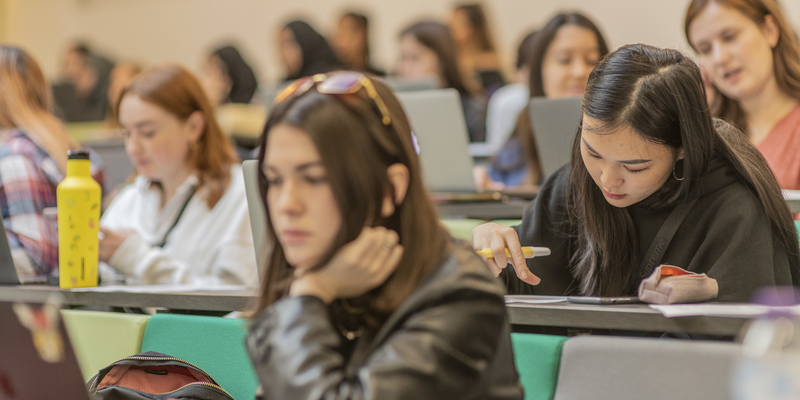 Choosing the right course, university and city to live in is a big decision! In this article, we've outlined our top three tips to help you make the right choice.
Area of interest
When choosing a course to apply for, it's important to think about any hobbies or interests that you might be able to turn into a career (and no, we're not talking about becoming a professional Netflix viewer). Are you a creative person interested in designing or writing? Or are you someone who has more of an analytical mind and would like to work with numbers? You could also be someone who would like to impact future laws and policies, or perhaps you want to start a business of your own.
Whatever it is, it might be helpful to think about the following questions:
1) What would you like to do if money was no object?
2) How do you like to spend your day?
3) What do you enjoy doing the most?
4) What skills or knowledge comes naturally to you?
5) Do you have a passion project that you could turn into a degree and a career? 
Once you've answered these questions, look for courses that might have the keywords and qualities that came up in your answers. Try it now with our course finder.
Location and lifestyle
When deciding on which course you want to apply for, it's also important to consider what kind of lifestyle you want. Do you want to live in a big city and experience the hustle and bustle? Or do you want to live in a smaller town or city?
Living in London allows you to experience a little bit of everything! You can be part of an inclusive and supportive community at Westminster, while also having access to countless museums, industries and networking events. On the other hand, life in London can be expensive, so it's important you learn how to budget and manage your money. You can read more about this over on our website.
Find support
Whichever university you choose, make sure they have plenty of support available. Ideally, you would want them to offer practical career and mentoring services to prepare you for the future job market.
At Westminster, we offer placements, careers fairs and mentoring schemes to prepare you for your future. We also introduce you to industry networking events, because we recognise the importance of meeting potential employers when it comes to securing a job after graduation.
Visit our website to find out more about our careers and employability service.
Do you have any questions? Don't hesitate to contact our Course Enquiries team at course-enquiries@westminster.ac.uk.
You can also come and see us in person. Click here to find out when our next Open Days are.