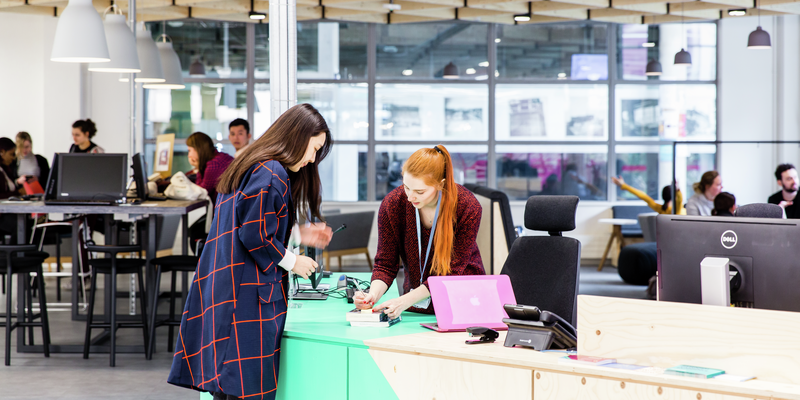 During your time at Westminster, your safety and wellbeing are our top priorities and we're here to support you so that you're able to engage fully in your personal and academic journey.
We know that student life can be stressful and commitments outside of University can be just as demanding as your studies. As a Westminster student, you'll have access to a range of advice, guidance and support services to help you in looking after your physical, mental and emotional health and wellbeing; as well as a range of fun ways to look after your wellbeing. 
Counselling and mental health support
Navigating all of the support available to you can be overwhelming and you may be unsure of what's available or what you need. Your personal tutor should be your first port of call if you have a concern, are worried, unwell or in need of specialist support. They can refer you to a wellbeing adviser. 
We provide confidential information and advice on a range of topics:
General wellbeing 

Homelessness

Healthier lifestyles

Accessing University and external support services including mental health, counselling and sexual health services
The University also has a team of counsellors who are happy to talk to you about anything that's bothering you, from an inability to study, poor concentration and depression, to relationship problems and bereavement.
Supporting you with deadlines and exams
When you're preparing for exams or working towards deadlines for coursework, it's important to still take care of yourself and your wellbeing. To support you through this, we run Passing Assessment Student Support (PASS) week sessions to help you prepare for exams, coursework and dissertations.
Workshops typically cover:
Revision and time management

Dealing with online exams and answering essay-type questions

Writing coursework (essays and reports)

Using analytical and critical thinking

Coping with exam stress

Researching for your dissertation and dissertation writing

Referencing
University of Westminster Students' Union (UWSU)
Making connections is a great way to support your wellbeing, so getting involved with University of Westminster Students' Union (UWSU) is a great way to connect with like-minded students and gain support. 
As well as being home to over 90 sports teams and societies, UWSU offers a variety of events and opportunities for you to stay mentally and physically well. They run #UWSUActive, a programme of free, fun social sport and fitness classes, open to all Westminster students to allow you to expand your social circle whilst staying active and healthy. The SU also offers an advice service if you need guidance or someone to talk to.
When it comes to needing a break from the library during exam season, UWSU have got you covered too: they've previously hosted a puppy and bunny room and alpaca therapy sessions on campus, to give students the opportunity to pet a furry friend for some much-needed relaxation.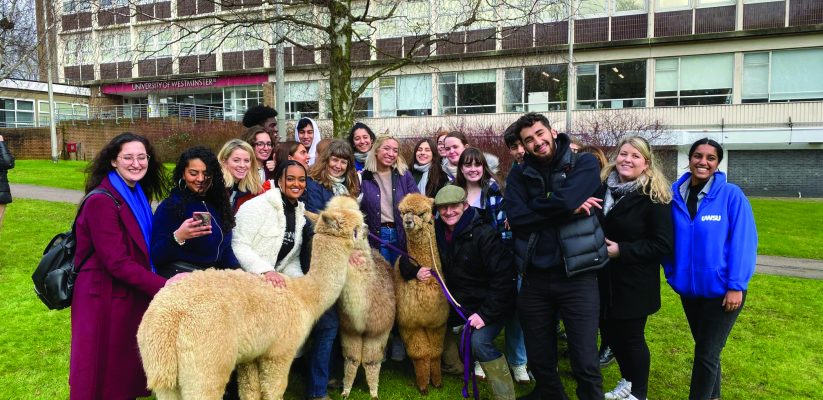 BreatheUni is a safe space for students. Run by students, for students, it's the perfect starting point for anyone looking for support and learning about mental health and wellbeing, personal development and equality, diversity and inclusion.
BreatheUni provides a non-judgemental environment in which to discuss, share and learn with peers who are Mental Health First Aiders and are well trained to signpost relevant information and resources. 
Their host events and panel discussions on topics like Black Lives Matter in Health, the relationship between music and wellbeing, as well as journalling sessions to help you practice mindfulness. 
Many people find exercising is great for their wellbeing, whether that's getting out for a walk to break up your day, heading to the gym or trying a new class. 
At Westminster we offer an extensive range of gym and sports classes, as well as plenty of sports teams and clubs for you to join, stay active and help your wellbeing. Joining a sports team is a great way to meet new people and there are plenty of sports clubs who offer sessions whether you're a beginner or more advanced. 
Students can also benefit from discounted memberships at our Regent and Harrow campus gyms, which offer classes including yoga and pilates.
Latest posts by Emily Baker (see all)